VinItaly 2004
© by Tom Hyland
If you're going to attend VinItaly, the huge five-day wine fair in Verona every April, you need to remember a few things. Drink lots of water, wear comfortable shoes and don't even try to think that you'll taste as many wines as you would like. More than 4,000 wineries - most from Italy - are here pouring their vinous efforts. If you were a lightning-quick taster, you couldn't attempt to even get through one-quarter of the wines here ... but it can be fun trying!
What makes this such a great event for the Italian wine lover (this is mostly a trade show, but is open to the public for two of the five days) is that you can taste a Brunello di Montalcino one moment and the next be sampling a Greco di Tufo from Campania or a Barbera d'Alba from Piemonte. Every type of Italian wine is here, whether you prefer the big, spicy reds, the crisp, dry whites or the lovely sparkling wines from Franciacorta in Lombardia. If you wanted to tour all these various regions, it would take you weeks, but at VinItaly, you get to take a magical viticultural tour in minutes.
To make matters a bit more hectic for me this year, I was there for only two days, so I was constantly on the move. It was not the most relaxing time I've ever spent in Italy, to be sure, but it was quite a rush as I did try 160 wines in those two days!
Now that I can read my handwriting (or most of it), here are tasting notes on the wines I enjoyed the most at the 38th annual VinItaly (arranged by region, in no particular order):
UMBRIA
Sagrantino di Montefalco is the classic Umbrian red that has black fruit, spice, earthiness and tannin. Two producers' offerings stood out for me: Antonelli, an established estate in this zone, makes elegant, subtle wines that are lovely with food. The 2001 Sagrantino di Montefalco was an excellent effort as was the 2001 Passito version of this wine, with its moderate sweetness and delicious black raspberry fruit. Tiburzi, a relatively new producer here, makes a bigger, riper style, but one that is well balanced. Both the 2001 Montefalco Rosso and the 2001 Sagrantino are lovely wines with plenty of life ahead of them (5 years on the Rosso and a decade or so on the Sagrantino).
PIEMONTE
The 2000 Barolos are creating a lot of excitement in certain corners, but for me the truly great wines are the 1998 Riservas. 1998 was an underrated vintage for Barolo as the wines have very good concentration, lively acidity and are elegant. The Riservas have greater depth of fruit, but are equally finesseful. Sergio Barale produced a lovely 1998 Riserva from the Bussia vineyard, as the wine features a long finish with polished tannins. Cavalotto offered two of their 1998 Riservas at the fair; the Bricco Boschis with its admirable persistence of fruit and the outstanding Vignolo with its aromas of herbal tea, dried figs and orange peel and long, elegant finish.
These two producers also showed other notable wines. Sergio Barale produces a non-oaked Chardonnay that displays delicious lemon fruit and crisp acidity, while his 2003 Dolcetto d'Alba Bussia has juicy boysenberry fruit and layers of flavor. 2003 was a hot year in Piemonte and while that may not mean the most elegant examples of Barolo or Barbaresco, the Dolcettos should be wonderful. The 2001 Dolcetto d'Alba "Vigna Melera" from Cavalotto was not quite as ripe as the Barale bottling, but it was equally delicious.
Getting back to the 2000 Barolos, most winemakers will tell you the growing season that year was too warm, resulting in big, tannic wines. Having tasted several of these wines, I concur in that judgment, as the wines to me were heavy and nowhere as appealing as the great 1999s. Still, there were some impressive examples, beginning with the Rocche Costamagna Bricco Francesco bottling, which displayed excellent depth of fruit and a long finish with nice persistence of fruit to balance the ample oak and tannins.
Not surprisingly, there were some impressive 2000 Barolos from Fontanafredda, one of the area's most in-demand producers these days. The Lazzarito bottling was very powerful, if a bit oaky, while the La Rosa offering was quite spicy and more elegant. Expect these wines to age for 15-20 years. (Also impressive was the 2003 Fontanafredda Dolcetto di Diano d'Alba "La Lepre" with plum and licorice flavors and a well-structured finish.)
VENETO
There were many noteworthy wines, red and white from this region. Moletto showed several excellent reds, including the 1998 Colmello Rosso. This blend of several grapes (Merlot, Malbec, Cabernet Franc and some local varieties) has a nice peppery touch with good acidity and will drink beautifully for another 5-7 years. Their 2000 Cabernet Sauvignon "Selecti" displays layers of flavor, ripe fruit, polished tannins and a subtle note of tobacco.
Soave was a big story this year as the new Soave Superiore DOCG wines made their debut from the 2002 vintage. Soave clearly needs an image boost in the minds of consumers and DOCG may just do it. While some of the wines were pleasant, there were some notable examples. The 2002 Bertani has a nice oily texture that you don't often find in Soave, while the Vicentini Agostini "Il Casale" is a wonderful effort with ripe fruit and a long finish with a mineral note reminiscent of a fine French Chablis. This was one of the finest bottlings of Soave I have tasted in years! Currently the wine is not available in the United States, but that may soon change as I let an importer know about the wine and he told me he loved it and will work on bringing in the wine to this market.
Everyone seems to love Amarone and did I taste a beauty at the fair! The 2000 Igino Accordini "Il Bessole" is a wonderfully elegant and delicious offering from this excellent vintage. His 2001 Recioto di Valpolicella (a red dessert wine made from the same grapes as Amarone) was equally tempting. There is not much of this wine available in the US, so you may have to make a special trip to the Verona area, as if you needed another reason!
ABRUZZO
I tasted only one producer's wines from this region, but what a producer! Gianni Masciarelli is changing the way one thinks about Montepulciano d'Abruzzo. Instead of the high acid, spicy, earthy reds of the past that never seemed to have much fruit, Masciarelli is producing very flavorful and concentrated wines. Look for the 2002 Villa Gemma bottling as well as the exceptional 2001 Marina Cvetic (named for his wife) San Martino Rosso offering with its plum, licorice and blackberry fruit and exceptionally long finish.
CAMPANIA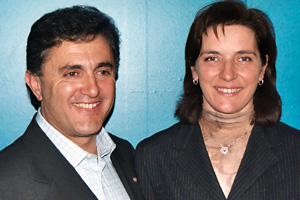 Marisa Cuomo and her husband/winemaker, Andrea Ferraioli
I am firmly convinced that Campania will become the next "hot" Italian wine region in the US. This is one of the few regions that produces several excellent white and red wine types and prices have not gotten out of hand. As for white, the
Marisa Cuomo
2002 Fiorduva Furore Bianco is a blend of varietals found only along the Amalfi Coast. This wine, with its aroma of apricot, honey and yellow peaches is as lovely as the area in which it is produced.
It was the red wines that really displayed how good the winemaking in Campania is these days. The Giuseppe Apicella 2000 a'scipatta Riserva from the Amalfi Coast was incredible! Made from the obscure Tinture grape, this showed the intensity of 70-year-old vines, offering black cherry and chocolate flavors with a light peppery note and tremendous intensity.
Libero Rillo, proprietor, Fontanavecchia
The
Fontanavecchia
2001 Grave Mora, from the inland province of Taburno is 100% Aglianico and has flavors of black cherry, plum and chocolate and layers of flavor with beautifully balanced tannins and acidity. This will age for 12-15 years and is perhaps the finest example I have ever tasted of pure Aglianico. These last two wines were among the ten best I tasted at VinItaly this year!
LOMBARDIA
Here's a region few consumers think about for Italian wine, but there's a great variety of striking offerings from this northern region. The country's finest sparkling wines from the Franciacorta district are made in the classic method and the best give Champagne a run for its money. Ca' del Bosco is one of the area's best and most famous producers and their non-vintage Brut is a fine success this year with nice lemony and yeasty notes, while the1997 Anna Maria Clementi bottling is outstanding. This, their finest sparkling cuvée has aromas of biscuit, pear and dried flowers and has great persistence of fruit and a long, elegant finish. The winery also makes table wines and the 2001 Chardonnay with bright golden apple and pear fruit as well as the 2001 Curtefranca Rosso, a stylish blend of Cabernet, Merlot, Barbera and Nebbiolo, were quite distinctive.
Lesser known, but of equally high character are the sparkling wines of Monte Rossa. The non-vintage Brut is quite yeasty with good depth of flavor and the 1998 Riserva Cabochon has the flavors and aromas of an older Champagne with plenty of bright fruit and an elegant finish.
The wines from Valtellina are quite remarkable and there were plenty of excellent examples of these Nebbiolo-based wines at the fair. The Triacca 2001 Sfurzato "San Domenico" displayed bold flavors of ripe cherry along with the aromas of tar and roses you expect to find in Nebbiolo. Also impressive were the Plozza 2000 Sfursat "Vin da Ca" and the Aldo Rainoldi 1999 Sassella Riserva, a lighter, but no less flavorful wine with an elegant finish offering polished tannins.
TUSCANY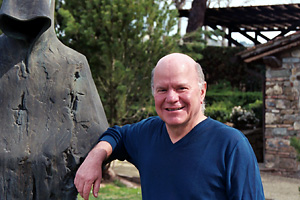 Frank Grace, proprietor, Il Molino di Grace
Always so many great wines from Tuscany at the fair; here are just a few I enjoyed.
Il Molino di Grace
(named for its American born co-owner, Frank Grace) is a relatively new estate near Panzano in Chianti Classico that is off to a dazzling start. These are full-flavored wines that offer a traditional style away from the overripe wines made by some vintners today. The regular 2000 Chianti Classico as well as the 1999 Riserva have outstanding aromas, full of cherry, thyme and subtle oak and there is a pleasant spiciness that runs through the wines. Even more impressive is the2000 Gratius, a 100% Sangiovese from the oldest vines on the estate. This is Tuscan red at its richest and sexiest!
Also from Chianti Classico, the 2001 Il Futuro, a Sangiovese, Cabernet Sauvignon and Merlot blend from Il Colombaio di Cencio, is a spectacular blend that is quite ripe but with plenty of balanced tannins, oak and vibrant acidity. Keep an eye out for this when it is released several months from now. The 1999 Vignamaggio, from the winery of the same name, is a 100% Cabernet Franc that is earthy and peppery as well as a beautiful food wine for pork or veal. As for Villa Cafaggio, everything is noteworthy, from the regular 2001 Chianti Classico to the 2000 Riserva and finally the 2001 San Martino, a 100% Sangiovese. All the Cafaggio wines are deep in color and offer heavenly perfumed aromas and a long finish. This estate is clearly one of the four or five best in Chianti Classico!
There were excellent offerings of 1999 Brunello di Montalcino, a vintage that offers ripe fruit with better acidity and more refined tannins than the much-hyped 1997 vintage. Among those I enjoyed were the Casanuova delle Cerbaie, Il Poggione, Banfi and the outstanding Caparzo "La Casa" and the Casanova di Neri "Tenuta Nuova".
As for Vino Nobile di Montepulciano, look for the 2000 Icario, the 2001 "I Quadri" from Bindella and the 2000 "Antica Chiusina" from Fattoria del Cerro. These last two wines are vineyard selections that are as good as anything coming from Tuscany these days.
Finally, Syrah has taken a foothold in Tuscany at D'Alessandro, a fine estate just outside Cortona near the border with Umbria. The 2001 "Il Bosco" Syrah is packed with ripe blackberry, chocolate and tobacco flavors and has polished tannins. This producer is off to a fine start with this varietal and look for more estates to follow their lead.
FRIULI
There were so many outstanding white wines from Friuli, I don't really have room to list them all. In short, the 2003 Brunner Ribolla Gialla, the 2003 Tocai Friulano and Collio Bianco from Gradis'cutta were full of bright fruit and lively acidity that are the hallmarks of this region's best whites.
Even better were the offerings from two highly awarded estates. The 2002 Tocai Plus from Bastianich has exotic pineapple flavors with a touch of honey in the lengthy finish. The winery's signature white wine, the 2001 Vespa Bianco, a blend of Chardonnay, Sauvignon and Picolit, is another smash success. The texture, balance and complexity of this wine are quite remarkable.
From Livio Felluga, the 2003 Sharjs, a Chardonnay / Ribolla Gialla blend is a delicious offering that has a nice balance of ripe fruit and finesse. But saving the best for last, the estate's most famous and heralded wine, the Terre Alte is simply amazing in 2001. There are layers of juicy golden apple fruit in this wine with a tantalizing nuttiness. The finish seems to go forever in this blend of Pinot Bianco, Tocai Friulano and Sauvignon and this is quite simply a gorgeous wine! The 2001 Terre Alte is the finest bottling to date of this wine from Livio Felluga, and this was the best white wine I tasted at VinItaly this year!
VINITALY U.S. TOUR
Those who live near Miami and San Francisco will get a taste of the VinItaly experience this fall when two events are held in Miami on Oct. 26 and San Francisco on Oct. 28. Seminars will be held along with tastings. Check back with us down the road for more information on these events.
April 2004
To contact Tom Hyland, visit his Website at http://www.northshorewine.com
or write him at tnapawine@aol.com

Back to Tom Hyland's Italian Wines
<!- Page Contents End Here ->