Highlights from VinItaly
© by Tom Hyland
The VinItaly wine fair in Verona is five days of too many wines (4,000 exhibitors!) and too many people (tens of thousands), but I wouldn't have missed it for the world. While I did not come close to tasting as many wines as I would have liked ... who could? ... the mid-April event provided a look into the Italian wine scene like no other. Despite battling the crowds at times, I can't wait to get back next year.
Every region of Italy is represented, and to be fair, I did not try wines from the country as a whole. Keeping that in mind, here are thoughts on some of the most exciting products I tasted there.
Piemonte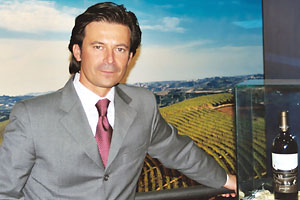 Danilo Drocco, Winemaker, Fontanafredda
Fontanafredda
owns some of the most prized vineyard sites in the Barolo district, but for years, the winery has been a notable underachiever. The wines previewed here should change that identity for good. The 1999 Barolos as a group are very impressive, especially the La Villa and Lazzarito bottlings. The former is a perfectly balanced wine that displays the elegance of this outstanding vintage, while the latter has more depth and power, but is just as classy. Also notable is this producer's 2001 "Marne Brune" Nebbiolo d'Alba (with a beautiful new label), which for me is the next best thing to Barolo without spending the money.
Other beautiful 1999 Barolos included the elegant "Conca" bottling from Renato Ratti and the spicy "Cicala" from Aldo Conterno, while the 1996 Barbaresco Riserva from Giuseppe Cortese offered layers of complexity with at least another decade of drinking pleasure.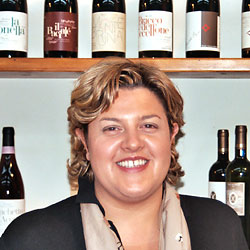 Raffaella Bologna, owner, Giacomo Bologna "Braida"
2002 was a difficult vintage, but Bruno Chionetti at
San Romano
managed to produce an appealing "Vigna del Pilone" Dolcetto di Dogliani, while the 2000 Barberas from
Giacomo Bologna
displayed typical class and breeding. The Bricco dell'Uccellone is harmonious with an extremely long finish, while the Bricco della Bigotta is more powerful. Don't forget this producer's 2002 Moscato d'Asti "Vigna Senza Nome," which is drier than most examples of this wine.
Also for dessert, look for the 2002 Moscato d'Asti bottlings from Doglia Gianni and Ruris, while Marenco produced a delicious 2002 Brachetto d'Acqui, which is lightly sparkling with tantalizing cranberry flavors.
Friuli Venezia-Giulia
So many first-rate whites wines here- where to begin? The delicate and aromatic 2002 Livio Felluga Pinot Grigio is right on the mark again, while the 2002 Sauvignon from Petrussa has tremendous depth of fruit with classic fig flavors. Emilio Bulfan specializes in wines made from rare ancient varieties; his 2002 Cividin has tasty Bosc pear and apple fruit backed by lively acidity.
Two wineries deserve special mention here for their body of work as featured at VinItaly. La Tunella offered lovely examples of 2002 Ribolla Gialla with its mouth-watering golden apple and honeydew melon fruit and a wonderfully complex 2002 Tocai Fruilano, which displayed appealing flavors of pear and dried flowers. Their 2001 Campo Marzio, a blend of Tocai Fruilano, Pinot Bianco and Ribolla Gialla, fermented and aged in barrique, offers greater complexity and should drink well for another 2-3 years.
Dario Coos works with only two grapes, but what wines! Three of his offerings are made from the Verduzzo grape; one being a dry white called "Il Longhino," while the other two are Ramondolo, the region's only current DOCG. These luscious dessert wines have flavors of almond, honey and apricot and differ slightly according to how long the grapes are dried (I slightly preferred the regular Ramondolo to the bigger "Romandus"). The other grape he works with is Picolit, the shy-bearing variety that makes an exotic dessert wine. The quality of these wines (along with the gorgeous labels) made this winery one of the true discoveries of VinItaly.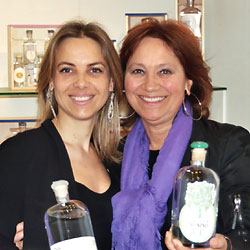 Cristina Nonino and her mother Giannola
Finally, the grappas of
Nonino
are the pride and joy of Friuli and some of the finest in all the country. But it is the new fruit distillates that are the stars this year. The Miele di Castagno (chestnut honey) has exotic licorice and raspberry aromas, while the Miele di Agrumi (citron) has an incredible nose of lemon oil that puts most examples of Limoncello to shame. You have to try this to believe it!
Veneto
I am certain that Soave will one day regain its classy image; certainly the finest efforts I tasted here rank as some of Italy's finest white wines. The new releases from Pieropan are typically splendid. His regular 2002 Classico has the gorgeous aromatics his wines are known for, while the Calvarino bottling from the same year has a touch of dried honey and should drink well for another 2-3 years. His 2001 La Rocca, always his signature wine, offers evidence that the best Soaves can be quite rich, while his 2002 Recioto "Le Colombare" is a sumptuous dessert wine.
The wines from Ca'Rugate are even better. The regular 2002 Soave Classico "San Michele" is full of honeydew melon flavors with crisp acidity, while the 2001 "Monte Fiorentine" (single vineyard) is just as perfumed with a long, elegant finish.
The "Monte Alto," a selection of the finest grapes is stunning! Honey, pear and vanilla flavors highlight the nose while there are layers of flavor on the palate of this barrique-aged wine. The 2001 Bucciato is atypical as it is fermented with the skins of grapes, but it is also quite complex and full, while the 2000 "La Perlara" Recioto entices you with its apricot, quince and honey flavors and moderate sweetness. These wines from Ca'Rugate are as good a collection of Soaves as I have ever tasted. As prices for Soave are very fair, these wines, along with those from Pieropan, represent exceptional values. I know I'll buy several bottles!
Campania
There was a great variety of wines from this stunningly beautiful region in the south that makes some of the country's most underrated wines. Feudi di San Gregorio introduced a new wine called Sirica, which is from 150-year-old vines they believe to be Syrah. Certainly the ripe blackberry fruit of this wine makes one think of that varietal. Their Taurasi bottlings, especially the 1999 Selve di Luoti, are loaded with bittersweet chocolate flavors, but for me it is their 2002 Campanaro, a late harvest Fiano, that remains their finest wine. This has lovely texture and the honey, quince and pear flavors are beautiful.
Mastroberadino previewed their latest vintage of More Maiorum (1999), a barrique aged Fiano which has a lengthy finish, great complexity and precise acid. The 1999 Naturalis Historia, a blend of Aglianico and Piedirosso, continues their success with this product, which outshines their regular Taurasi.
Mustilli has a crisp Greco di Tufo and Falanghina, but it their red wines, the 2000 Conte Artis (Aglianico/Piedirosso blend) and the 2001 Briccone (100 percent Aglianico) that are their best. The former is more fruit-driven and can be consumed earlier, while the latter has more spice and tannins and is quite stylish.
Finally, Cantine Marisa Cuomo had one of the fair's finest white wines, the 2002 Furore Bianco, from estate vineyards in the winery's gorgeous seaside town of Furore. Try this with spaghetti alla vuongole (tiny clams). Their 2001 Furore Rosso, mostly Piedirosso with some Aglianico, is fresh and spicy with tasty boysenberry fruit. This estate is small so the wines are hard to find, but worth it!
Umbria
Umbria has a nice mix of traditional and modern in its wines and both types were on display at the fair. For the traditional, the Lungarotti Rubesco 2000 was a typically splendid example of this wine with delicious ripe Sangiovese fruit. Also the Colpretone 2000 Sagrantino di Montefalco displayed the classic chocolate and cherry flavors of this local grape, while the Antonelli 2000 Sagrantino di Montefalco Passito was a dessert treat, with its raspberry and mocha flavors.
Riccardo Cotarella is one of this region's most famous winemakers and his Falesco Umbria Merlot 2001 is the finest he has made to date. There are layers of plum and black cherry fruit in this lovely wine and it represents one of Italy's finest red wine values. Cotarella also makes the wine at Tenuta Corini and the 2000 Frabusco is an attractive blend of old and new (Sangiovese, Montepulciano and Merlot) that is medium-full and quite polished.
Tuscany
2001 is a great vintage for Chianti Classico with the power of the 1997s and the acidity of the 1999s. Look for the Classico normale from Brolio, Querciabella, Fontodi and Rocca di Montegrossi. As for the 1997 Brunello di Montalcino Riservas, the full-bodied bottlings from Ciacci Piccolomini d'Arancona and Lisini "Ugolaia" along with the more subdued Il Poggione, La Palazzetta and La Fortuna were highlights.
Michele Satta previewed wines from southwestern Tuscany; most impressive was the 2000 Castagni, a blend of several grapes including Cabernet Sauvignon, Syrah and Sangiovese that offers lots of spicy black fruit and balanced tannins. Of course, you won't go wrong with the Poliziano "Asinone" or the "Antica Chiusina" bottling from Fattoria del Cerro (both from 2000), which are the latest evidence of the remarkable quality of the finest Vino Nobile di Montepulciano these days.
Final Notes
Several producers from Tuscany are now making wine in Puglia. Special wines here included the Liveli 2001 Salice Salentino, a project of Avignonesi and the wines from La Corte, the finest of which was a 2001 Negroamaro.
From Alto Adige, look for the "Select Art" series of wines from Kellerei Girlan, especially the herbal 2002 Sauvignon Blanc and a classic 2002 Gewurztraminer with lovely lychee and grapefruit flavors.
Ferrari produces excellent classic method sparkling wines in Trentino; especially noteworthy are the non-vintage Rosé and the 1993 Giulio Ferrari Riserva, which is as fine a sparker as is made in Italy today. Another classy sparking wine is the Valdobbiadene DOC bottling from Mionetto. This delicious Prosecco from the "Sergio" line of products is packaged in one of the most beautiful bottles on the market.
Finally, I was able to taste several excellent olive oils at the fair, although time limited my visit to only a few booths. From Tuscany, the Fattoria Santa Vittoria is elegant with a light spicy finish, while the San Pancrazio (an IGP oil), is more intense with lively spiciness and a light peppery note. Umbria was well represented by many oils from the elegant DOP Societa Agricola Trevi "Il Frantoio" to the outstanding estate oil of Alberto Cipolloni. Made exclusively from the Moraiolo variety of olive, this is full-bodied with a lengthy mid-palate and a nice peppery finish. It is one of the finest oils I have tasted from anywhere in Italy this year.
April 22, 2003
For subscription information, contact Tom Hyland at tnapawine@aol.com or visit his Website at http://www.northshorewine.com.

Back to Tom Hyland's Italian Wines
<!- Page Contents End Here ->