Valtellina
Article and photos © by Tom Hyland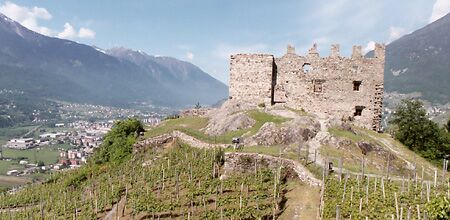 Vineyards at the Castello di Grumello, Valtellina
Unless you live in St. Moritz, it takes some time to find Valtellina ... and that's a major reason why American tourists too seldom visit this wonderful area. Just south of the Swiss border, it's a good two-hour drive from Milan (or three, if you don't know where you're going). There aren't any famous art museums or cathedrals here, but if wine and food are your primary interests, you won't find many better examples of what a specialized territory has to offer.
What makes Valtellina so special is its ties with the past. That's true in many places throughout Italy, but here the connections are not with paintings or archeological finds, but rather with the land. Framed by the Alps that mark the boundary with Switzerland, this valley is pocketed by vineyards that cling to hillsides, looking much the same as they did hundreds of years ago. While technology has made its way into local winemaking, you wouldn't know it by looking at the vineyards.
Every wine zone in Italy has its own peculiarities, and for Valtellina, there are several, starting with the orientation of the vines. Being this far north in Italy can present problems, as temperatures here are cooler than many other areas of the country. The answer here then is to maximize the ability of the vines to catch the sun's rays to help ripen the grapes, the majority of which are red.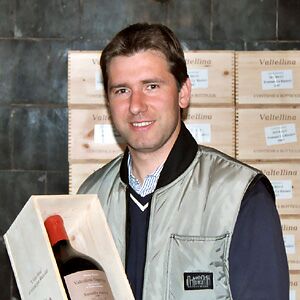 Aldo Rainoldi, winemaker at the eponymous estate in Valtellina, one the zone's finest.
This is an east-west wine valley; the only one of its kind in Italy and it isn't difficult to locate the vineyards while you are driving. There is only one major road, SS38 and it runs east to west through the zone, so look for most of the plantings just north of the road. The reasoning here is that the vines face south to catch maximum exposure to the sun.
It's also a good idea in cool climates to plant the vineyards at higher elevations, which are a bit warmer, especially later in the day, assuring greater warmth essential for proper ripening. But the higher plantings are also good for diurnal variations as there is a greater difference between daytime and nighttime temperatures 1500 feet above sea level than at the valley floor. Simply put, the cool temperatures at night help preserve acidity in the grapes that means freshness, balance and structure for aging.
Getting to the wines themselves, this is Nebbiolo country. You may be familiar with Nebbiolo from the Piedmont region to the west; it is there that the Nebbiolo grape is the source for the world-famous Barolo and Barbaresco. Full-bodied and tannic with distinct herbal character, these are powerhouse wines that demand aging. But in Valtellina, the wines made from Nebbiolo display a more seductive character that downplays the muscle of Nebbiolo while focusing on the earthy, more rustic nature of the grape.
The most common wine here is Valtellina Superiore and most examples are entirely Nebbiolo, though the regulations allow for 10 percent blending of a select few other red grapes. The best bottlings of Valtellina Superiore are from special areas within Valtellina where vineyards cling to hillsides supported by imposing stone walls. There are five of these special areas including Sassella (named for the rocks in the soil), Valgella and Inferno (named for the summertime heat in this vineyard which can get as hot as you-know-where.)
A Valtellina Superiore generally has aromas of cherry, currant, dried brown herbs and sometimes exotic notes of rosemary, thyme or even iodine. Medium-full, these wines have an earthiness to them, which combined with graceful acidity and polished tannins that come from a few years of aging that make them intriguing food wines. Of course, Valtellina is no different than any other area in Italy when it comes to matching their wines with local foods.
One of the best food and wine pairings I enjoyed in Valtellina was at Ristorante La Corna in the frazione of San Giacomo di Teglio, located about halfway between two of the area's most famous cities, Sondrio and Tirano (Bormio, famed for its spectacular skiing, is located farther northeast, outside the wine zone). This quaint eatery is located on top of a steep hill next to a vineyard in the heart of the Valgella area. As I entered the restaurant, I met with the owner Vittorio Pola, who was sitting on the front patio, entrenched in a Sunday evening's conversation with a friend from town. Like many Americans, I prefer to eat early, which of course, is the exact opposite of what most Italians desire, so at 7:15 (or 19:15 as you would know it in Europe), I was the first customer that night.
The dining room is quite lovely in a subdued manner with earth tones and soft lighting; this is quiet simplicity without any bows to modern design or trends. My server, similarly thoughtful and restrained, came over to explain the menu; I explained to her this was my first visit to Valtellina and I asked her what she recommended. Given that cue, she came alive with vivid descriptions of what I had to try that evening. She asked if I had sampled pizzocheri, a local specialty and when I told her no, she convinced me I would love it. I took her advice and was eternally grateful.
A number of ingredients make up pizzocheri; at the center is pasta made with a local rye grain known as grano saraceno. This is medium-width pasta much like fettuccine that is cooked with casera, a local cow's milk cheese and a wonderful cabbage known as verza, which has an exotic blend of sweet and earthy, slightly bitter flavors. This is a singular dish, unlike any I have tried in Italy, with the richness of the pasta being complemented by the tanginess of the cabbage and the mildness of the cheese. I wasn't very hungry that night when I entered the restaurant (or so I thought), but it didn't take me very long to finish that first course.
The sommelier, an amicable gentleman named Roberto, was extremely kind with his time when I explained to him that I was a wine journalist researching the local offerings. He spent several minutes with me explaining the various districts in the zone and pointing out what he thought were special bottlings that I might not be familiar with, especially as I was a first-time visitor. I selected a lovely wine called "Il Saloncello" from the fine producer Conti Sartori Salis. This was ideal with the pizzocheri, as this was a Nebbiolo made in a lighter, fresher style than a typical Valtellina Superiore (the vintage was 2003, quite young for a Nebbiolo). My notes mentioned the soft tannins, lively acidity and youthful fruit of this wine and how elegant it was while displaying a light touch of earthiness.
Other famous foods of Valtellina include bresaola, cured meat served as antipasti. This is usually made from beef, but sometimes a restaurant will serve bresaola made from deer, written on the menu as cerva. Deep reddish in appearance, this is quite rich in flavor and needs to be paired with a big red wine. The most famous food from here is Bitto, a D.O.P. cheese that is aged for various periods ranging from 70 days to 10 years. Primarily a cow's milk cheese (up to 10 percent goat's milk may be added), this is made only during the summer in the area's mountain dairies.
Especially strong and tangy as it ages, Bitto is a great excuse to open a bottle of the area's most famous wine, Sforzato di Valtellina (also known as Sfursat). Loosely translated as "forced" in local dialect, Sforzato is made entirely from Nebbiolo that represent the finest grapes from a grower which are harvested a week or so earlier than the clusters that will make a Valtellina Superiore. The grapes are laid on a straw mat in a small room (usually in a specially designed, humidity controlled building called a fruttaio) for three to four months where they will dry. During this process (known as appassimento), the berries shrivel and their flavor intensifies. This is the same process used to make Amarone, the famous red wine from the Valpolicella area of the Veneto region, but while those wines are very forward and slightly alcoholic, most bottlings of Sforzato are a bit more subdued, though no less flavorful.
As in many regions throughout Italy, there are differences on how to age these wines, with some vintners choosing small French oak barrels and others preferring large Slavonian oak. While the styles differ, the wines all share a richness on the palate and a big finish with ripe black fruit, brown herbs and spice and often notes of tobacco and coffee. Try the "5 Stelle Sfursat" from Nino Negri or the "Ronco del Picchio" Sforzato from Sandro Fay and you will discover why this is the signature wine type from Valtellina - it is as singular and unique as this underappreciated area of northern Italy!
November 2005
To contact Tom Hyland, visit his Website at http://www.northshorewine.com
or write him at tnapawine@aol.com

Back to Tom Hyland's Italian Wines
<!- Page Contents End Here ->