The Latest from Tuscany
Article and photos © by Tom Hyland
I made my annual winter whirlwind tour through Tuscany in mid-February, attending special Anteprima tastings of wines from Chianti Classico, Vino Nobile di Montepulciano and Brunello do Montalcino. These are previews of new wines, which will be released over the next 6-12 months, and this year there is much to look forward to, especially when it comes to the 2004 vintage.
You may have heard much praise being directed towards the 2003 vintage in Italy, but in reality, this is not a classic vintage by a long shot. That growing season was wickedly hot and while there are big, flashy wines with admirable ripeness, the proper acidity is not there in most bottlings for long-term aging. Still, there are successes and the regular Chianti Classicos (especially the San Jacopo bottling from Castello Vicchiomaggio and the Castello di Meleto) are quite stylish. For richer, more complex bottlings look to the Castellare, Badia a Coltibuono RS and the Villa Cafaggio. This last wine is particularly excellent with attractive cherry, licorice and tobacco flavors, great depth of fruit and a lengthy finish; clearly this estate ranks near the top of the Chianti Classico quality chart!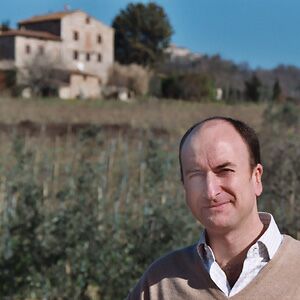 Marco Ricasoli-Firidolfi, owner of Rocca di Montegrossi. His 2004 Chianti Classico is outstanding.
As for 2004, the word "classic" was used by many vintners to describe this growing season, as it was long with proper heat and only moderate rainfall, most of which stayed away until mid-October. These wines have great purity of fruit, complexity and structure for aging. 2004 should join 2001 and 1999 as the best vintages in Tuscany over the last decade.
I was able to taste some soon-to-be released bottlings of 2004 Chianti Classico and was impressed with several including Villa Cafaggio, Dievole, Poggiopiano and Le Miccine. This last wine is from an estate owned by an American couple, Cliff and Donna Weaver, who spend time at their estate in Gaiole in southern Chianti Classico when not home in Kenilworth, a northern suburb of Chicago. Their 2004 normale has great length in the finish with bright acidity and is quite elegant. In a little over five years, the Weavers along with their gifted enologist Vittorio Fiore (consulting winemaker at Biondi-Santi) have turned around the fortunes of this small estate, creating wines of wonderful complexity in a traditional style.
Easily the finest 2004 Chianti Classico I tried was the Rocca di Montegrossi, which I believe is one of the finest estates in this zone today. This 2004 has great concentration of fruit, wonderful texture, lively acidity and a lengthy finish. Here is a regular Chianti Classico that should drink well on its tenth birthday, which is a tribute both to the vintage and the vision of owner Marco Ricasoli-Firidolfi.
VINO NOBILE DI MONTEPULCIANO
As for Vino Nobile di Montepulciano, look for the vineyard offerings from 2001 from producers such as Angelini (the La Villa bottling is outstanding), Romeo (the Lipitresco is another outstanding wine) and of course, the Asinone bottling from Poliziano, one of this zone's most remarkable wines each year. Several producers made an impressive 2001 Riserva including Poggio Alla Sala in a traditional style, La Calonica in a more modern approach and Le Berne, which has lovely tealeaf, cherry and cinnamon aromas. All the wines I tried from this last producer were quite elegant and stylish and they are clearly a producer to watch. (To the best of my knowledge, the wines are not currently imported into the United States, but that may change soon!)
BRUNELLO DI MONTALCINO
The new vintage for regular Brunello is 2000, while the Riservas are from the splendid 1999 vintage. 2000 is turning out to be a fine year with many good wines, although this is not going to be remembered as a great year for Brunello. The growing season was quite warm and while that did yield ripeness, the wines in general lack proper acidity for long aging. Also these wines do not have the concentration of the 1997s or 1999s, so consider that when deciding when to drink them.
I can best describe 2000 as a reliable vintage for Brunello with most producers making a ripe, fruit-forward bottling with nice balance throughout. It was nice to see producers such as Frescobaldi (with their Castelgiocondo bottling) and Ruffino (Greppone Mazzi) make such elegant offerings, which I heartily recommend. I must be honest that I have had mixed feelings about these wines over the years, but the Frescobaldi has much more depth than in previous vintages, while Greppone Mazzi is starting to benefit from additional age in the vineyards.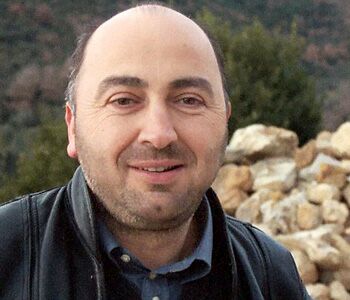 Andrea Cortonesi, proprietor of Uccelliera, who produced an excellent 2000 Brunello di Montalcino.
As for the finest Brunellos from the 2000 vintage, look to
Casanuova di Neri
(normale and the Tenuta di Nuova bottlings),
Uccelliera, Poggio Antico, Ciacci Piccolomini, Tiezzi
and
Argiano
. The best of the best were from
Innocenti
and
Capanne Ricci
; the former a remarkably elegant wine, the latter offering great purity of fruit and lively acidity. Look for both of these wines to drink well for 10-12 years.
Then there are the 1999 Riservas, which are quite distinguished. 1999 was a superb year for Brunello and there are many producers who believe this - and not 1997 - is the finest vintage in the last decade, even though the Consorzio rated 1997 with five stars versus four stars for 1999. 1997 may have yielded bigger wines, but the overall balance of the 1999s (which were not exactly light in body) combined with finer tannins resulted in outstanding wines, both for consumption tonight or in twenty years.
The best of the 1999 Riservas are stunning wines of great length and balance; for me the three finest were the Banfi "Poggio all'Oro," Valdicava "Madonna del Piano" and the Il Poggione. A few words about these wines; the Banfi has beautifully integrated oak and great persistence of fruit, the Validicava (why isn't this producer better known?) has a beautiful mid-palate and finely tuned acidity, while the Il Poggione is as perfectly balanced - and as delicious - a Brunello as you will ever find! I have been an admirer of the wines from Il Poggione for a long time as I favor their traditional approach of aging only in large oak barrels (botti) which lets the gorgeous fruit emerge from start to finish. Don't miss the 1999 Riserva Brunello from Il Poggione.
Complete reviews of these Brunellos - as well as the bottlings of Chianti Classico and Vino Nobile di Montepulciano I enjoyed - can be found in my newsletter, Guide to Italian Wines. Subscription information can be found elsewhere on this site or at my website as www.northshorewine.com
OLIVE OIL
One final piece of news about 2004 in Tuscany. Earlier in this article, I mentioned that this is being considered a classic year for wines and I must agree based on the bottlings I've samples so far. But it will also be a great year for extra virgin olive oil.
Most people don't realize it, but vintages matter for olive oil just as they do for wines. If the weather is too hot and dry, as it was in 2003, the olive oils will be a bit light. If the year is cool and there is sufficient rainfall, as was the case in 2002, the oils will be rich with good spicy character. This is almost the opposite for the wines in this case as the 2003 Tuscan reds are full - perhaps heavy - while the 2002 reds are rather light.
Then there are years such as 2004, which is a great year for both wine and oil. Moderate temperatures and proper rainfall combined to create near-perfect growing conditions and the olive oils I tasted from 2004 are some of the best I've tried in years. Particularly good were the Fontodi and the Casa Emma; the former a rich, earthy, peppery style and the latter a lighter, more elegant offering with light spice.
The most remarkable was the Castello di Cacchiano, a producer that has excelled with estate extra virgin olive oil for several years. This has great richness on the palate with a complex lightly spicy, peppery finish. This is an intensely fruity oil that can be used in many ways, whether as a garnish on salads or fish, which most Tuscans do or simply drizzled over bread, a more American practice. I've been fortunate enough to sample some exquisite olive oils from Tuscany over the past few years; the 2004 Castello di Cacchiano is as good as I've had for quite some time! (Incidentally, If you're a fan of Vin Santo, the newly released 1998 bottling from Castello di Cacchiano is outstanding with delicious butterscotch and caramel fruit and proper acidity to balance the sweetness.)
By the way, don't expect to find these oils at your local food store as they are in limited quantity. Most of the best oils are made in such small lots that they aren't exported to the United States. Just another reason for you to visit Tuscany, I guess!
April 2005
To contact Tom Hyland, visit his Website at http://www.northshorewine.com
or write him at tnapawine@aol.com

Back to Tom Hyland's Italian Wines
<!- Page Contents End Here ->