Sagrantino from Umbria and some great local food
Article and photos © by Tom Hyland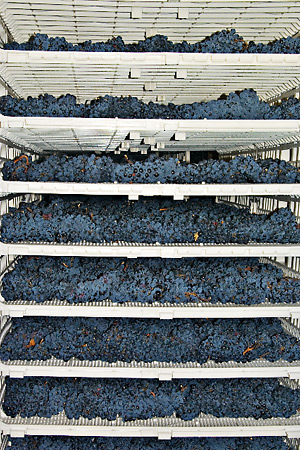 Sagrantino grapes drying on racks for production of Sagrantino Montefalco Passito at Perticaia Estate, Montefalco, Umbria. Photo © 2007 by Tom Hyland
Umbria is one of those places that get you thinking after you've visited. You realize how striking it is and imagine how it is that more people don't know about it. Be it the simple beauty of the landscape dotted with vineyards, olive trees and rolling hills, or the splendid foods that help give this region its identity, Umbria has so many aspects that appeal to our senses. (And let's not forget the stunning hand-painted ceramics you will find in many of the region's towns.)
As Umbria is underappreciated by tourists - many of whom prefer to visit its neighbor to the west, Tuscany - many winemakers here have decided to plant international varieties such as Cabernet Sauvignon and Merlot to appease the market. These ripe, forward reds are certainly noteworthy wines, but too many examples start to taste like one another - or like New World wines in many cases. This is a familiar story in several regions of Italy, where traditional wines from indigenous grapes tend to get squeezed out in the battle for sales.
Thankfully, the producers near the small town of Montefalco in northeastern Umbria (near the towns of Assisi and Foligno) have decided to emphasize their own unique wine and craft bottlings that are as distinctive as Barolo in Piedmont or Brunello di Montalcino in Tuscany. The wine is Sagrantino di Montefalco, a robust red made from the local Sagrantino grape.
Sagrantino produces wines that have big cherry, plum and strawberry fruit, usually with plenty of spice as well as ample tannins. In fact, Sagrantino has more tannin than just about any other red grape in Italy, including Nebbiolo, which is the sole variety used in Barolo and Barbaresco. While this was a problem in the past, as many examples of Sagrantino were quite rough upon release, producers have discovered ways to tame this youthful bitterness, both through extended maceration as well as aging in large oak, though some producers now prefer barriques, the smaller oak barrels.
These wines, although sporting youthful tannins, are not meant for decades of cellaring, as does Barolo, but rather, drink well at 5-10 years of age. The varied nature of vintages have much to do with how long a wine will last and of course, a great growing season that is not too hot, allowing the natural acidity to be a vital part of the wine, will ensure longer aging. 2004 is one of those vintages, and these wines, which were the featured bottlings of my tastings in Montefalco, are first-rate. Look for these wines to be at their best in 7-12 years, with my favorites including those from Antonelli, Scacciadiavoli, Antano and Tiburzi.
While the most famous examples of Sagrantino di Montefalco (also called Montefalco Sagrantino, as some producers want to emphasize the area where the grapes are grown) are dry, this is a grape that is also made into a lovely sweet wine called Sagrantino di Montefalco Passito. In fact, the sweet version was the one that was the most famous for over a hundred years, until more estates started to vinify the dry wine starting in the 1970s. The passito version has deep purple color and in the best examples, unbelievably tempting aromas of black raspberry and black plum with a moderately sweet finish with notes of bittersweet chocolate on the finish.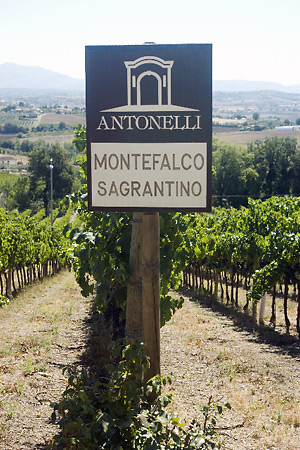 Sagrantino Vineyard at Antonelli estate, Montefalco, Umbria. Photo © 2007 by Tom Hyland
While a few versions are a bit one-dimensional and perhaps just a touch syrupy or port-like, most are very well balanced and leave an impression of lush, delicious fruit and light sweetness. Look for examples from
Antonelli, Scacciadiavoli
(both outstanding),
Colpretone, Peritcaia
and
Antano
(the last a bit drier than most examples). I can't imagine a better partner for chocolate or a raspberry tart, although this wine also works well with blue cheeses. As a friend of mine who imports a Sagrantino di Montefalco Passito says, "Is this stuff great or what?"
Most local producers also make a dry red called Montefalco Rosso, in which the primary grape is not Sagrantino, but rather Sangiovese, which has been the dominant grape in this area for centuries. The usual blend is 65 percent Sangiovese with about 10-15 percent Sagrantino and the remainder Merlot, although other grapes, such as Barbera are allowed.
As you might imagine, styles vary from simple and early drinking to a more serious wine with deeper concentration and greater complexity. The Antonelli bottling is the textboook example for me, with rich spice and beautiful structure and while approachable upon release, is better after 3-5 years. Antonelli also produces a Riserva version of this wine, as do other producers, and while fuller on the palate, I'm not certain it is as good a wine as the regular bottling.
Just about any producer's Montefalco Rosso is a charming wine (the 2005 from Plani Arche is tasty and very elegant and is one of the best along with that from Antonelli and Antano) and is a perfect match with maiale, the local pork, which in most people's opinion - including my own - is the finest in all of Italy.
Speaking of food, you will find plenty of greatness in Umbria, especially if you are a pork lover. Also famous are lenticchie - lentils - especially those from Castelluccio, which is a registered IGP product. A specialty flat pasta known as stringozzi is served at many local trattorie.
And of course, how can I discuss food in Umbria without mentioning truffles? The black truffles of Umbria - locally referred to as tartufi - are intensely flavored and quite pungent, rivaled in Italy only by the white truffles of Alba in Piedmont. During my visit in mid-September, I dined not upon the famous tartufi, but rather the summertime truffles, which are milder in nature, yet still wonderful served with stringozzi.
Article and photos © by Tom Hyland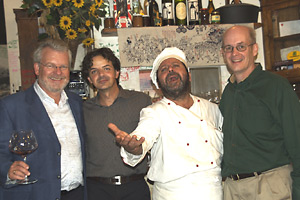 The author (green shirt on far right) with chef Salvatore Denaro at Il Bacco Felice, Foligno, Umbria. Also in the photo is Norwegian journalist Kjell Karlson (far left) and Alesandro Casciola, director of the Sagrantino Montefalco Consorzio.
Dozens of wonderful trattorie and osterie can be found in the towns around Montefalco and my favorite this trip was
Il Bacco Felice
in the town of Foligno. Quite small, with only about 12 tables, this is as much a place to visit for its food as its atmosphere. The person that takes care of both is chef/owner Salvatore Denaro. There is no menu and no wine list here; the waitress tells you what Salvatore has prepared that evening and if you want a wine, tell him what you would like and he'll bring you something. That evening, pigeon was the main dish, and it was as good as I've had in Italy, while the opening insalata had tomatoes that were incredibly flavorful and juicy.
If you think Salvatore has talent in the kitchen, wait until you see him on the floor, moving from table to table, pouring wine and making sure everyone is enjoying himself or herself. He is a native Sicilian, which helps explain his enthusiasm for life; you have to ask him to make sure he plays music from one of his Sicilian countrymen, to which he will gladly sing along. You'll finish your evening writing a few words about your experience there on whatever little space is available on one of the walls. Salvatore himself will bring you a pen or marker and remind you that your evening at his restaurant is not complete until you let future diners know how much you enjoyed your time at this wonderful eatery.
If you don't enjoy an evening at Il Bacco Felice, I feel sorry for you!
Il Bacco Felice
Via Garibaldi 73 Foligno
0742.341019
Closed Mondays
October 2007
To contact Tom Hyland, visit his Website, "Learn Italian Wines," www.learnitalianwines.com or write him at thwinewriter@comcast.net


Back to Tom Hyland's Italian Wines
<!- Page Contents End Here ->