Sagrantino
... and a great new wine bar in Rome
Article and photos © 2003 by Tom Hyland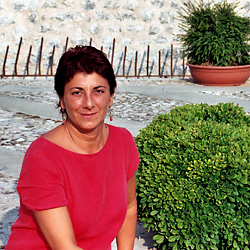 Roberta Vitali, Proprietor, Rocca di Fabbri Winery, Montefalco
Thoughts on some of Umbria's unusual reds and a great new wine bar in Rome ...
Umbria has become one of my favorite regions in Italy for many reasons. The climate in this central part of the country is beneficial to farmers, meaning there is a bounty of wonderful foods, from the best lentils in Italy to incredibly tender and flavorful pork and of course, the famous white and black truffles known as tartufi.
The wines are quite distinctive as well, as international varieties such as Cabernet Sauvignon and Merlot are creating a new identity for a region known historically for Orvieto, a delicate white wine made dry or slightly sweet. But there is an indigenous grape that I believe makes Umbria's most distinctive wines.
That grape is Sagrantino, grown in the village of Montefalco and several surrounding towns, located in eastern-central Umbria, about halfway between Spoleto and Assisi. There are a dozen or so producers that work with this grape, with only about 250 acres planted in total.
While the origins of this grape are unclear, one fact about the grape is that it is one of the most tannic varieties found anywhere in the world. This can be a problem of course when it comes to overall balance, but the district's finest producers are taming the tannins, making it an elegant wine that has the potential to age for more than a decade.
The premier wine here is Sagrantino di Montefalco, a DOCG wine that must be made from 100 percent Sagrantino. A more subdued wine that is released at an earlier date is Montefalco Rosso (DOC). This blend is typically about 65-70 percent Sangiovese and about 10-15 percent Sagrantino, with the remainder being Cabernet Sauvignon or Merlot, though some winemakers also use Colorino in their cuvee. Expect to pay about $12-18 for a Montefalco Rosso in the U.S. market, with a Sagrantino di Montefalco costing about $25-35 per bottle.
One other wine is made from the Sagrantino grape and it is a beauty! This is the Sagrantino di Montefalco Passito (also DOCG), made from partially dried grapes. Think of this as a port with its slight raisiny character, but without the high alcohol (most are in the 14.5-15.5 percent range). The best examples have a delicious blackberry jam quality to them and are rich and ripe with medium sweetness, but not cloying or heavy. This is an exotic wine and is quite a treat, especially paired with chocolate or a plum or blackberry tart.
Here are notes on the wines I tried on my recent visit to Montefalco.
SCACCIADIAVOLI
One of the area's smallest producers, the wines here are elegant and well balanced, if a bit light. The name in Italian, by the way, means "devil hunters."
2001 MONTEFALCO ROSSO
Deep garnet-light ruby red with an aroma of cherry, plum and a hint of sage. Medium body with good concentration. Round, elegant finish with soft tannins and balanced acidity. Enjoy over the 12-15 months. **
1999 SAGRANTINO DI MONTEFALCO
Deep ruby red-light purple with an aroma of black cherry, violets, dates and a hint of violets. Medium-full with very good concentration. Satisfying finish with persistent fruit, tart acidity and a hint of chocolate, though the tannins are a bit sharp. Enjoy over the next 3- 5years. ***
ROCCA DI FABBRI
Established in 1984, this handsome estate is run by Roberta Vitali. While the wines here are well made, they are rather safe. I would like to see more complexity and depth of fruit. A move in that direction could make this very good estate a great one.
2001 MONTEFALCO ROSSO
Ruby red with a hint of purple. Cranberry and herbal tea aromas with a touch of plum. Soft tannins and balanced acidity combine to make this a delicious Rosso for drinking now and over the next 1-2 years. ***
1999 SAGRANTINO DI MONTEFALCO
Deep ruby red with an aroma of cherry, licorice and a hint of mint. Medium-full with moderate tannins and balanced acidity, this is well-made, but lacks the intensity of the best examples from the wonderful 1999 vintage. Enjoy over the next 3-5 years. ***
1999 SAGRANTINO DI MONTEFALCO PASSITO
Deep ruby red-light purple. Raspberry and licorice aromas. Medium bodied, this is round with a delicate sweetness and balanced acidity. Enjoy over the next 3-5 years. ***
ADANTI
I was only able to taste one wine from this estate, but it is excellent! Run by the Adanti family, the winery is located in the ancient Roman town of Bevagna. Though a tiny hamlet, this is a must see, especially for its 8th century church.
2001 MONTEFALCO ROSSO
Bright ruby red with an aroma of black cherry, a hint of plum and oak. Medium-full with good weight on the palate, this is suprisingly big and flavorful for this wine type. Quite elegant and a lovely food wine, this is about as good as Sagrantino Rosso gets! Drinkable now and over the next 2-3 years. ****
ANTONELLI
My favorite producer – and arguably the area's finest – is Antonelli. The estate is run by the personable Filippo Antonelli and the wines here have wonderful spice to go along with the excellent depth of fruit. His 1999 reds were outstanding and the new 2001s may be even better. The 2000s, from a very good but not great vintage, are excellent. A wonderful dry white made from the Grechetto grape is first-rate and his 1998 Sagrantino di Montefalco Grappa Riserva is outstanding! (Reviews of these products appear in the new August-September issue of my newsletter, Guide to Italian Wines.)
2000 MONTEFALCO ROSSO
Bright ruby red with an aroma of black cherry, sage and cedar. Medium-full with moderate tannins and lively acidity. Nicely balanced, drink this over the next 2 years. ***
2000 MONTEFALCO ROSSO RISERVA
Antonelli is one of the few producers to make a Montefalco Rosso Riserva. The wine contains a slightly higher percentage of Sagrantino in the blend and spends a bit more time in big oak barrels as well as medium-sized ones known as tonneau. Bright ruby red with an aroma of cherry, sage, oregano, cedar and oak. Medium-full with very good depth of fruit. Nicely balanced with moderate tannins, lively acidity and nicely integrated oak. Drink now and over the next 2-3 years. ****
2000 SAGRANTINO DI MONTEFALCO
Deep ruby red with a hint of purple. Black cherry, licorice, menthol and black mint aromas. Medium-full with very good depth of fruit. Big tannins and a bit astringent now, there is lively acidity. Time will help round out this well made wine - best in 3-5 years. ***
2001 SAGRANTINO DI MONTEFALCO
Barrel sample, a full review appears in my newsletter. Excellent (4 star) potential.
2000 SAGRANTINO DI MONTEFALCO PASSITO
Bright ruby red-light purple. Plum and black raspberry aromas. Medium-full with very good concentration. Rich and ripe, this is medium sweet with a nice spiciness and earthiness. This will be at its best in 3-5 years, though I would not be surprised to see it drink well for another few years beyond that. ****
***** Outstanding
**** Excellent
*** Very Good
** Good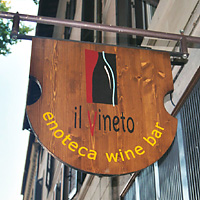 Il Vineto
Most of my trips to Italy are spent in wine regions, but this past visit, I got to spend a bit of time in Rome. I was glad I did as I discovered a wonderful wine bar that is a must for lovers of Italian wine. Il Vineto is centrally located on the Via Veneto, just a few steps from several of Rome's best known hotels (Hotel Imperiale, Hotel Alexandre).
The wine bar is owned and run by Ariano Ferdinando, who bills himself as "head sommelier." There are about ten white and ten red wines available by the glass at all times and they range from Elena Walch Gewurztraminer from Alto Adige (€9 per glass) to the famous "Flaccianello Della Pieve" from Fontodi in Chianti Classico (€16 by the glass).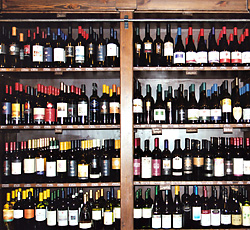 But an added bonus here is that there are more than 1000 wines available for sale, either to be consumed with food at the wine bar or to take away. Unlike many wine bars or enotecas in Italy, this establishment features wines from every region in Italy. While there are wines from the length and breadth of the country, the selections from Piemonte, Tuscany, Friuli, Lazio and Sardinia are especially impressive.
As you look at the wines that are on display here, you will discover the offerings of many small producers that are hard to find, even in Italy. Prices listed are for retail sale to take away; if you choose to buy the wine and enjoy it with food at the wine bar, expect to pay another 50 percent. While this may seem high, these prices are still better than most local restaurants; remember you are in Rome!
The food is quite good and ranges from several types of bruschetta to capers stuffed with prawns to roast salmon and fresh mozzarella. Whatever you decide on for food, you certainly won't have a problem finding a wine to go with it. Whether you prefer a crisp white such as Falanghina from Campania or a traditional red such as Chianti Classico (or even French wine such as Champagne or Sauternes), Il Vineto will be heaven for you!
Il Vineto
Via Veneto 6, Rome
Tel: 06 06 486617
E-mail: ilvineto@libero.it

July 17, 2003
For subscription information, contact Tom Hyland at tnapawine@aol.com or visit his Website at http://www.northshorewine.com.


Back to Tom Hyland's Italian Wines
<!- Page Contents End Here ->