A plea to Italian wine makers
Article and photos © by Tom Hyland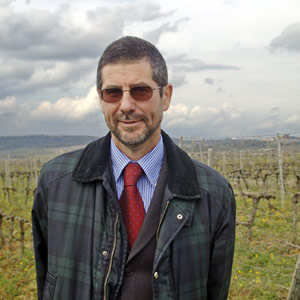 Pablo Harri, the winemaker at Col d'Orcia, a traditionalist. Photo © 2008 by Tom Hyland
When a winemaker or wine authority in Italy gets up and describes a big Italian red from a particular region - it could be Tuscany, Abruzzo, Veneto or half a dozen others - as ripe and forward with plenty of oak, he or she will often refer to it as a wine that Americans prefer.
Not a wine that Italians like, but just the Americans. Apparently we Yanks like our wines big and bold (so many people think of America in this way, not just the Italians), so they make them for us.
The situation often comes up often when I'm in Italy, sometimes at a symposium or sometimes during a visit to a winery. But it happens too often for me, so I am making a plea in this letter to Italian winemakers - make Italian wines, not Californian!
Of course, there's a simple reason why so many make wines in this fashion: The wine press. Specifically a high rating - in the mid to upper 90s - from a few influential wine publications, but mainly Wine Spectator and Robert Parker's Wine Advocate. Both of these publications rate wines on a 100-point scale, which typically awards wines that are big and bold with higher scores than bottlings that are more subdued in nature. This works for both white and red wines, but the red wines are the ones that more often grab the headlines. Get a 95 rating or higher and people notice your wine.
Of these two publications, it is Wine Spectator that clearly has more influence with American consumers. The magazine is available in bookstores, wine stores and even grocery stores where wine is sold. This is a different situation than Wine Advocate, which is available only to private subscribers. Thus tens of thousands more consumers are familiar with Spectator, even though Robert Parker is arguably recognized as the world's most famous wine critic. But when it comes to the publications, out of sight, out of mind, so given the number of stores where Spectator is for sale, that's the one that many consumers look to for guidance.
The Italian wine coverage for the Spectator is handled by James Suckling, and let's just say the less the better when it comes to talking about his preference of Italian wines. The type of wines I described - ones that stand out in tastings for their boldness - are the ones he prefers. When it comes to finesse, that's a characteristic that doesn't count for much in his way of criticism. Yet the more elegantly styled, lighter wines are often the ones that are better not only now, but also with food. These are wines you drink, not taste.
Now my point here is not that Mr. Suckling is wrong about the wines he likes. After all, taste is a personal thing and if he truly thinks the big, oaky reds are the best Italian reds, so be it. The problem comes from the fact that too many people just take his word as gospel. After all, he is the Italian wine writer for this very influential wine publication, so he must be right, yes? Well, too often the answer is no.
When he gives a Brunello di Montalcino from Casanova di Neri or Fanti a score of 94-97 points, he clearly favors a style where ripeness, ample oak and soft tannins are the principal qualities of these wines. I taste the wines as well each year in Montalcino and while they are impressive offerings, they do not represent classic, traditional Brunello in any sense. Now there's nothing wrong with a producer trying to make a more modern style in Montalcino or anywhere else. But when the wine starts to taste more like a California approach to Brunello, you've got a problem.
Manuel Marchetti, of Marcarini Estate, La Morra, a traditional producer of Barolo. Photo © 2008 by Tom Hyland
When it comes to examples of Brunello from producers such as Il Poggione, Col d'Orcia or Talenti, wines that are aged only in large casks, without the strong influence of small oak barrels, Suckling usually gives them scores in the low 90s. You might say, "what's wrong with that?' That should be a very good score and a big recommendation for this wine, but in reality, 92 points doesn't mean much these days. With all the 95s, 96s and 97s that are handed out by Suckling (as well as the other writers at the Spectator), the bar has been raised. Look at a list of red wines in the magazine and you'll see the 92-point wines a ways down the list, after several dozen other higher-rated wines. When this is a list of Brunellos or Barolos, there can be over 100 examples rated; so many readers don't go through the whole list, as they focus on the top ten or twelve wines.
There are two main problems with this in my opinion. First, when consumers go to the magazine for guidance on Brunellos, they are swayed by the wines that receive the highest scores (this is especially true for a wine that sells for $50 and up in America). So the ripe, modern wines are the ones that people believe are the best. They think this is what Brunello is supposed to taste like. Then when they try a classic, more restrained style of Brunello, they often think these wines are too light and not as exciting as the more powerful bottlings.
Second, and perhaps more important, when a producer wants to create attention for his Brunello, he will often make it in a style that he knows Suckling and a few other influential critics are looking for. This happens too often with new producers, anxious for the press and consumers to notice his wine. I spoke with the winemaker at one estate in Montalcino that produces classic Brunello about this. "We've been making our wines in the traditional way for some time," he said. We have our customers that like our wines. We don't need to change. But the new producers don't have the track record, so they want instant recognition." You've got to admit that when it comes to Brunello (or Barolo or several iconic Italian red wines), that quick fix is not something most people desire.
Getting back to my plea to winemakers. Please note that there are numerous wine writers in America such as I that love traditional Italian wines. There are also tens of thousands of consumers that also opt for the classic approach. We want you to continue making your wines this way. Make no mistake; there is room for varying styles. I do love certain bottlings of a more modern style Brunello; those from Casanuova delle Cerbaie and Valdicava come to mind. But I prefer the classic style and above all, I prefer a Brunello that tastes Italian, not Californian.
I go to Tuscany, Piedmont, Sicily, Campania and several other regions to taste the regional cuisine. I may not like everything, but I expect to experience the local flavors. Why would I want to taste an Italian wine that tastes like it came from California?
Sincerely,

Tom Hyland
July 2008
To contact Tom Hyland, visit his Website, "Learn Italian Wines," www.learnitalianwines.com or write him at thwinewriter@comcast.net