Due Pizzerie
Article and photos © by Tom Hyland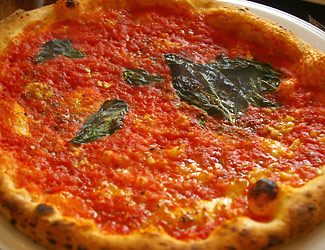 Pizza Marinara, Spacca Napoli, Chicago
During my travels to Italy (28 trips and counting), I have been treated to many incredible meals in regions stretching the length and breadth of the country. Be it the braised rabbit from Piemonte, the various examples of prosciutto (Parma, San Daniele, et al), the delightful pizzocheri of Valtellina (a pasta, cheese and cabbage dish) or the delicious small clams from Campania known as vongole, Italian cuisine has been an exciting series of discoveries during my visits.
But while I seek out the various regional cuisines of Italy, I also look for the best examples of one famous dish that millions of natives and tourists love, especially when they want to enjoy a simple meal with friends. That food is pizza, specifically the renowned version from Napoli, one of Italy's most indispensable foodstuffs.
While pizza may be one of the more basic Italian culinary creations, it is nothing short of sacred in Napoli and the surrounding areas of Campania. Pizza Napoletana (Neapolitan pizza) has specific guidelines as to its ingredients and method of assembly, such as the use of Italian wheat flour, natural Neapolitan yeast and water. A pizzaiolo (pizza maker) must form the dough by hand (no rolling pin allowed) to a thickness of no more than 1/8 inch thick.
There are two basic types of pizza Napoletana: pizza margherita and pizza marinara. The first is the most famous Italian pizza, named for Queen Margherita. The legend has it that she visited a pizzeria in Napoli one day in the late 19th century and was served a special pizza that incorporated the colors of the Italian flag, red, green and white. The combination of the red from the tomatoes, the green from the basil and the white from the mozzarella cheese was a success and this legendary pizza was born. Today the classic margherita pizza is made from mozzarella di bufala campana, tomatoes (usually San Marzano tomatoes from Campania), basil and olive oil and is found in pizzerie around the country. Pizza marinara, the other staple, is made from tomatoes, garlic, oregano and olive oil.
From these two basic styles, dozens of variations have emerged, from pizza Veronese (mushrooms and prosciutto) to pizza quattro formaggi ("four cheeses"), which is a combination of mozzarella and three other cheeses, including provolone, Gorgonzola, Parmigiano or other regional choices. These types of pizzas fall under the category pizza bianca ("white pizza"), referring to their use of cheese rather than tomatoes.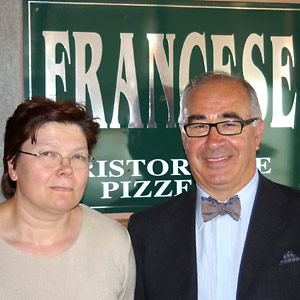 Beppe Francese and his wife, Giuseppina Zuccarino - Ristorante Francese, Asti
The famous pizzerie of Napoli are the most renowned and revered in the entire country (especially
Antica Pizzeria Port'Alba, Sorbillo
and
Di Matteo
- this last eatery also famous for its fried foods such as zucchini and rice balls) but there are other great places for pizza throughout the country. The one outside of the Napoli area that has most impressed me is
Francese
, located in the city of Asti in the northwestern region of Piedmont (Via dei Cappellai, 15 - Tel: 0141 592321).
Located in the center of this charming town, Francese is owned by Beppe Francese and if you're wondering how someone in Asti can make such great pizzas, well Beppe knows a thing or two about the subject as he is from the small town of Tramonti on the Amalfi Coast in Campania, just a bit south of Napoli. He features over two-dozen different pizzas on his menu with the classic margherita being a favorite as well as one he calls schiaccciatina, which is loaded with prosciutto. If you visit here, don't miss this one! His wife Giuseppina Zuccarino is the chef and is especially creative with the various pastas (this is a ristorante as well as a pizzeria). The wine list is small but excellent, as Beppe features selections from a number of his neighbors who produce Barbera d'Asti as well as Moscato d'Asti, the lovely, light-as-a-feather slightly sparkling dessert wine.
You'll see everyone from families to couples to older folks dining here as this is a classic Italian pizzeria that is a magnet for the locals. I visted here in June and was watching a World Cup soccer match on a big screen here when a party of 12 - three mothers and nine young children was seated nearby. Normally, I'd cringe at a similar situation in America, but everyone was well behaved and it became rather quiet once all the youngsters had their first bite of pizza! It was funny to see one young girl methodically remove all the crust so she could enjoy the rest of the pizza!
Besides operating his own establishment, Beppe Francese is also an authority on pizzerie in Italy, as he has written the book, "Pizzerie d'Italia", which lists more than 1000 pizzerie throughout the country. Conveniently written in Italian, French, German and English, the book is arranged alphabetically by city and lists details such as operating hours, credit cards that are accepted and seating capacity. You'll also find a listing for which of the various pizzas at each site are recommended- a nice touch! To find out more information on this book - or to order it - go to the website www.pizzerie-italia.it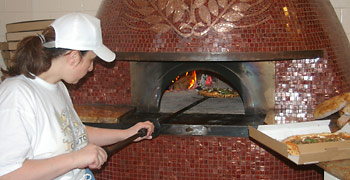 Forno - wood burning oven at Spacca Napoli, Chicago
Many people in America have dreamed of operating a genuine Neapolitan pizzeria in America; one of the most successful is located in Chicago, less than a mile from where I live (lucky me!). It's called
Spacca Napoli
(1769 W. Sunnyside, Chicago, 773-878-2420), which is the name of the district in Napoli that is home to some of the most famous pizzerie. Opened in early 2006, local food critics have hailed this spot as one of the most authentic Neapolitan pizzerie in America - I am seconding that opinion!
The owner is Jonathan Goldsmith, an American who lived for years in Tuscany and Puglia and spent a great deal of time visiting pizzerie in Napoli as well as learning how to make the classic pizzas of the South. His education was thorough, as he has captured the true essence of these dishes, importing all his ingredients from Italy and making an authentic thin crust that is not overly firm.
Besides the traditional pizza margherita and marinara, Spacca Napoli offers an additional ten pizzas on the everyday menu ranging from pizza salsiccia (tomatoes, fior di latte mozzarella, basil, italian sausage, olive oil) to pizza bianca con bufala (mozzarella di bufala, basil, olive oil) and my current favorite (I haven't tried them all yet!), pizza prosciutto e arucola (provola, prosciutto di Parma, arugula, parmesan, olive oil). All the pizzas are quite appetizing and very elegant at the same time- every ingredient is used in the proper proportion here, unlike some pizzerias in America that go heavy on the cheese.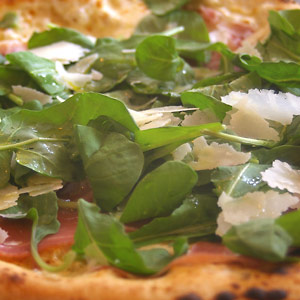 Detail of Pizza Prosciutto e Arucola, Spacca Napoli, Chicago
The place looks great as well with a subdued color scheme of orange on the outside and yellow and white on the inside. The wood burning oven, sporting a mosaic designed by Jonathan's wife, Ginny Sikes (two of her paintings decorate one of the dining rooms), can get as hot as 1500 degrees! As you can imagine, pizzas come out very quickly, so you are often served within three to four minutes of the time you place your order. There are several antipasti available and a small, but thoughtful wine list offering about 20 wines by the bottle, ten of which are also available by the glass.
Goldsmith has created a successful Neapolitan pizzeria by honoring the authentic flavors of this famous foodstuff. He told me that for a true pizza lover, "Pizza margherita and marinara are the real things. You taste the cheese and tomato in those pizzas. All the others are just noise." These basic styles - as well as several famous variations - have been captured brilliantly by this sincere, thoughtful gentleman, so the next time you're in Chicago, a town that prides itself on pizza, visit the finest pizzeria in the city - if not the Midwest, or the entire country for that matter!
September 2006
To contact Tom Hyland, visit his Website at http://www.northshorewine.com
or write him at thwinewriter@comcast.net

Back to Tom Hyland's Italian Wines
<!- Page Contents End Here ->