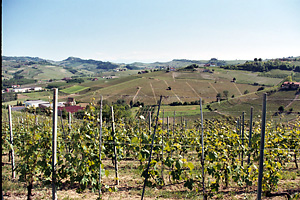 Barolo vineyards at Annunziata
Photo copyright 2003 by Tom Hyland
© by Tom Hyland
The Latest from Piemonte
I just returned from Piemonte where I attended the Alba Wines Exhibition, a five-day event to preview the newest releases of several important wine types. These included the 2001 bottlings of Nebbiolo d'Alba, 2000 Roero Rossos, Barbarescos from the 2000 vintage and Barolos from 1999. It is these last two categories I will focus on in this article.
Beginning with 1995 all the way through to 2001, Piemonte has been blessed with seven consecutive noteworthy vintages, a remarkable string of good fortune. While the wines from 1998 and 2000 are not as concentrated as other vintages, even the releases from these years are notable for their elegance and pure varietal character.
I tasted 81 different Barbarescos from the 2000 vintage and was favorably impressed. The best of these wines were rich in fruit with lively acidity and good structure. Look for the finest examples to be at their best in 7 to 10 years.
Unfortunately, a few of these wines were out of balance, displaying too much oak as well as hefty tannins. It is almost as though some winemakers were trying to make a Barolo out of a Barbaresco. Perhaps this has to do with the market preference for Barolos these days. If so, that is a shame as Barbaresco has its own lovely character. Yes, it is true that Barbaresco is generally lighter than Barolo, but what is wrong with that? The best examples of Barbaresco are special wines, so there is no need to have the wine masquerade as something it is not.
Here are my rankings for the 2000 Barbarescos tasted at this event (a list of all the wines with select tasting notes can be found in the June-July issue of my newsletter, Guide to Italian Wines.) Within each category, the wines are ranked in preferred order.
2000 BARBARESCO
5 STARS (Outstanding)
Fontanabianca "Sori Burdin"
Moccagatta "Basarin"
Punset di Marina Maracrino "Campo Quadro"
Ressia "Canova"
Poderi Elia "Serra Capelli"
Nada Ada "Cichin"

4 STARS (EXCELLENT)
Punset di Marina Marcarino Nada Ada "Valeriano"
Ceretto "Bricco Asili Bernadot"
Sottimano "Cotta"
Vietti "Masseria"
Produttori del Barbaresco
Terre di Vino "La Casa in Collina"
Grasso "Bricco Spessa"
La Contea "Ripasorita"
Mainerdo
Prunotto "Bric Turot"
Rabaja' di Bruno Rocca "Rabaja'"
Fratelli Giacosa "Rio Sordo"
Cantina del Brichetto "Albesani Vigna Ronco"
Paitin "Sori Paitin Vigne Vecchie"
Elvio Pertinace "Nervo"
Rizzi "Fondetta"
Orlando Abrigo "Vigna Montersino"
Orlando Abrigo "Vigna Rongallo"
Antichi Poderi dei Gallina "Vigneto 'L Ciaciaret"
Bonino "Sori Basarin"

Bel Colle "Roncaglie"
Musso "Pora"
Musso "Rio Sordo"
Fiorenzo Nada "Rombone"
Ernesto Casetta "Vigna Magallo"

3 STARS (VERY GOOD)
Morassino di Roberto Bianco "Ovello"
Cantina del Glicine "Marcorino"
Cantina del Glicine "Cura"
Fratelli Grasso "Sori Valgrande"
Fontanfredda "Coste Rubin"
Moccagatta "Bric Balin"
Roberto Sarotto "Gaia Principe"

Carlo Boffa "Vigna Vitalotti"
Carlo Boffa "Vigna del Casot"
Prinsi "Gallina"
Elvio Pertinace "Marcarini"
Pelissero
Piero Busso "Santo Stefanetto"
Eredi Lodali ""Vigneto Rocche dei 7 Fratelli"
Fratelli Molino "Ausario"
Luigino Grimaldi "Vigna Manzola"
Ca' del Baio "Valgrande"

Rino Varaldo "Bricco Libero"
Ugo Lequio "Gallina"
Roberto Sarotto "Gaia Principe"
Cascina Luisin "Sori Paolin"
Mario Amerio "Suri Canova"

La Spinona "Bricco Faset"
Rino Varaldo "Sori Loreto"
Batasiolo
Armando Piazzo
Domenico Filippino "Sori Capelli"
Fratelli De Nicola "Vigna di Montesommo"
Marchesi di Gresy "Martinenga"
Michele Chiarlo "Asili"

Dante Rivetti "Bricco"
Carlo Giacosa "Narin"
Cascina Luisin "Rabaja"
Poderi Colla "Roncaglie"
Guiseppe Cortese "Rabaja"
Mario Amerio "Suri Canova"
Paitin "Sori Paitin"

2 STARS (GOOD)
Rizzi "Fondetta"
Morassino di Roberto Bianco "Morassino"
Luigi Giordano "Montestefano"

As for the 1999 Barolos, this is a first-rate vintage. Pietro Ratti of Renato Ratti told me that he believes 1999 is a "classic vintage, with the best wines aging as long as 20 years."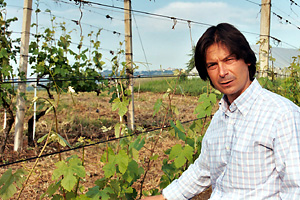 Danilo Drocco, winemaker, Fontanafredda
Photo copyright 2003 by Tom Hyland
Danilo Drocco, winemaker at Fontanafredda, remembered the growing season as excellent. "It was hot, but not too hot, so the flavors could develop in the grapes." I found the wines to be exemplary with excellent depth of fruit and great structure. Above all, most of these wines were extremely well balanced.
Despite the fact that some winemakers use barriques for aging (usually in combination with mid-size barrels or large Slavonian casks known as botti), very few of these wines could be described as "international" in nature. Though ripe, these wines still had the earthy, cedary flavors of Barolo, albeit more refined in nature than examples from the 1980s.
Winemaking has improved throughout the 11 communes that make up Barolo and while the current releases are more approachable at an earlier age, it does not change the ageworthiness of these wines. Expect the finest examples of the 1999 Barolos to be drinking well in 2012 or even in 2019, if you can wait that long!
1999 BAROLO
5 STARS (OUTSTANDING)
Costa di Bussia Tenuta Amulfo "Luigi Amulfo"
Mauro Veglio "Vigneto Rocche"

Cavalotto "Bricco Boschis Riserva Vignolo"
Cadia
Paolo Scavino "Carobric"
Carlo e Tara Cavagnero "Merlotti"
Revello "Vigna Giachini"
Gianni Voerzio "La Serra"

Batasaiolo "Vigneto Cerequio"
Cordero di Montezemolo "Villero Vigna Enrico VI"
Domenico Clerico "Ciabot Mentin Ginestra"
Fontanafredda "Lazzarito La Delizia"
Giuseppe Rinaldi "Brunate Le Coste"
Giovanni Rosso "Serralunga"
Gian Piero Marrone "Pichemej"
Mauro Veglio "Vigneto Arborina"
Mauro Molino "Vigna Gancia"

4 STARS (EXCELLENT)
Cavalolotto "Bricco Boschis Vigna S. Giuseppe"
Pio Cesare "Ornato"
Fontanafredda "Serralunga d'Alba"
Luigi Einuadi "Costa Grimaldi"
Caludio Alario "Riva"

Vietti "Rocche"
Cordero do Montezemolo "Monfaletto"
Cascina Ballarin "I Tre Ciabot"
Revello "Conca"
Rino Varaldo "Vigna di Aldo"
Bergadano "Sarmassa"
Luciano Sandrone "Le Vigne"
Luciano Sandrone "Cannubi Boschis"
Marchesi di Barolo "Sarmassa"
Brezza "Bricco Sarmassa"
Vietti "Lazzarito"

Giovanni Manzone "Le Gramolere Bricat"
Ferrero "Manzone"
Revello "Vigna Gattera"
Poderi Marcarini "La Serra"
Mauro Molino
Mauro Molino "Conca"

Sergio Barale "Castellero"
Sergio Barale "Bussia"
Oddero "Vigna Rionda"
Parusso "Bussia Vigna Rocche"
Parusso "Bussia Vigna Munie"
Francesco Rinaldi "Cannubbio"

Renato Ratti "Conca Marcenasco"
Rocche Costamagna "Bricco Francesco"
Silvio Grasso "Bricco Luciani"
Michele Chiarlo "Cannubi"
Vietti "Ravera"
Luigi Einaudi

3 STARS (VERY GOOD)
Mario Veglio "Vigneto Gattera"
Mario Marengo "Brunate"
Brezza "Sarmassa"
Gianfranco Alessandria "San Giovanni"
Gianni Gagliardo
Dosio "Fossati"
Fratelli Alessandria "San Lorenzo"

Cordero di Montezemolo "Vigna Bricco Gattera"
Marcarini "Brunate"
Prunotto "Bussia"
Aurelio Settimo "Rocche"
Giovanni Viberti "Buon Padre"
Serio and Batista Borgogno "Cannubi"
Marchesi di Barolo "Cannubi"
Giovanni Sordo

Tenuta Arnulfo "Costa di Bussia"
Gianfranco Alessandria Gianfranco Bovio "Vigna Gattera"
Aurelio Settimo
Silvio Grasso "Giachin"
Renato Ratti "Marcenasco"
Attilio Ghisolfi "Bricco Visette"
Aldo Conterno "Colonello"
Michele Chiarlo "Cerequio"

2 STARS (GOOD)
Cascina del Monastero "Bricco Luciani"
Cascina Ballarin "Bricco Rocca"
Franco Molino "Bricco Zuncai"
Franco Molino "Rocche dell'Annunziata"

Cascina Ballarin "Bussia"
Silvano Bolmida "Bussia"
Marco Oberto "Ciabot Berton"
Fratelli Alessandria
Roberto Sarotto "Bricco Begera"

De Nicola "Vigna della Ginestra"
Erbaluna "Vigna Rocche"
Fratelli Giacosa "Vigna Mandorlo"
Podere Ruggeri Corsini "Corsini"
Pio Cesare
Marziano and Enrico Abbona "Pressenda"
Tenuta Arnulfo "Costa di Bussia"
Giacomo Fenocchio "Bussia"
Giacomo Fenocchio "Cannubi"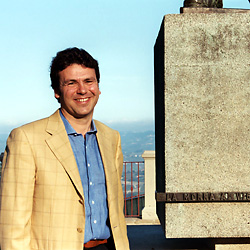 Alessandro Locatelli, Proprietor, Rocche Costamagna
Photo copyright 2003 by Tom Hyland
Finally, if you want to try a Nebbiolo without paying the $30-70 a bottle for these Barbarescos and Barolos, try a Nebbiolo d'Alba. These wines are aged for less time than their famous counterparts (1 year minimum for a Nebbiolo d'Alba versus 2 years for Barbaresco and 3 for Barolo), but are 100% Nebbiolo, just like the other types. At $18-24, these represent very fine values and the 2001s are very concentrated.
My favorites among the 2001s included the Giovanni Abrigo (5 stars) and the Costa Catterina, Luigi Penna "Vigioto," Eugenio Bocchino "La Perucca," Rivetto "Lirano," Cadia, Renato Buganza "Vigna Bric Paradis" and Tenuta Rocca "Vigna Sori Ornati" (all 4 stars).
May 26, 2003
For subscription information, contact Tom Hyland at tnapawine@aol.com or visit his Website at http://www.northshorewine.com.


Back to Tom Hyland's Italian Wines
<!- Page Contents End Here ->