Wine photos
Article and photos © by Tom Hyland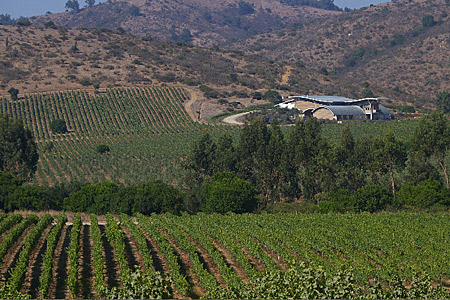 Garces-Silva Winery and Vineyards, San Antonio Valley, Chile. Photo © 2007 by Tom Hyland
Over the past 10 years, I've been writing about wine. I've had the good fortune during that period to visit hundreds of wine estates throughout the world, taste ten of thousnads of wines and enjoy countless excellent meals. Along the way, I've also taken thousnads of photos.
For years, this was nothing more than a hobby, as the photos would help me recall my visits; these images would help provide details for my articles. But do something long enough and you get better at it. Lately a good friend in Chicago who is a superb photographer (he conducted fashion photo shoots around the world for decades) saw some of my images and told me that I had some talent and that I should pursue my passion. Fortunately I took his advice and did just that and today, wine photography is a large part of my business, as I have a contract with Cephas Picture Library in England, the world's leading source for wine related images. Recently, the director of Cephas sold a few of my photos to Decanter magazine, truly one of the world's great wine publications. I guess you could say that I'm a legitimate photographer after that.
I thought I would share some of these photos with all of you and in that vein, I've put a few up on my Website, which can be found at http://web.mac.com/thyland3.
I've recently hosted two photo exhibits in my hometown of Chicago, so I wanted to get the word out about my work. Soon I'll have a more in-depth website (www.tomhylandphotography.com - check back soon for this), but for now, my small site will do the trick. You'll be able to see a few of my best photos from Chile, California and Italy. You can click on each photo and get a larger size to view, although I'd recommend clicking on the "start slideshow" icon to get a better view of each photo.
I've included three photos with this article. The one from Chile (top) is a photo of the Garces-Silva winery in the San Antonio Valley, one of this country's newest and most exciting wine regions. The vineyards in this photo (belonging both to Viņa Leyda and Garces-Silva) are located a mere six miles from the ocean, making this a cool area ideal for white grapes such as Sauvignon Blanc, Chardonnay and Riesling as well as red grapes such as Pinot Noir and Syrah. Some of the Sauvignon Blancs from this area are world-class, bursting with fruit, yet without the sharpness often found in this variety. Many people know about the great red wines from Maipo Valley and Colchagua Valley; now white wines are shining brightly in Chile as well.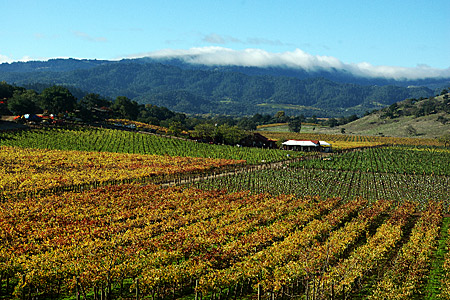 Autumnal scene in Oakville District, Napa Valley. Photo © 2007 by Tom Hyland
The photo from California is of a vineyard scene in the Oakville district of Napa Valley, which was taken in early November of this year. There are so many first-rate wine regions in California, but I keep coming back to Napa, both for the outstanding quality of its wines as well as its natural beauty. I love the the period after harvest is complete as the color change on the foliage makes this valley even more striking.
This is also a great time of the year to take photos, as the air is pure and the light is soft. You'll also get a lot of pleasure visiting wineries in November or December in Napa (or other California regions) as the onslaught of tourists have gone back home. This photo was taken off the Silverado Trail, not far from Miner Family Winery. I was able to taste their new 2006 Napa Chardonnay, which is still a few months away from its official release. This is a richly flavored Chardonnay with great depth of fruit and a prominent yeastiness in the aromas and perhaps best of all, only moderate oak. This is a must buy for those of you that love big Napa Chardonnays.
Most of my trips over the past few years have been to Italy; this is where my heart is these days. The country is beautiful, the wines and foods are outstanding and the people are the most generous I've found anywhere in the world!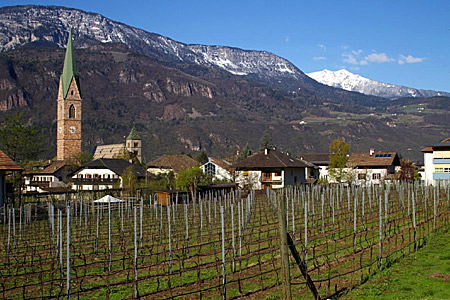 Vineyards at Cantina Terlano, Alto Adige, Italy. Photo © 2007 by Tom Hyland
The photo from Italy accompanying this article was taken at Cantina Terlano in Alto Adige. Located in the northeastern reaches of Italy, Alto Adige is arguably the most beautiful wine region, not only in Italy, but perhaps in the world - and that's saying something! Cantina Terlano is one of the very best producers in this regions, specializing in intensely flavored whites such as Pinot Bianco and Sauvignon that have razor-sharp acidity and the structure to age for 5-7 years or as often as 10-12 with a few of their best releases. This producer also makes different versions of Lagrein, an indigenous red with deep purple color and ripe blackberry and black raspberry fruit that are delicious wines for most red meats or game. It seems as though every inch that could be planted to grapes in Alto Adige has been used to that purpose and sights such as the snow-capped Mount Tschoggl in the backgound here are rather common.
That is the information on the images in this article. Please go to my Website to see more images and if you like what you see, think about purchasing a few photos. There is information on the site about this (you can pay via check or PayPal). I know many people like to give photos such as these to friends for holiday gifts, so take a look today and see what might be on your gift list for other wine lovers or merely for yourself!
November 2007
To contact Tom Hyland, visit his Website, "Learn Italian Wines," www.learnitalianwines.com or write him at thwinewriter@comcast.net


Back to Tom Hyland's Italian Wines
<!- Page Contents End Here ->