Chile - Dazzling Whites and Reds
Article and photos © by Tom Hyland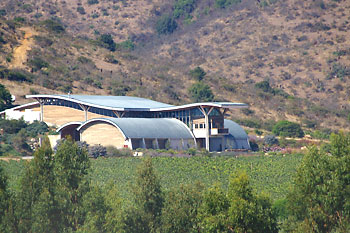 Garces-Silva Winery in San Antonio Valley. The architect included a design of a wave, inspired by the nearby Pacific Ocean.
I am changing gears with this article to report on some of the latest releases from Chile. I recently made my second visit to this lovely country and was amazed at the amount of work that has taken place in the vineyards, resulting in some truly stunning white and red wines.
Chile has been blessed with perhaps the finest natural climate of any wine-producing country, thanks to abundant sunshine as well as cool breezes of the Andes in the east and the Pacific Ocean to the west. Stretching 2700 miles from north to south, this is the longest country in the world, but it averages only 110 miles from east to west. As you would expect, there are vast climatic changes from the arid Atacama Desert in the north to the cold and rainy south, which is the closest point on earth to Antarctica.
Proper conditions for grape growing are in the center of the country with most vineyards located in a series of valleys within 120 miles north and south of Santiago, the nation's largest city. Maipo Valley, which surrounds Santiago on three sides, is the best-known region, with Cachapoal, Curico and Colchagua the three most important red wine zones to the south of Maipo, while Casablanca Valley, a 45-minute drive west of Santiago is a major white wine area.
White wines were in fact my reason for visiting Chile this time, as I had read much about the major upswing in quality of these wines over the past few years. Anyone familiar with Chile knows about the exquisite Cabernet Sauvignons and Merlots from the Maipo Valley, so having concentrated on those wines during my last visit, I was naturally curious about the white wines.
Casablanca Valley is about a 45-minute drive west of Santiago and as it is closer to the Pacific Ocean, it is cooler. Fog covered the valley at 9:30 in the morning on my first visit and this fog means less sunshine per day, resulting in a longer growing season, perfect for grapes such as Sauvignon Blanc, Chardonnay and Pinot Noir.
While there have been many fine examples of Casablanca wines for more than a dozen years, it is only in the last five or six years that we have witnessed what the producers in the San Antonio Valley have to offer. This small valley, some 15 miles south of Casablanca, is even closer to the sea, with many vineyards only 5-10 miles from the Pacific Ocean. The water has a strong influence in the climate, with fog and strong breezes during different times of the day. Flavors are quite intense here, especially with Sauvignon Blanc.
Currently there are only four producers in San Antonio Valley, but that number will double over the next two years as a few large wineries, such as Concha y Toro and Veramonte have planted vineyards in this zone. The four established estates here are all striving for the highest quality, which has made San Antonio one of Chile's greatest wine districts. Keep an eye out for these wines- many of them are stunning! I say this without any hesitation - the Sauvignon Blancs from San Antonio are among the finest in the world.
Here are notes on some of the more impressive wines I tasted in mid-March in Chile.
LEYDA
One of the four wineries in San Antonio, Leyda is excelling with Sauvignon Blanc and Chardonnay and has released some impressive Pinot Noirs as well. The estate is well situated and has some of the most beautiful vineyards in the entire country. Look for the 2005 Sauvignon Blanc "Garuma Vineyard" (about $14 US suggested retail) with its attractive lime and pink grapefruit flavors as well as the 2004 Chardonnay "Falaris Hill" ($12) which features flavors of baked apples and tangerine. Both Pinot Noirs from 2005, the "Las Brisas" and "Cahuil" ($18) are beautiful expressions of this varietal with ripe cherry fruit, plenty of spice and lively acidity. Winemaker Rafael Urrejola has a great handle on what this climate is all about and his wines represent a great new direction for Chile.
GARCES-SILVA
Located right next to Leyda, this winery produces one of Chile's very finest Chardonnays. The 2004 has everything you are looking for in a top example of this varietal: flavors of lemon custard and pear, nicely integrated oak, lively acidity and great fruit character from start to finish. Best of all, the oak is subdued, making this a great food wine. At a $20 price tag, this is a great Chardonnay as well as a great value! The Sauvignon Blanc has the bright fruit typical of this zone and there is also an interesting Barrel Fermented Sauvignon Blanc that is quite good. The Pinot Noir is rich and flavorful and though not as successful as the white wines here, still a very good example. Also noteworthy is the design of the winery building, in the theme of a wave, mindful of the ocean only a few miles away. This is a gravity-flow winery, which has certainly helped the winemakers produce cleaner, more focused wines.
MATETIC
Matetic Winery is located amidst a 20,000-acre estate in the San Antonio Valley owned by the Matetic family, who use the land to raise cattle as well as grow grapes. In fact, it takes about 10 minutes to drive to the winery from the entrance of the estate, but the journey is well worth it once you taste the wines! Sauvignon Blanc, Chardonnay and Pinot Noir are the focus here as is the case with the other wineries in this valley, but Matetic also produces a first-rate Syrah with attractive flavors of plum and malted chocolate. The 2004 Chardonnay has lovely balance and nicely integrated oak. Winemaker Rodrigo Soto (who will be departing at the end of the current harvest) believes he may have used too much oak in past years, but that is not the case with this wine. Look for an even better 2005 Chardonnay from Matetic under the EQ label. EQ stands for "equilibrio" or "harmony" and this label represents the finest wines made by Matetic.
MORANDE
The man who got the ball rolling with white grapes in cool climates in Chile was Pablo Morandé, who plated white varietals in Casablanca Valley in 1982. Today, he has a wide range of wines from this valley (as well as some lovely reds from Maipo Valley) in several different price ranges. The Terrarum wines are nicely defined wines at reasonable prices ($10-12 US retail); the 2004 Pinot Noir is especially impressive at this level. Even better are the Grand Riserva and Limited Edition wines; look for the 2004 Grand Riserva Vitisterra Chardonnay ($16) and the Limited Edition 2004 Chardonnay and 2004 Pinot Noir, both organic wines ($25). These wines display great fruit purity and have sturdy acidity, a signature of Casablanca Valley.
Morandé, at once serious and determined, but with undeniable charisma, has recently planted several varieties at a new estate a few miles away from his winery restaurant on the main winery road (the restaurant is highly recommended, especially for the seafood). Planting at extremely high density (10,000 vines per hectare), he believes he will make his finest wines to date from this land. Given what Pablo Morandé has accomplished so far, that's a lofty goal, but one this man can achieve.
VERAMONTE
While Pablo Morandé was the first to plant white varietals in Casablanca Valley, Veramonte was the first winery to commercially market wines from this zone. Part owned by Agustin Hunees of Quintessa fame in Napa Valley, Veramonte still produces one of the best Sauvignon Blancs of the valley, especially given the $10 retail price. The 2005 has beautiful varietal characteristics with notes of yellow pepper and freshly cut grass along with bracing acidity in the finish. What a lovely match for scallops, shrimp or sea bass! New here is the 2005 Duo Sauvignon Blanc, which has more grapefruit and lime flavors and is aimed at consumers that want less herbal components in their Sauvignon Blanc. This too is fairly priced at $14.
Another impressive wine from Veramonte is the 2004 Merlot from Casablanca ($10), which has lively acidity and light herbal notes. This is definitely not a boring, simple cherry-flavored Merlot, but one with fine complexity for its price tag. Even better is the 2004 Cabernet Sauvignon from the warmer Maipo Valley. The wine offers delicious black currant and red plum flavors and has excellent persistence of fruit from start to finish. At $10, this is a steal and one of the finest Cabernets I've ever had from anywhere at this price! Chile can do this, given their climate and experience with Cabernet Sauvignon. There's no reason to make dull wines at $10 - more wineries in Chile and around the world should make a Cabernet Sauvignon with this much class for so little money!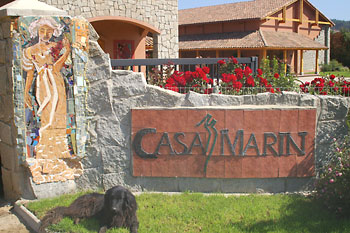 Entry to Casa Marin winery in San Antonio Valley (with Syrah, the guard dog). Only on its fouth vintage, this has quickly become one of Chile's superstar wineries.
CASA MARIN
Casa Marin is one of the four wineries in San Antonio Valley and for my money, the best. Given the quality of wines from San Antonio, that's saying something. But I'll go even further and state that I think it is one of the finest wineries in all of Chile.
Owner Maria Luz Marin is small in stature, but quite big in her determination to produce world-class wines. Her superstar wines to date have been the Sauvignon Blancs- there are two from separate vineyards. The Cipresses from a vineyard less than three miles from the Pacific (the closest vineyard to the Pacific in South America) is quite intense in its herbal characteristics, while the Laurel Vineyard bottling leans more toward flavors of orange zest and grapefruit. Marin calls this a more international style; I'm not sure about this, but it is true that the Laurel will probably appeal to a wider audience. These wines from the 2005 vintage are two of the finest Sauvignon Blancs I have tried from anywhere in the world. More remarkable, this is only the third vintage of these wines. They are limited in production and very difficult to find and somewhat expensive ($35-40 per bottle in the US), but if you get a chance to taste them, go for it to get an idea of how far Chile has come with this varietal.
Marin also produces the finest Pinot Noirs from the valley. I tasted the 2003 vintages of the Litoral and Lo Albarca Hills bottlings, which display intense cherry and strawberry fruit mingled with distinctive spice. These are deeply flavored wines with lively acidity and again display the great character of the San Antonio Valley.
Marin is also producing a dry Gewurztraminer and Sauvignon Gris (a mutation of Sauvignon Blanc) and has recently planted Syrah at her estate. It makes you wonder if there's anything this confident woman can't do!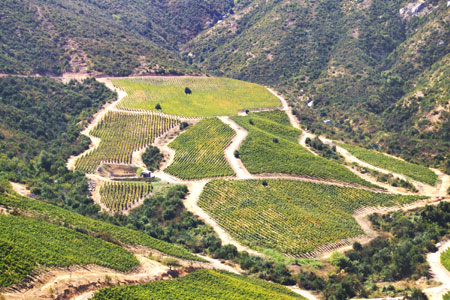 Hillside vineyards planted to Syrah and Cabernet Sauvignon at Montes Estate, Colchagua Valley
MONTES
I also visited two wineries in Colchagua Valley, about a three-hour drive south of Santiago. Here red wines dominate, especially Cabernet Sauvignon, Syrah and Carménère. Montes produces bottlings from these varietals at different levels; look for the Montes Alpha label for Merlot, Cabernet Sauvignon and Syrah, all priced at around $18-20. The 2004 Syrah, with its ripe blackberry fruit and subtle black spice was my favorite. (By the way, there is also an excellent Montes Alpha Chardonnay from Casablanca Valley. The 2004 has lovely apple, pear and lemon zest flavors and the wine has a long, elegant finish. This wine has been a major success for several years now.)
CASA LAPOSTOLLE
Located right next door to Montes is the new winery for Casa Lapostolle, called Clos Apalta. Named for the Apalta Vineyard that both estates use, this new estate features a multi-million dollar state-of-the-art gravity flow winery on five levels. This is where the top wine, Clos Apalta, a blend of several grapes, including Merlot, Carménère and Cabernet Sauvignon will be made (Casa Lapostolle has another winery only a few miles away for production of other wines).
Alexandra Marnier-Lapostolle is the proprietor here and you can sense the pride and joy she feels when she talks about this land. For her, there were factors that made this land different and she believes the Apalta vineyard area near the hills is a special place for growing the finest red grapes. Certainly the 2003 Clos Apalta ($60) delivers with its black fruits and notes of tar and molasses. This has been one of Chile's most celebrated red wines and this new release follows in the footsteps of its past bottlings.
At a lower price ($25) but of very high quality, look for the 2004 bottlings of the Cuvée Alexandre bottlings of Merlot and Cabernet Sauvignon, both from the Apalta Vineyard. The Merlot is quite rich and packs more fruit and weight than you would expect from this varietal at this price, while the Cabernet Sauvignon has all the classic black currant, plum and tobacco flavors associated with this varietal in Colchagua. Both wines will drink well for another 5-7 years, perhaps longer for the Cabernet Sauvignon.
CHILEAN SEA BASS
Finally, I'd like to clear up a point. I did taste the real Chilean Sea Bass while in Chile, which is not as easy as it sounds. You may not realize that what is called Chilean Sea Bass in the USA may not even be from Chile (it may be Arctic Toothfish). What is here from Chile is probably a fish called Corvina, which Chile decided to export to us a few years ago. This is a delicious, meaty fish and can be found in many restaurants in Chile.
But I was informed that this is not the authentic Chilean Sea Bass, as Corvina is caught along the coast. The real thing, caught in the deep sea, miles from the coast is a fish called Mero. This has some of the same flavors as Corvina, but it is more delicate and in a word, buttery. It truly melts in your mouth! I tired this at the restaurant at the House of Morandé in Casablanca Valley, a first-rate restaurant. The Mero was served atop a sushi roll filled not with sushi, but with paella. This was one of the best food combinations I enjoyed in Chile and there were quite a few!
So you may have to go to Chile to try Mero, the real Chilean Sea Bass, but take my word - it will be worth the trip!
March 2006
To contact Tom Hyland, visit his Website at http://www.northshorewine.com
or write him at tnapawine@aol.com

Back to Tom Hyland's Italian Wines
<!- Page Contents End Here ->