2001 Barolos - A Great Vintage
Article and photos © by Tom Hyland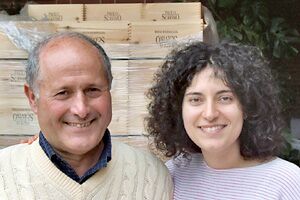 Enrico Scavino and his daugher, Elisa, of Azienda Paolo Scavino. Scavino produced an outstanding 2001 Barolo as well as an outstanding 1999 Riserva.
Photo © by Tom Hyland
Barolo lovers take note - 2001 is the vintage you have been waiting for. 2001 will go down as one of the finest vintages of the last two decades as the wines offer great depth of fruit, lively acidity and beautiful structure for aging. Along with 1999 and 1996, it is a great vintage for Barolo.
I recently returned from the Alba Wines Exhibition where I attended anteprima (preview) tastings of hundreds of examples of soon-to-be-released bottlings of Nebbiolo in its various forms from the Lange Hills area of Piemonte. These included the 2003 offerings of Nebbiolo d'Alba, bottlings of 2002 Roero Rosso as well as 2002 Barbaresco. But the highlight of course was being able to sample over 100 Barolos from the 2001 vintage. Sixty journalists from around the world (only three from the United States) attended and reviewed more than 300 wines for the week.
What makes any vintage great is the weather and 2001 was a beautiful growing season with warm, but not hot temperatures and proper rainfall. The resulting wines have greater concentration and power than those from 2000, which one famous publication deemed as a monumental vintage (the magazine's initials are WS). This was clearly a reach as the 2000s are very nice Barolos, especially for earlier consumption, but pale alongside those from 2001.
Virtually every winemaker of Barolo will tell you that both 2001 and 1999 are superior to 2000. The only argument seems to be which of the two vintages is better. Pietro Ratti, director of the Renato Ratti estate in La Morra, told me that both are "great years." He remarks that the wines from 1999 are more "earthy" in their approach, while the 2001s are "all about fruit." He added that the 2001s are "great food wines because of the fruit," and because of that fruit, the wines "will pair well with many different types of food."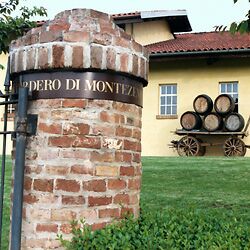 Entrance to Cordero di Montezemolo estate in La Morra. This producer made one of the top five Barolos from the 2001 vintage.
Photo © Tom Hyland
Having sampled over 110 Barolos from the 2001 vintage, I can tell you I have never awarded so many outstanding (5 star) reviews to a vintage. What makes this vintage so special is that the special characteristics of each commune in Barolo emerged in this year's wines. The Barolos from La Morra are known for their fruit and floral aromatics, while those from Monforte d'Alba are bigger, more tannic wines that demand more cellaring. The near perfect growing conditions of 2001 made this possible, which resulted in so many wonderfully complex and authentic Barolos. This is in contrast to the wines from 2000, which was a rather hot growing season, and while that vintage yielded many nicely crafted wines with polished tannins, the wines on the whole lack the depth of fruit for long-term aging.
Many of the wines I scored highly were offerings that rank near the top of most people's lists every year. These included Fontanafredda "La Rosa," Luciano Sandrone "Cannubi Boschis," Aldo Conterno "Colonello" and Paolo Scavino "Carobric." Luca Currado at Vietti crafted two outstanding Barolos in 2001, "Rocche" from the commune of Castiglione Falletto and "Lazzarito" from Serralunga d'Alba. Superior bottlings from the commune of La Morra included Marcarini "La Serra," Renato Ratti "Marcenasco" and Mauro Molino "Conca."
Some famous Barolos were as good as I have ever tasted in 2001, including Pio Cesare "Ornato" and Sergio Barale "Bussia." Regarding the Cesare "Ornato," this wine had gorgeous aroma of dried roses, orange peel and cherry fruit with excellent concentration. The finish has great persistence of fruit with polished tannins. The regular Barolo from Cesare was a bit lighter, but no less impressive with lively acidity and 12-15 years life ahead of it. Two lovely wines from the wonderfully consistent producer.
The Barale "Bussia" bottling had great length and balance with classic Barolo flavors (roses, tar, a hint of balsamic) and great complexity. This is not a wine that jumps out of the glass, but rather seduces you with its character and finesse. Barale's wines are meant for aging (I had his great 1995 Riserva a week after this event, which tasted much younger than I would have expected), so look for this 2001 to drink well in another 12-15 years. A few lucky markets in the United States receive his wines; smart consumers should buy what they can.
Perhaps my biggest surprise this year was the performance of Vigna Rionda. I have always liked the wines from this medium-sized producer in Serralunga d'Alba, but they outdid themselves this year with outstanding bottlings from two different crus, "Margheria" and "Parafada." Both wines express a lovely sense of terroir and are built for long-term aging (especially the "Margheria"). Bravo to Vigna Rionda for one of the year's most impressive performances!
After checking and rechecking my notes, I rated 34 wines as outstanding, a very high number! Five were rated the best of the best, though if I tasted these wines again in a month's time, it could be different. But today, the five best 2001 Barolos I have tasted were (in alphabetical order):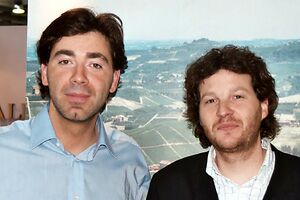 Giuseppe (left) and Altrio Cavallotto, of Azienda Cavallotto, Castiglione Falletto, are pictured with a photo of their property as backdrop. Cavallotto produced one of the top five Barolos from 2001 as well as an exceptional 1999 Riserva.
Photo © Tom Hyland
Cavallotto "Bricco Boschis"
Cordero di Montezemolo "Vigneto Bricco Gattera"
Poderi Colla "Dardi Le Rose Bussia"
Elio Grasso "Vigna Chiniera"
Mauro Veglio "Colonello"
These wines represent different styles with the Cavalotto being a middle weight, traditional bottling of great finesse, while the Grasso is a fuller, more herbal, balsamic-like style with great structure for aging. The Colla offers incredibly beautiful and delicious fruit, while the Veglio has black cherry and licorice notes with silky tannins. Finally the Cordero has incredibly attractive young fruit backed by great richness on the palate and a super-long finish. All are remarkable Barolos and should be considered by anyone that is serious about tasting the finest this area has to offer.
Subscribers to my newsletter, Guide to Italian Wines, will soon receive an issue with reviews of all the 2001 Barolos I tasted (2002 Barbarescos will also be in that issue). For subscription information, see my website at www.northshorewine.com.
For those who want to read only about these Barolos, I will print a special issue, which will be available for $10. Complete notes on more than 110 Barolos from 2001 will be listed along with lists of the best producers of Barolo and best crus of Barolo. Contact me at tnapawine@aol.com if you are interested.
One final thought on 2001 and 1999. Coincidentally, we also tasted 1999 Barolo Riservas at this event. The wines are sumptuous with gorgeous fruit, structure and very lengthy finishes. Top wines included Cavallotto "San Giuseppe," Vigna Rionda, Marchesi di Barolo, Giacomo Borgogno and the stunning Paolo Scavino "Rocche dell'Annunziata." It will be interesting in another year or two to taste the Riservas from 2001 and decide if 1999 or 2001 was a better year. I have a feeling it is a question that may take a long time to answer!
Please note: These wines are not on the market yet; they will be released late-summer, early fall of this year. Most are in very limited quantities. To give yourself the best chance to obtain any of these wines, consult a top retailer in your area.
June 2005
To contact Tom Hyland, visit his Website at http://www.northshorewine.com
or write him at tnapawine@aol.com

Back to Tom Hyland's Italian Wines
<!- Page Contents End Here ->