2000 Barbarescos - excellent; 2000 Barolos - a mixed bag
Barolo, Barbaresco and other Piemonte reds
© by Tom Hyland
I attended the Alba Wines Exhibition in mid-May where I tasted the new releases (many not available until this fall) of several hundred Piemontese reds, with the highlights being the 2000 Barolos and 2001 Barbarescos. Some Riservas from these areas were also tasted along with the 2002 bottlings of Nebbiolo d'Alba and the 2001 Roero Rossos.
Of course, the Barolos and Barbarescos are the most eagerly anticipated of these wines, and there were dozens of excellent wines. You may have read other reports of 2000 being a stellar vintage in Piemonte (most notably in Wine Spectator), but while the wines from this year were quite good and occasionally impressive, 2000 is far from perfect.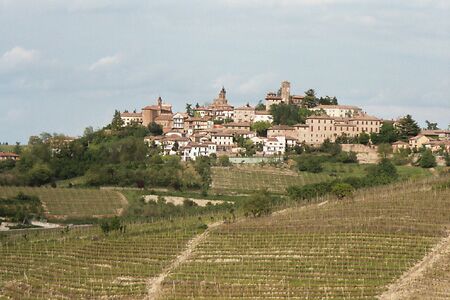 Photo of vineyards in front of the town of Neive. Planted to Nebbiolo, the vineyards will produce Barbaresco. Photo © Tom Hyland
The growing season in 2000 in the Langhe in southern Piemonte where Barolo and Barbaresco are produced was a bit hot, though not as torrid as 2003. The hot temperatures ripened the grapes, and that combined with lower than average acidity resulted in forward, approachable wines with refined tannins. The 2000 Barolos in many cases drink well out of the bottle and will be quite charming for 5-7 years. But this is not a great vintage and 2000s are not classic Barolos.
Of course, early drinkability is a good thing in most cases, but do you want that in Barolo, especially when you pay $50-80 for a bottle? I want a balanced wine that will age for 10-20 years, especially given the complexities of an older Barolo, which is like few other red wines of the world. Some of the 2000s have the capability to age for 12-15 years, but most do not. If you want textbook Barolos to age, go with those from 1999 or the less-heralded bottlings from 1998 and if you still have some 1996s in your cellar, hang on to them for another decade.
The news was much better regarding the 2001s from Barbaresco. A few producers told me that they believe 2001 is the finest vintage of the recent string of seven consecutive notable years in the Langhe (1995-2001). These wines are big and ripe, but have lively acidity and should age beautifully for two decades.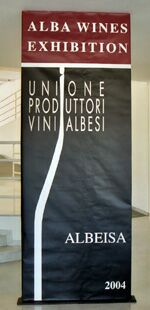 Banner in tasting hall in Alba where wines were tasted. Photo © Tom Hyland
A recurring problem with both the 2000 Barolos and 2001 Barbarescos is the misuse of barriques in aging these wines. A few estates, most notably Fontanafredda, produce lovely wines that have been aged in barrique. But too many wineries use barriques in a heavy-handed way so that you smell the sweet, spicy flavors of the wood and not the special aromas of the nebbiolo grape. I keep looking back on my notes, noticing that my favorites are traditional in style with very gentle use of wood. There are many producers who do not use barriques, but some producers, obviously trying to make a wine of major proportions, do swear by them. Here's hoping that more producers become sensible when aging their Nebbiolo-based wines in barriques or move toward a greater influence with mid-size French or Slavonian oak barrels, known as tonneau.
I tasted 80 examples of 2001 Barbaresco and over 150 Barolos from 2000. Listed below are the wines I awarded a five-star rating (outstanding). Note that the percentage of outstanding wines is much higher for the 2001 Barbarescos (20 of 80) than the 2000 Barolos (14 of 150). Maybe the time has finally arrived for Barbaresco to emerge from under the shadow of Barolo!
I have also listed the two five-star ratings for 1998 Barolo Riserva (nine examples tasted) and two five-star ratings for 2002 Nebbiolo d'Alba (out of 23 wines). There were no five-star ratings for the 2001 Roero Rosso (25 wines tasted).
Last but certainly not least is the amazing performance of Produttori del Barbaresco, who made wines from nine different cru (single vineyard sites) in the Barbaresco zone from the outstanding 1999 vintage. I awarded five of the nine a five-star rating, with the other four receiving a four-star (excellent) rating! These are not-to-be-missed wines you should seek out when they are released in the United States in a few months.
(For those interested in my notes on these wines as well as the two, three and four star reviews, my newsletter, Guide to Italian Wines, will feature them in the upcoming June-July issue. For those who do not yet receive the newsletter, click here for information on subscribing.
FIVE STAR REVIEWS - OUTSTANDING
NEBBIOLO D'ALBA 2002
Giovanni Abrigo
Tenuta Langasco
ROERO ROSSO 2001
None
BARBARESCO 2001
Rino Varaldo "Bricco Libero"
Punset
Angelo Negro e Figli "Basarin"
Luigino Grimaldi "Vigna Manzola"
Pelissero "Nubiola"
Fratelli Grasso "Sori Valgrande"
Cascina Morassino "Morassino"
Bruno Rocca -Rabaja (Neive-Treiso-Barbaresco)
Bruno Rocca "Rabaja"
Sottimano "Fausoni"
Sottimano "Cotta"
Poderi Elia "Serracapelli"
Ada Nada "Cichin"
Domenico Filippino "Basarin"
Orlando Abrigo "Vigna Rongallo"
Elvio Perinace "Nervo"
Piero Busso "S. Stefanetto"
Vietti "Masseria"
Fiorenzo Nada "Rombone"
Orlando Abrigo "Vigna Rongallo"
BAROLO 2000
Attilio Ghisolfi "Bricco Visette"
Elio Grasso "Vigna Casa Maté"
Fontanafredda "Lazzarito Vigna La Delizia"
Fontanafredda "La Rosa"
Pio Cesare "Ornato"
Domenico Clerico "Ciabot Mentin Ginestra"
Mauro Veglio "Castelletto"
Franco Conterno - Bussia "Munie"
Bongiovanni "Pernanno"
Poderi Colla "Dardi Le Rose Bussia"
Josetta Saffirio
Rocche Costamagna "Bricco Francesco"
Marcarini "Brunate"
Gianni Voerzio "La Serra"
BARBARESCO 1999
Produttori del Barbaresco "Montestefano"
Produttori del Barbaresco " Ovello"
Produttori del Barbaresco "Asili"
Produttori del Barbaresco "Moccagatta"
Produttori del Barbaresco " Montefico"
BAROLO RISERVA 1998
Cavalotto "Vignolo"
Rivetto
Instead of giving my scores and tasting notes for every wine I sampled, I wanted to profile a few of the finest producers from Barbaresco and Barolo.
ELIO GRASSO • MONFORTE D'ALBA

Elio Grasso, proprietor of Elio Grasso estate near Monforte d'Alba. Photo © Tom Hyland
Elio Grasso is a friendly, outgoing, but quiet man who loves Barolo and everything it has to offer. He is also strongly in the camp of traditional Barolo, believing that the new style of making wine with small oak barrels is not right for him or for Barolo in general.
"We have a philosophy of our relatives who worked in the vineyards before us," he states. We need to respect that. We have to be honest with ourselves. If I was going to change, I would have changed 30 or 40 years ago. I am 60 years old, why would I change now?"
The Elio Grasso Barolos are honest expressions of the terroir of Monforte d'Alba, which generally produces a bigger, more tannic style of Barolo than those from the communes of La Morra or Barolo itself. The 2000 "Vigna Chinera" has wonderful complexity with notes of tobacco and earth, while the "Vigna Casa Maté" is even better as this wine has tremendous intensity of fruit. His 1999 "Rincot" Barolo from the highest point on his property displays lovely perfumed aromas and is very graceful. This has vibrant acidity and the structure is there for 15-20 years of cellaring. This wine is only made in the finest vintages and the 1999 is certainly one of his finest ever!
Also look for his 2003 Barbera d'Alba and Dolcetto d'Alba. 2003 was a very hot year in Piemonte and most vintners do not think the Barolos from this year will be great, as the acidity will be lower than normal. But for lighter wines such as Barbera and Dolcetto, the warmth meant exceptional ripening and these wines are big, ripe and delicious! The Elio Grasso 2003 Dolcetto d'Alba was the finest Dolcetto I tasted from this vintage on my trip and there were lots of excellent bottlings!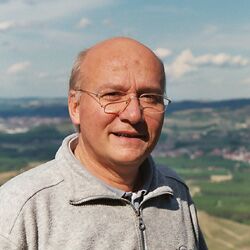 Manuel Marchetti, owner of Marcarini estate in La Morra. Photo © Tom Hyland
MARCARINI • LA MORRA
Manuel Marchetti is a wonderful source for anyone looking to discover what makes the wines of Barolo so different. Soil types, changes in elevation, exposure to the sun; all are among the reasons why a Barolo from one commune tastes different than another.
Marchetti is another producer who respects what the Nebbiolo grape is all about and with his winemaking he ensures that oak will not mask those flavors. He uses the traditional large Slavonian casks known as botti and even uses cement fermentors as he feels these help stabilize the color of his wines.
The resulting wines are elegant Barolos from two excellent sites in La Morra. The "La Serra" bottling is elegant with perfumed aromas and refined tannins, while the "Brunate" bottling is fuller in body with firmer tannins. Marchetti explains that a major difference between these two wines is that Brunate being of slightly lower altitude, there is greater temperature variation from day to night. This in turn stresses the vine, which makes for a bigger wine.
Marchetti explains that in a hotter vintage such as 2000, Brunate is usually a better wine, while in a more classic year with cooler temperatures such as 1999, the La Serra performs better, as its perfumes and elegant nature shine through. This is the fascinating thing about studying Barolo as you discover that not only are there major differences between wines from different communes, but also variations in wines even from sites on the same slope. We have Manuel Marchetti to thank for allowing us to taste those flavors without the interference of heavy-handed winemaking.
ADA NADA • TREISO
If you think that Nebbiolo is all about power and longevity, you probably haven't had the wines of Ada Nada. Giancarlo Nada - one of several vintners named Nada in Treiso - makes some of the most elegant bottlings of Barbaresco you will ever taste.
Nada produces three different bottlings of Barbaresco: "Cichin" "Valeriano" and a tiny amount of a wine known as "Elisa", which is from the oldest part of the Valeriano vineyard. The wines are made differently as the Valeriano receives 50% barrique aging and 50% botti aging, while the Cichin is aged only in botti.
The wines have a different profile as the Valeriano offers more fruit and spice in the aroma and is more forward, while the Cichin is a bit more old-fashioned with aromas of leather and tobacco. Both are first-rate wines and your preference will depend on the style you most admire. Or perhaps it will center on the meal you have them with, as these are both elegant, refined wines that have lively natural acidity, making them superb food wines. These wines may be difficult to locate outside of a few major markets, but if you can acquire a bottle or two, you will taste some of the loveliest and most graceful wines Barbaresco has to offer.
PRODUTTORI DEL BARBARESCO • BARBARESCO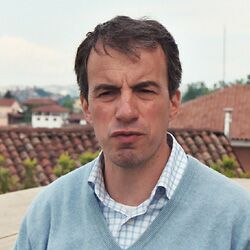 Aldo Vacca, managing director of Produttori del Barbaresco. This cooperative winery produced five outstanding Barbaresco from the great 1999 vintage. Photo © Tom Hyland
Trends drive so much of wine sales and often what is new and "hot" will grab the attention of restaurant and retail buyers. Thankfully, quality still counts for a large part of sales, so there is plenty of room for producers that have been around for decades. That means we get to enjoy the stunning wines of the Produttori del Barbaresco.
Founded in 1958, this is a cooperative winery with 56 members who are growers at some of the finest sites within Barbaresco. The winery produces about 30,000 cases per year with 60% of that being a lovely Barbaresco that is a blend of several vineyards. This is almost as good as the more limited cru bottlings, which are magnificent expressions of the flavors of Barbaresco as they are meant to be, without the need to make super ripe wines to impress a few critics.
At their offices in the town of Barbaresco, I had the pleasure of tasting nine different cru bottlings from the 1999 vintage. Aldo Vacca, the firm's managing director and one of the true experts on the history of Barbaresco conducted the tasting.
That a producer would go to the trouble of taking the time to release nine different single site Barbarescos from one year is amazing and we have to salute the company for that. But if this were only an experiment, it would amount to no more than a curiosity. Tasting through these wines showed the unique flavors and subtle differences in these wines. Ordinarily a project such as this is only considered in Burgundy with the Premier Cru and Grand Cru vineyards, so this was a rare treat to discover the treasures of Barbaresco.
Of the nine, I rated five as outstanding and the other four as excellent, which is a record I cannot remember with any other producer's wines. How fascinating to taste the richness and full body of the "Asili" bottling next to the pure black fruit of the "Montefico" offering or the tobacco and mocha flavors of the "Moccagatta" wine.
With the subtleties of these wines, all shared a style that displayed elegance, balance and a gentle hand of winemaking. Fortunately seven of the nine wines are imported in the United States, so do not miss your opportunity to taste these offerings when they become available in a few months.
One final thing. I mentioned that these wines are not experiments and it should be noted that the firm only releases these cru wines in the finest vintages (they are blended together for a communal Barbaresco in most years). Aldo Vacca told me that he believes 1999 is a great year, a true classic. Just like the winery!
May 2004
To contact Tom Hyland, visit his Website at http://www.northshorewine.com
or write him at tnapawine@aol.com

Back to Tom Hyland's Italian Wines
<!- Page Contents End Here ->