Ship your wine – in a suitcase
© by Neil Duarte
UPDATE: MARCH, 2017: For the past three years I have used this packaging on numerous trips, primarily to Italy, and the packaging has worked as advertised. I have not experienced any breakage of wine bottles in my suitcases (though the suitcases have been battered). The shipping solution described below is a winner.
In the aftermath of the 9/11 tragedy, carrying wine aboard a commercial aircraft has been impossible and illegal. As someone who likes to buy various wines away from my city of residence, I am always on the lookout for any new method of protecting my wine when I choose to pack it in my checked suitcase.
Over the years I have gone through a variety of methods to protect my wine from shipping damage, the most successful being wrapping each bottle in small bubble wrap and then placing the bottle back in the cardboard carrying case that most wineries provide. Periodically I have lost bottles through breakage due to handling abuse sometimes experienced in air travel.
Recently, after a loss of a good bottle also resulted in additional cleaning costs, I began to look for a better solution. My initial thoughts went to bringing in my suitcase a Styrofoam container fitted for such a task. While researching this online, I found an interesting site, http://www.spiritedshipper.com, which offers a somewhat different solution to the problem. I contacted Bruce Cappels, the president/owner of the company, and he offered to provide me with some of his boxes. These boxes are heavier cardboard than those provided at the wineries and are specially designed for wine shipping boxes (Mr. Cappels owns the patent). They also fold up when not in use, are reusable and come in various sizes.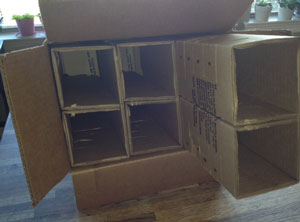 Spirited Shipper box.
My test consisted of two separate flights one week apart on which I checked a 22-inch carryon suitcase in which I had packed six bottles of wine. Each bottle was packed in one of Spirited Shipper's individual inserts which were then placed in another box from Spirited Shipper which tightly contained all six inserts holding the wine. Though Spirited Shipper does not recommend this, I also wrapped each bottle in my small bubble wrap held on with a rubber band. The larger box containing the inserts fit perfectly in the carryon suitcase (expandable).
The result was that on both flights there was no damage to the wine even though after one flight I noted a deep dent in the outer box that indicated some rough handling. One interesting side note was that while I was writing this article, I received some wine samples that had been shipped from overseas in a Styrofoam container and the container was damaged but the bottle had only been scratched. However, I doubt that it would have remained undamaged with further handling since it no longer had any protection around it.
Even though my test was somewhat brief, it convinced me that Mr. Cappels has something that might be a game changer. I intend to use these shipping boxes on all my shipments in the future.
December, 2013