White Sangiovese – it does exist
© by Neil Duarte
If you are like me, you probably thought that a white Sangiovese does not exist. Again like me, you would be wrong. It does exist and is actually very good.
Located just outside of the town of Castelnuovo Berardenga, about 15 miles northeast of Siena, lies the vineyards and winery of Podere Lecci e Brocchi, a Sangiovese wine producer located in the Chianti Classico region. With only 5 acres of their 25-acre property devoted to a vineyard , the husband-and-wife team of Giancarlo Di Grillo and Sabrina Lastrucci, along with their son Giovanni Di Grillo, today produce only Sangiovese wines. Their wines are very good, at least in my opinion, as you will see when we move to the tasting.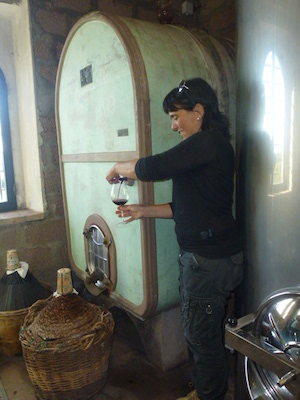 Signora Lastrucci drawing a tasting sample of Chianti Classico. Photo: Terry Duarte.
Podere Lecci e Brocchi was started in 1970 by Sabrina's parents, Vasco Lastrucci and Vittoria Baldi. The original property belonged to the village priest and contained only oak trees. The new owners changed part of it into a vineyard and over the years added other land, until the property consisted of the current 25 acres. When the owners began to produce and sell their wine, they chose the name Lecci e Brocchi, or " Oak and Bad Horses" (horses were formerly used in the fields). Both are reflected on their labels.
While touring the winery, we barrel-tasted a 2013 100% Sangiovese wine that was undergoing a long maturation process. This wine was quite good and holds great promise when ready. Sabrina told us that this wine will be their "Gran Selezione" when bottled in 2016.
The first bottled wine we tasted was the white Sangiovese. Although Sangiovese is a red grape, the proprietors produce awhite Sangiovese by by separating the wine from the skins as soon as the grapes are pressed. Named for both the grape, "San" and their son "Gio", this 2013 IGT "Il Sangio" was a 100% Sangiovese grape wine. This wine is aged in stainless steel tanks for about six months, then bottled. It does not undergo malolactic fermentation and can be stored for only two years. This amazing wine which I tasted at room temperature was yellow in color with a light nose. It had a medium long and smooth finish. I rated it a 91 in amazement. This wine should not be served cold and the bottle should be opened 15-20 minutes before serving.
Still in slight shock, we moved to the more traditional red wines of the region. Our first red was a 2012 DOCG Chianti Classico, a 90% Sangiovese with the remainder Caniolo and Cabernet Sauvingnon. Produced from 40-50 year old vines, the wine is fermented for 10-15 days in stainless steel tanks with a maceration of 10 days followed by aging in either stainless steel or cement tanks prior to bottling. The resulting wine is deep garnet in color with a typical Sangiovese nose. It was a very good Chianti and I rated it a 92.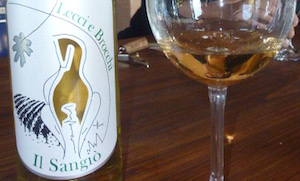 The white Sangiovese 'Il Sangio". Photo: Terry Duarte.
Our last wine was a 2011 DOCG Chianti Classico Reserva "Il Chiorba" which was another 90% Sangiovese with the balance a combination of Caniolo and Cabernet Sauvingnon. Its label features a picture of the original Signor Lastrucci superimposed on the normal label. This wine was fermented in stainless steel for 10-15 days and had a maceration of 20 days. Following a refinement in either stainless steel or cement tanks, it is aged in a combination of French and Slovenian oak 15 hl casks and 5 hl tonneau. It was also deep garnet in color with an even stronger classic Sangiovese nose. It finished very long and extremely smooth. This was a superb example of a Chianti Classico and I rated it a 94. It should be served at room temperature and can be held for 5 to 6 years. Like the Chianti Classico earlier, this wine will go with any meat or cheese serving.
Podere Lecci e Brocchi is proof that specialization in only one grape is not a bad thing. I thank Sabrina and Giancarlo for their hospitality during our visit and highly recommend all of their wines. Podere Lecci e Brocchi is represented in the USA by Lytrium International in Florida.
December, 2014