Umbria - A Wine and Food Jewel
© by Neil Duarte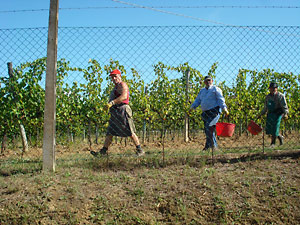 Harvesting the grapes by hand at Lungarotti's vineyards.
Most wine and food lovers who visit Italy seem to focus on Piedmont and Tuscany. Both regions offer superb red wines and pleasant dry or sparkling white wines. Local dishes in both locations are excellent companions to the wines. However, there is much more to Italian wine and food than these most appealing destinations.
One such area, located just east of Tuscany, is Umbria. A land of gently rolling hills with occasionally steeper versions, Umbria contains a number of well preserved medieval fortress towns that are beautiful to visit. Its people are warm and friendly, and it is not overrun with tourists.
Umbria has long been associated with wine and olive growing. In addition, its sausages and cheeses, particularly those found in the hill town of Norcia, are a taste of heaven. In fact, though somewhat out of the way, a visit to Norcia is a must for any sausage and cheese lover.
If you go there, a visit to Marco, at Boutique del Pecoraro on the main piazza, San Benedetto is strongly recommended. He is very generous with samples and has both sausage and cheese that are out of this world. Though you can bring the cheese back to the USA, the meat products remain prohibited.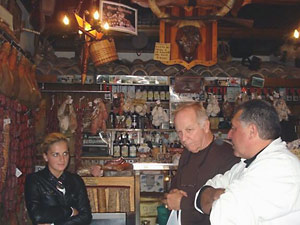 Neil Duarte and Marco discussing cheese and sausage in Marco's Boutique del Pecoraro in Norcia.
My quest in Umbria was to taste the variety of wines offered throughout the area and see how these wines measure up to those of their neighbor to the west. As always I emphasize the reds but I do try the whites as well. To accomplish this, we chose a central location. The agriturismo Nonna Rana (nonnarana@nonnarana.it), just outside of the small town of Cannara, provided a pleasant and convenient base of operation.
The majority of the wine exported from Umbria comes from the Orvieto area. The town of Orvieto is another hill fort jewel. Its Duomo and the surrounding piazza are magnificent, and the town contains many good restaurants. The house white wine is invariably Orvieto Classico, a blend of trebbiano (primarily) with grechetto and others. Though a haven for tourists, especially on weekends, Orvieto is well worth a visit.
The modern wine revival in Umbria arguably owes much to the efforts of the Lungarotti family who reestablished winemaking on a commercial scale in the 1960s. Today, in the small town of Torgiano, a short distance south of Perugia, lies the impressive Lungarotti winery, surrounded by its many vineyards.
The winery grows all of its own grapes and thus controls the process from start to finish. In its almost 3 million bottle yearly production, it offers a full range of both white and red wines. Its top end red wines include two DOCG offerings, Rubesco Vigna Monticchio Riserva (a Sangiovese-Canajola blend) and Sangrantino Di Montefalco (they own vineyards in that DOCG area). However, its two largest selling wines are both DOC certified.
The white is Torre Di Giano (a trebbiano-grechetto blend) and the red is Rubesco Rosso Di Torgiano. As an indication of the success of Lungarotti, after an informative tour of the winery by Senora Valeria Cazzola, the tasting room was sold out of both high end reds. Other attractions in Torgiano are the wine museum and its counterpart, the olive oil museum. The Lungarotti family has done well for Torgiano as well as wine drinkers everywhere.
Having visited the largest winery in Umbria, my attention next was focused on some of the smaller wineries, particularly those located in the Montefalco area, home of the sagrantino grape. I might add that one of my primary motives for this trip was to see if Sagrantino di Montifalco was really a challenger for elevation to the level of Brunello di Montalcino and Vino Nobile di Montepulciano.
The first small winery (200,000 bottles/year production) was located less than a kilometer from our base outside of Cannara. The Di Filippo family has produced wine on the family estate since 1971 and has done so organically since 1994 (www.vinidifilippo.com).
Our hostess for the brief tour and tasting was family member Emma Di Filippo. Though Di Filippo produces two whites featuring grechetto and a blend of grechetto and trabbiano, our focus was on their red wines. We started with Montefalco Rosso, 60% sangioivese-15% sagrantino and 25% barbera. Note that all Montefalco Rossos have the first two grapes but the third varies by winery. The wine was good but a bit light due to the barbera.
The second wine was Poggio Madrigale, a blend of sagrantino and merlot. This wine was fantastic. It was full bodied and smooth, the equal of the Super Tuscans, some of which have been called superlative and then priced accordingly. With high expectations we tasted the last offering, Montefalco Sagrantino, the 100% sagrantino jewel of the area. This DOCG wine must be aged for almost two years in barrels before sale. We tasted the 2005 vintage, and though it was good, I felt that it needed more time aging to reach its full potential. Lest you think that the Di Filippo wines were less than good, we left having purchased several bottles of the Poggio Madrigale.
Our next stop, a brief one, was at the small winery of Paolo Bea (www.paolobea.com) located just outside of the town of Montefalco. This followed a really good meal in a small restaurant (name unfortunately lost but the restaurant was inside an enoteca down one floor) on the Piazza del Commune and featured pasta with Umbrian black truffles (these are excellent though underrated in comparison to those in Piedmont). Though the Bea Winery was closed that day, Moma Bea was kind enough to allow is to come in and taste some of their wines. Bea too is now an organic grower of some repute and though the tasting was rushed, the sagrantino reinforced my belief that additional aging would improve the wine. I did, however, purchase a bottle of his Riserva.
The last winery we visited was Scacciadiavoli (web site under construction but email scacciadiavoli@tin.it). This winery was recommended by our host, Massimo Alocchi, an excellent winemaker himself in the tradition of Italian farmer-winemakers. Without a reservation we entered the winery grounds and met Liu Pambuffetti, the granddaughter of the man who revived the winery many years ago. Originally built by a relative of one of the popes in the nineteenth century, the winery still uses the same buildings and techniques that the founder brought from France where he had studied.
The winery is immaculate and the tour by Senorina Pambuffetti, a graduate of a leading French viticulture school, was most informative. Like many other wineries in the Montefalco area, Scacciadavoli owns and farms the grapes from which it makes its wines. It produces both white (Grechetto dell'Umbria, a 100% grechetto wine) and a full range of reds. The Montefalco Rosso, a traditional 60% sangiovese, 15% sagrantino, and 25% merlot or other reds grapes, was excellent.
The star of the offering was the Montefalco Sagrantino and we tasted both the 2004 and the 2005. Though the vintage 2005 in the sagrantino area is regarded as one of the best ever and the wine was very good, I preferred the 2004 simply because the additional year added to its development.
Our final wine was the Montefalco Sagrantino Passito, a sweet yet tannic wine. I normally do not care for sweet wines but this was very good. Scacciadiavoli is imported by both Selected Estates of Europe in New York and Vinity Wine Company in California. I recommend their wines and left after purchasing several bottles of both the Montefalco Rosso and the Montefalco Sagrantino, the latter of which I will cellar for several years.
What is my evaluation of Umbrian Wines? After tasting a number of well regarded wines, I believe that Umbrian wines are definitely underrated. The various blends featuring sangiovese, canajolo, sagrantino or other local red grapes produce some superb wines sold at reasonable prices.
The pure sagrantinos offer a worthy challenger to the acknowledged heavyweights of Italian red wine from Tuscany and Piedmont. However, I believe that additional aging of 18-24 months in the barrels before sale will produce an even better sagrantino wine. Given the commercial pressures for sale and cash flow, I recommend that you hold your sagrantinos for at least four years after the date of harvest. They will last at least 10-15 years.
Umbria was a beautiful and enchanting place to visit. The excellent wineries we visited aside, the tradition of local, individual winemaking continues to be strong. On two occasions we were afforded the opportunity to try wines made by individuals for their own use and we found these blends of sangiovese, sagrantino and other red grapes to be excellent. There are over forty other commercial wineries in the Montefalco area. If you enjoy wine, especially red wine, Umbria is a place you should visit.
November 2008