Umani Ronchi – More Than Just Verdicchio
© by Neil Duarte
One of the last regions of Italy that we had not explored for cultural attractions and wine (the former for my wife, the latter for me) was Le Marche, located on the Adriatic side of Italy between Emilia Romagna on the north and Abruzzo on the south. Le Marche is called in many travel books the "greenest part of Italy." Our experience supported this statement. We found a land of lush green fields and vineyards on steep hillsides separated by numerous small hill towns, many of which were once hill fortresses during the middle ages.
The first winery we visited in Le Marche was Azienda Vinicola Umani Ronchi (www.umanironchi.com), founded in the 1950s by the Bianchi-Bernetti family. Today, Massimo Bernetti and his son Michele manage Umani Ronchi's 210 hectares (518 acres) which lie in both Le Marche and Abruzzo. Umani Ronchi produces a large variety of both white and red wines, all of which are made from their own grapes. Over the past four years a number of these have won prestigious awards.
Ulisse Patalocchi La Rose was our host and guide for the visit to Umani Ronchi's winery located just outside the city of Osimo. The winery itself is very modern and well maintained. It features an architectural masterpiece in its aging cellar. The cellar was built by excavating the hillside under one of the vineyards and installing bricks and gravel to balance the moisture. A metal wall covering the external face serves to protect against solar radiation.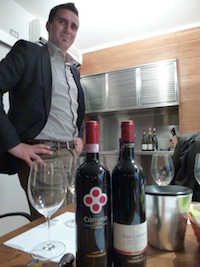 Signor La Rosa and his red wines. PHOTO: Terry Duarte.
But how were the wines? We began with the 2011 Pecorino, a new white grape for the winery. Thought to have been brought to the region hundreds of years ago by shepherds when moving their flocks, the grape is undergoing a resurrection in the region. The wine was fruity in the nose, crisp and had a nice smooth finish. This was my initial exposure to this wine and I found it very enjoyable, giving it an 88 rating.
Before I continue with the Umani Ronchi Verdicchio wines, I think a short explanation is in order. Back in the 1960s and 1970s, Verdicchio wines in bottles made to resemble a amphora urn (and known as the "Lollobridiga" bottle for the large top and small waist) were sold in the US. This wine was inexpensive but not terribly good. If this is your memory of Verdicchio wine, you are about to read a memory-changing article.
Our second wine was a 2011 Casal di Serra DOC, a 100% Verdicchio Classico Superiore, first produced by Umani Ponchi in 1983 and featuring hand selected grapes that underwent cold fermentation. This wine was straw yellow in color and had a slightly fruity nose. The taste was velvety smooth and the finish was elegant. Umani Ronchi believes that this wine will last between ten and fifteen years in a good cellar. I was very impressed with this wine and rated it a 91. I believe it would be a great pairing for any seafood dishes.
After having my past negative impression about Verdicchio wines reversed, we tried Umani Ronchi's top white wine, a 2009 Vecchie Vigne Casal di Serra Classico Superiore. The 100% Verdicchio was made from hand selected grapes from Umani Ronchi's oldest vineyards, planted in the early 1970s. It was brilliant yellow in color with an intense but slightly fruity nose. It was dry with a superb long, slightly acidic finish. I can only say that my rating of 93 agrees with Gambero Rosso's 2012 guide which named this wine Vino Bianco dell'Anno (white wine of the year) for 2012.
Before losing my preference for red wine, we turned to Umani Ronchi's red offerings. Our first red wine was a 2010 San Lorenzo Rosso Conero DOC. The grapes used in this wine were 100% Montepulciano taken from the small area on the Adriatic cost designated by law for this production. Aged in French oak casks and barriques for one year followed by six months in the bottle, the wine was ruby colored with a slightly fruity nose and a similar finish. A very nice wine, I rated this offering an 89.
Our next tasting was a 2008 Cumaro Conero Riserva DOCG. This 100% Montepulciano wine, also taken from the small Conero area, represents the best of the winery's Montepulciano grapes. Named for the Greek word "komaros" which means Conero, this wine was deep ruby in color with an intense, leathery bouquet and had a pleasant long finish. I liked this wine a lot and gave it a 92 rating.
We finished with one of the most unique red wines I have tasted in years. The wine was a 2010 Fonte del Re Lacrima di Morro d'Alba DOC. This 100% Lacrima grape wine, taken from the small area near the village of Morro d'Alba about 15 Km from the Adriatic, was deep ruby in color and had the most intense fruity nose I have ever smelled. Aged in steel for four months it was light and crisp. This was very interesting and unique wine.
After our tour and tasting, I can say without hesitation that Umani Ronchi is a very high quality winery with a number of wines well worth a purchase (which I did). I thank Ulisse La Rosa for an excellent tour and tasting. Umani Ronchi is represented in the USA by Bedford International (www.winesfrombedford.com).
Before I close I have to mention the fabulous restaurant next door to the winery at which we ate an unbelievable lunch. If you have the opportunity to visit the winery, definitely schedule a meal at Ristorante La Cantinetta del Conero. We both had cheese ravioli in a lobster sauce with pieces of lobster on top. The sauce was so good that we both used our bread to soak it up. This was one of the best meals we have had in all of our trips to Italy.
May, 2012