More Excellent Chianti
© by Neil Duarte
A reliable method of finding good wines in an unfamiliar area is to ask the locals whose wines they recommend. While eating at the excellent small Osteria La Magione located just outside of the town of Quercegrossa a few kilometers north of the city of Siena, I asked the owners, one of whom is also the chef, this very question. Tonia and Mario Fagnani replied that one of their favorites was Tenuta di Lilliano, www.lilliano.it, located just outside of Castellina in Chianti in the hamlet of Lilliano.
The next day, with Tonia and Mario in the lead, we drove out to Tenuta di Lilliano. Though the Borgo di Lilliano dates back to the Middle Ages, the current property, renovated to a 19th century appearance, began commercial winemaking in 1958 under the ownership of Princess Eleonara Ruspoli Berlingieri whose family had acquired the estate in 1920. The current owners are Giulio and Pietro Ruspoli.
Our tour and tasting was hosted by Signorina Francesca Paoletti, Wine Cellar Manager for Tenuta di Lilliano. We first visited the aging cellar which is in a restored 19th century building in the winery complex. The winery ages its wines in French oak casks and barriques and stainless steel or cement tanks. Lilliano makes its wines (red only) solely from grapes grown on its 1800 hl of production from 45 hectares of vineyard. All but 300 hl are devoted to Chianti Classico DOGC wines. After viewing the vineyards and this well maintained cellar, we moved across the street to the tasting room.
| | |
| --- | --- |
| | |
| | Lilliano's Francesca Paoletti explaining the wines to be tasted. PHOTO: Terry Duarte. |
Signorina Paoletti began the tasting with Lilliano's 2009 Chianti Classico DOCG wine, a blend of 80% Sangiovese with the remainder consisting of Colorino and Canaiolo. The vinification phase consisted of a minimum of 20 days of pumping over at 28-30 °C. The aging process consists of storage in cement tanks until the malolactic fermentation is completed. After this, the wine is aged further in a combination of stainless steel tanks and French oak medium sized barrels. The final step is 2-3 months in the bottle.
How did the wine taste? The color was the classic deep ruby and the wine had a slightly fruity bouquet and smooth and medium finish. This was indeed a very nice wine which I gave an 88 rating.
Next we moved to the 2007 Lilliano Chianti Classico Riserva, another blend of 90% Sangiovese with the balance consisting of Colorino and Merlot. Since the vinification and malolactic fermentation are the same for the Riserva and the normal Classico, you might ask what is the difference between the two Chianti wines? The Riserva grapes represent the best 20% of the grapes picked that year and the aging process is longer. It is aged in French oak casks for sixteen to eighteen months followed by six months in the bottle. The Riserva wine was slightly deeper ruby in color and had a more complex nose. It had a very smooth taste and a longer and stronger finish. I liked this wine a lot and gave it a 90 rating.
Our final wine was Lilliano's Anagallis, a Colli della Toscana Centrale (Hills of Central Tuscany) IGT. This wine is a blend of 80% Sangiovese, 15% Merlot and 5% Colorino. Rigorously hand-selected grapes are soft pressed and then undergo separate fermentation in stainless steel. Then they are transferred to large 225 hl French oak barriques for 10-16 months depending on the structure of the wine. Finally, the musts are blended to obtain a superior wine. Final aging of the blended wine is completed in the bottle for a minimum of six months.
What is the end product like? The Anagallis we tasted was a true Super Tuscan. It had an excellent bouquet, wonderful ruby color, very smooth taste and a long and pleasant finish. As partial as I am to really good Chiantis (and Lilliano's are really good), I found that this was clearly my favorite. I gave it a 92 rating.
My thanks to Mario and Tonia Fagnani, as well as Signorina Paoletti. We were able to visit Tenuta di Lilliano and taste their excellent wines. In the USA, Lilliano wines are imported by Paolo Boselli www.paoloboselli.com. If you see any Lilliano wines in your favorite wine store or restaurant, I recommend you give them a try. You won't regret it.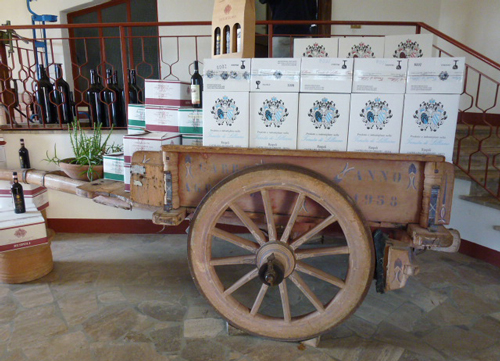 Lilliano wines ready to go, on an old delivery wagon. PHOTO: Terry Duarte.
May, 2012