Le Senate – New Types of Wine in Le Marche
© by Neil Duarte
On a recent trip to Italy we again visited the region of Le Marche on the Adriatic Coast and stopped in at the relatively new winery named Le Senate (www.lesenate.it/). The winery, located in the hills overlooking the small town of Altidona and the Adriatic, is owned and operated Giulio Visi and his wife Pamela. The name "Le Senate" is derived from the ancient Longobard word "snaida" meaning "border". In Medieval times, it referred to the practice of denoting circular rings outward from the castle as "senate" for the purposes of assigning tax valuation in this part of Le Marche. The first senate was for vegetables and the second and third senates were for vineyards and olive groves. Le Senate's logo represents these taxation circles, particularly the second circle or senate where their vineyards are located.
Most of the wineries in this area are hundreds of years old and still operated by the same family. But in 2003 when Le Senate was formed, Giulio and Pamela decided that their wines would not simply follow the traditional wines of the area such as Rosso Piceno. Rather than employing long-established grapes like Montepulciano and Sangiovese, Le Senate would grow French varietal grapes so that winemaker Guilio could create high quality wines unique to the area. Thus in 2003 they planted Cabernet Sauvingnon, Cabernet Franc, Merlot and Petit Verdot. At present, Le Senate is the only winery in Le Marche offering a local rendition of a Bourdeau wine.
Le Senate has released only one wine so far, its 2012 Barbula. However, since they plan to release a Riserva Barbula within twelve months, they allowed us into the winery to taste the first vintages they have bottled as well as barrel taste various wines before they are blended. I enjoy barrel tasting as it gives a preview of the future. All the individual wines we tasted were good but I was particularly impressed by the Merlot. This may be a future stand alone wine.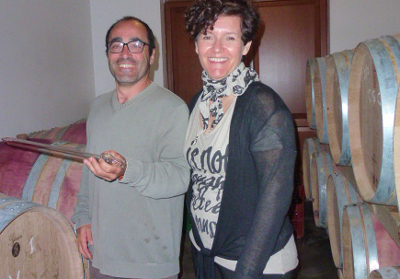 Giulio and Pamela Visi in the cellar. Photo: Terry Duarte.
The first wine we tasted from the bottle was a 2012 Barbula, a name derived from inscriptions on amphora used to transport wines in ancient times, pieces of which were discovered near Le Senate's vineyards in a cave. This IGT Marche Rosso is a 14.5 percent alcohol blend of 65 percent Merlot / 35 percent Cabernet Sauvignon. Initial fermentation occurs in temperature-controlled 30 hl stainless steel tanks for 20 days at 26 ° C. A combination of stainless steel and French oak barriques is employed in the aging process followed by a minimum of six months in the bottle.
How was the wine? Deep ruby in color, it had a pleasant fruity nose with a moderately smooth and long finish. This was a good wine with more potential with further aging. I rated it an 89/90 and believe the latter will be the final rating when the Riserva is released.
Our second and final wine (they will only offer two wines initially) was Le Senate's signature offering, a 2011 Cacinello. This name is taken from the term used by local farmers to describe the limestone which imparts the minerals found in the grapes as well as improves the ripening process. Cacinello is also a 14.5 percent alcohol IGT Marche Rosso blend with 45 percent Merlot / 30 percent Cabernet Sauvignon /15 percent Cabernet Frank /10 percentPetit Verdot. Initial fermentation occurs in temperature-controlled 30 hl stainless steel tanks for 30 days at 26 ° C. Next, one year in French oak barriques is followed with an additional year in the bottle.
The result was a deep ruby wine with an interesting nose combining fruit and tobacco. The finish was excellent – long and very smooth. This was a wine that will be an excellent addition to any red meat meal. I rated this wine a 90/91 feeling, as with Le Senate's Barbula, their Cacinello will only improve with further bottle aging.
I thank Guilio and Pamela for their hospitality and willingness to meet (we visited on a national holiday). Though the competition in Le Marche is tough and plentiful, I think that Le Senate will be very successful, at least based on their initial wines and ownership. The winery can be contacted at info@lesenate.it. Le Senate is presently seeking a US importer.
June, 2013