Tasting the Wines of La Porta Di Vertine
© by Neil Duarte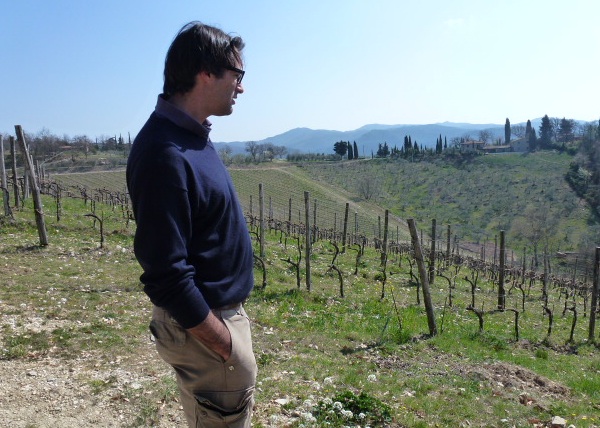 Winemaker Giacomo Mastretta looking over the vineyards of La Porta Di Vertine. PHOTO: Terry Duarte.
Last March I wrote about my experience tasting the wines of a new winery, La Porta di Vertine, located near the town of Gaiole in Chianti, just north of the city of Siena. I had not visited this winery but had received the tasting wines from my friend, wine consultant Walter Speller. After publication of the article, Walter extended an open offer to visit the winery the next time I was in the area.
On a recent visit to Tuscany I took Walter up on his offer and my wife and I visited La Porta di Vertine. I wanted to see if a second tasting of the newer wines would change my ratings for these wines. We met with winemaker Giacomo Mastretta and office manager Jacy Farrell, a transplanted American.
Giacomo gave us a tour of the vineyards which are all organic. He explained that organic vineyards generally have lower yields per vine than non-organic due to the vineyard management techniques employed by many organic producers. However, he said that he believed that the superior end product from the organic production justified the reduced yields. Like most good winemakers, his passion for his profession showed through his explanations. Giacomo was born in the Piedmont region but received his wine education in France and thus uses French wine production methods.
After touring some of the vineyards, we were given the opportunity to barrel taste several of La Porta di Vertine's newer wines. We began with a 2011 Rossato, a 100 percent Sangiovese rose that is produced in very limited quantity (this year there will be only 3000 bottles). Though I rarely like rose wines, I found this one to be very nice.
Next we tried the 2010 Chianti Classico, a DOCG wine. Like the 2007 that I tasted last year which contained minimal amounts of non- Sangiovese grapes, the 2010 was a 90 percent Sangiovese and 10 percent Canaiolo and Colorino offering. This wine had an excellent nose, dark ruby color and a most pleasant long finish. I hold my original rating of 90 on this wine.
The 2010 Chianti Classico Riserva DOCG, a 100 percent Sangiovese wine, followed and it was every bit as good as the 2007 that I tried last year. Dark ruby in color, the wine had a velvety taste and a slightly longer finish. This is an excellent Chianti and worthy of my 92 rating.
Last, we revisited their Sassi Chuisi, an IGT blend of 60 percent Merlot and 40 percent Cabernet Sauvingnon. If you read my first article on La Porta di Vertine, you may remember that I was not as impressed with this wine as I was with the Chiantis. During our discussion of this wine, Giacomo pointed out that this wine is not made in the American style of these grapes and was not intended to be a super strong wine. Rather, it was made in the European style of less bold and smoother and more elegant wines. Upon reflection, I think Giacomo has a very good point. This wine when tasted again was elegant and deserved a higher rating. I thus raise my rating to 90.
Having finished at the winery and vineyards, we adjourned to a local trattoria for lunch. Jacy Farrell brought the 2008 vintage of both Chiantis and the Sassi Chuisi to accompany the meal. Trying each one again with a meal, my favorite was the Riserva.
La Porta di Vertine's wine is now available in the USA. Simply go to the winery web site www.laportadivertine.it and see the various locations, primarily on the East Coast. These wines are worth your search efforts.
April, 2011