La Fontursia ‐ Love for Land, Passion for Wine
© by Neil Duarte
Azienda Agricola Fontursia is an organic vineyard and winery located in the foothills of Ripatransone approximately ten kilometers from the Adriatic Sea in the province of Ascoli Piceno in southern Le Marche. The name "La Fontursia" is derived from the ancient language of the Tusci people who had a settlement in this area. In this language it meant "Spring of the Tusci."
Today, La Fontursia (http://www.lafontursia.com) is owned by the Veccia family who have been making wine on the property for over 100 years. The third generation of the Veccia family, Gianmarco, along with his parents and family, produces 150,000 bottles/year of both white and red wine on approximately 50 hectares of hillside. La Fontursia grows all the grapes it uses in its wines.
On a warm spring afternoon we visited the Veccia family for a tour and tasting of their wines. We learned of La Fontursia through our friend and guide for the day, Emidio Di Ruscio, the owner of the superb B&B Vento di Rose near Monterubbiano.
After a brief tour we settled down to the real business at hand, sampling the wines. With Gianmarco as our host we tried our first white wine. This was a 2010 DOC Crivellino Pecorino Offida, a 100% Pecorino, 13.5% alcohol wine. Vinification includes decantation of the must and transfer of part of the wine to small French oak barrels with the remainder moved to stainless steel tanks where it remains until bottling. The 2010 Pecorino was pale yellow in color, had a fruity nose and finished very smooth and surprisingly long. I rated this wine as an 87.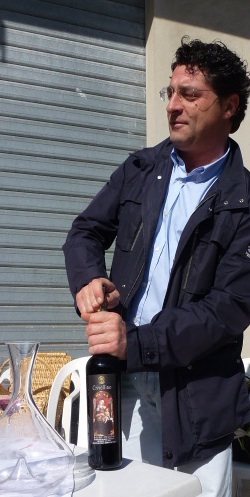 Gianmarco Veccia uncorks a bottle of Crivellino Rosso Piceno prior to decanting it for the tasting.
PHOTO: Terry Duarte.
Next Gianmarco surprised us with a 2007 vintage of this wine. The 2007 vintage was a darker straw color, had a leathery nose and was fruity to the end. It was extremely smooth and elegant in a great finish. I really liked this wine and rated it a 90. Gianmarco believes this white wine will last for at least ten years.
Our next wine was a 2010 Marche Rosato IGT, Corbezzolo. This 13% alcohol rosé was made from a blend of 50% Montepulciano and 50% Sangiovese. It was fruity, smooth and very light. For a non rosé drinker like me, this was a nice rendition of a rosé.
The first red Gianmarco offered was a 2008 Rosso Piceno DOC Select Crivellino, a 13% alcohol blend of 60% Montepulciano and 40% Sangiovese. The vinification procedure includes a long maceration in stainless steel or cement tanks followed by nine months in French, Austrian and Piedmontese oak barrels. The final aging step is three to five years in the bottle depending on the vintage characteristics. Gianmarco feels that, based on testing, this wine will keep for twenty or more years after release. The wine was purple in color, had a medium nose with scents of spice and a dry, long and smooth finish. This is a wine for red meat and strong cheeses, best served at 18-20 °C. It is my idea of a hearty red that you can really taste. I gave this wine a 92.
Our final wine was a 2007 Rosso Piceno DOC Fontursio, a 12.5% alcohol blend of 60% Montepulciano and 40% Sangiovese. This wine differs from the Crivellino in the grape yield per hectare (almost twice as much) and in its vinification where it receives light aging in Piedmontese oak for four to five months. It should be drunk within five years of release. This wine was lighter in color and nose, and it was not as bold in taste. It may have suffered in comparison to its predecessor, the Crivellino. However, the wine was good and I gave it an 88 rating.
Gianmarco Veccia has done a masterful job with La Fontursia. His wines are truly excellent and I highly recommend them. At present, he is seeking a new importer for La Fontursia's wines in the USA. Our thanks go to him, his family and staff for the wonderful hospitality they offered to us.
September, 2012