Cantina Giardino – The Touch of Excellence
© by Neil Duarte
Almost three years ago I wrote an article that described what I believed to be the best Aglianico wine from the Campania region of Italy. The wine was produced by a small six-person winery called Cantina Giardino, in the town of Ariano Irpino. At the end of the article I stated that I hoped to visit the winery in the future so that I could try a number of its other wines.
It took almost three years but I finally was able to go to Campania and visit Cantina Giardino. Before I go into discussing the individual wines, let me say a few words about Cantina Giardino's winemaker/part-owner, Antonio di Gruttola. We spent three days with Antonio, his wife, Daniela and their two children. Over that period of time in a number of discussions, meals, wine-tasting events and observations, I came to realize that Antonio is one of the most knowledgeable and talented winemakers in all of Italy. Before starting his own winery, he served as a winemaker for the Mastroberardino family winery, Terredora, for three years. His wines have the touch of excellence.
All of the wines produced by Cantina Giardino are organic and have no filtration or clarification used in the production process. All fermentation is with natural yeasts and there is no temperature control. There are no sulfites added to their wines. We were treated to barrel tastings of a number of young wines and I can only say that the future looks very bright for Cantina Giardino's wines.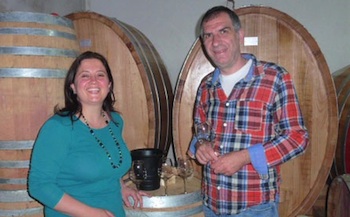 Cantina Giardino's Daniela and Antonio di Gruttola in the cellar during the barrel tasting. Photo: Terry Duarte.
Our first white wine was a 2010 Campania Bianco IGT Fiano named 'Gaia,' made from 30 year old vines. This 100% Fiano grape wine was macerated on the skins for four days, hand pressed in wood, fermented in chestnut-acacia 10 hl barrells and aged twelve months in chestnut-acacia followed by another twelve months in the bottle. The 13.5 % alcohol Gaia was a cloudy yellow in color (do not be put off by the color), had a pleasant fruity nose and a long and very smooth finish. I rated this wine a 91 and I urge you white wine aficionados to try this when you see it.
The second white wine was a 2010 Campania Greco IGT named 'Adam.' This 100% Greco was hand picked from 20 year old vines in mid-October. Macerated with the skins for four days followed by pressing in wood, it was fermented in oak tonneaux and aged for twelve months followed by twelve months in the bottle. The Adam was a golden color, slightly fizzy and had a fruity nose and a medium smooth finish. I rated this wine an 88/89.
Before continuing I should state that we tasted these wines while dining at the excellent Ristorante La Pignata di Ventre Guglielmo in Ariano Irpino. This neighborhood restaurant served a delicious traditional Italian Sunday meal while we enjoyed Cantina Giardino's superb wines.
Our first red wine was a 2007 Campania Aglianico Drogone. This 100% Aglianico d'Irpina, 13% alcohol wine was made from grapes hand picked in the first week of November from 80 year old, single vineyard vines. The Drogone was fermented and macerated in 27 hl oak barrels for sixty days followed by twenty-four months in 27 hl oak barrels and a further 24 months in the bottle. The result was a deep purple colored wine with a medium nose and a long and smooth finish. This was a very nice wine and I rated it a 90.
Next we tried a three year ladder of Cantina Giardino's flagship wine. A 2006 Nude 100% Aglianico d'Irpinia followed the same production process as do all of their Nude wines. The wine had alcoholic fermentation with natural rising in 5 hl oak barrels, maceration for twenty five days without temperature control followed by 24 months in old oak barriques and old tonneaux and a further 24 months in the bottle. The 2006 Nude was purple in color, had a fragrant nose and finished long and smooth. I rated this very nice wine a 90 with the thought that it will only get better in a few years. It is not yet released for public sale.
A 2005 Nude followed. The climatic conditions made production this year very difficult. This wine was a deeper purple in color with a very pleasant nose and a really fabulous finish. A most impressive offering in light of the difficulties in the overall process of growing and production, I rated this wine a 94. It was a show stopper wine.
The 2004 Nude was equally fantastic. The color was the same, with a great nose. It finished the way a great wine is supposed to finish – very long and amazingly smooth. I rated this wine a 94. If you are looking for a really great red wine I would suggest that you consider Cantina Giardino's Nude.
Our last wine at the dinner was a 2008 Clown Oenologue. This 100% Aglianico had fermentation and maceration for twelve months in 200hl terracotta amphora with natural yeasts. Then it was manually pressed in wood and aged for twelve months in old oak, followed by a further 12 months in the bottle. The Clown Oenologue was purple in color, had a slightly fruity nose and finished medium and smooth. In retrospect, I wish we had tried this one before the Nude wines. I rated this wine an 89, but it may well be a better wine than that.
There are many excellent small wineries all over Italy. Based solely on my experience, I would certainly place Cantina Giardino among the best of these. Our thanks go to Antonio and Daniela for their wonderful hospitality during our stay.
Cantina Giardino is represented in the USA by LDM Wines Inc and Flat Creek Enterprises of Marble Falls, TX; and in California by Scuola di Vini c/o Vino Express in Richmond, CA.
February, 2014