Superb Italian Wines – From Texas
© by Neil Duarte
Just north of Austin, Texas, overlooking the Colorado River, lies Flat Creek Estate , the winery owned and operated by Rick and Madelyn Naber. The Nabers have been here since 1998 and have produced Texas wines since 2000. Today they preside over an 80-acre vineyard containing multiple grape types, a modern winery with an architecturally impressive tasting room and a first-class restaurant featuring amazing food and wine pairings plus a wood burning pizza oven (a must-have for true pizza aficionados).
Rick Naber and winemaker/vineyard manager Tim Drake have assembled some very impressive Italian style wines produced primarily from Texas grown grapes. They are continually looking to improve their wines and, as root stock becomes available, add new Italian varietals to their vineyards. During our discussion, they repeatedly spoke of their dedication to the quality of their wines and the desire to produce truly superb wines from Texas. Current production is approximately 10,000 cases/year or 120,000 bottles/year.
Aesthetics aside (if you can do that in such a beautiful surrounding), how did their wines taste? We were fortunate in that we tasted all of their wines, not just the Italian varietals. We began by barrel tasting some of the younger vintages including Pinot Blanc, Viognier, Syrah and a Pinotage made from grapes sourced in California. All were good but I found that the Pinotage held the greatest promise with additional aging. Flat Creek's white wines are aged in stainless steel while the reds are aged in a combination of French and American oak barriques. The entire wine production area was exceptionally clean and most impressive.
How were the wines of Flat Creek? Our first wine was a 2011 100 percent Pinot Blanc. This wine, the grapes for which all come from the estate, was a pale yellow in color with a fruit forward nose. It was very smooth in taste with a pleasant medium finish. I rated this wine an 89 and would recommend it for any seafood dish.
Next we tried a 2010 Viognier, a 100 percent Vognier grape wine that was aged primarily in stainless steel. Flat Creeks' Viognier was a very pale yellow wine with a light nose and a smooth long finish. I rated this wine a 90 and would recommend it with shrimp or lobster bisques, or other seafood dishes.
Red wine was our next tasting. The first offering was Flat Creek's signature wine, the Super Texan. This wine is a 13 percent alcohol blend of 76 percent Sangiovese, 7 percent Cabernet Sauvignon, 6 percent Syrah, 5 percent Montepulciano, 3 percent Petite Syrah, 2 percent Tempranillo and 1 percent Cabernet Franc. It was barrel aged in French and American oak barriques for 16 months. The Super Texan was a deep garnet in color and had a leathery, smoky nose. Its finish was very smooth and long, a truly excellent wine not only for a Texas wine but for any wine. I gave this wine a 92 rating and would recommend it for any hearty meat dish as well as traditional Italian pastas.
Our second red offering was a 2009 100 percent Syrah, a 15.5 percent alcohol wine made from grapes purchased in the Sierra Nevada foothills after a hail storm devastated the Flat Creek Syrah grapes. Made by the previous winemaker, Charles Kidd, the Syrah was aged for 20 months in a combination of 50 percent French Oak, 30 percent American Oak and 20 percent other European oak barriques with 40 percent new barriques used. This wine was deep purple in color with a light pleasant nose and a typical Syrah finish. I rated this wine a 90 but perhaps Syrah lovers might rate it higher.
Last came a 2010 Muscato Blanco, a fortified 50/50 percent blend of Flat Creek and Texas high plains Muscat Canelli grapes. Also made by Charles Kidd, the wine was pale yellow with a strong Muscato nose and the unique Muscato taste. I don't rate such wines but this was very pleasant to taste.
Most of the wineries I visit and the wines I taste are in or from Italy. It is, however, refreshing to find really first-class wines such as those from Flat Creek being made in the U. S – especially in Texas. Rick and Madelyn Naber and the staff at Flat Creek have done an excellent job at building a topnotch winery, producing wines that compete well on an international scale. If you are ever in the Austin area, you would definitely enjoy a visit to Flat Creek to sample the food and wine.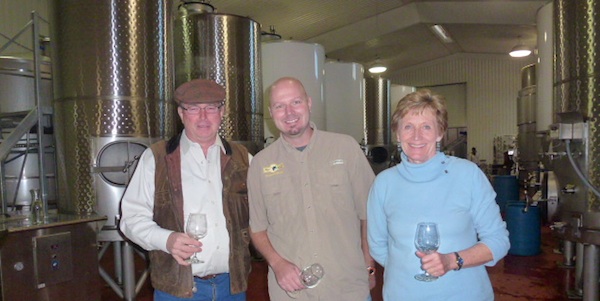 Flat Creek Estate owners Rick Naber (l) and Madelyn Naber (r) with winemaker Tim Drake (c). PHOTO: Terry Duarte.
February, 2013