Cantina Colli Ripani: 'Wine is an Art'
© by Neil Duarte
La Cantina dei Colli Ripani (www.colliripani.com) was started in 1969 by an initial group of 100 growers near the town of Ripatransone in the southern part of the region of Le Marche on the Adriatic Coast of Italy. The first wine production came in 1977. Today, Cantina Colli Ripani is made up of approximately 400 growers with 850 hectares of vineyards on which are grown a variety of wines. From these vineyards Cantina Colli Ripani produces about 1 million bottles of red, white and rosé wine per year.
Cantina Colli Ripani's Linea Colli Ripani represents the company's more reasonably priced every day wines while the Linea Pharus is its more elegant offerings. On a sunny spring afternoon we visited Cantina Colli Ripani where Signorina Edvige "Eddy" Cossignani, the cellar manager, hosted our tasting.
As usual, we began with a white wine, a 2012 Rugaro Offida Perorino DOC. This 100% Pecorino wine was produced from hand selected grapes and was lightly pressed followed by thermo-conditioned fermentation and aging in stainless steel tanks. It was pale yellow in color with a light nose and a smooth finish. This was a good example of Marche Pecorino and I rated it an 87. It would be a nice appetizer wine served at 12-14°C.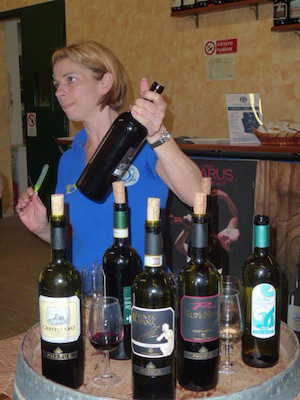 Signorina Eddy Cossignani presenting the wines for tasting. Photo: Terry Duarte.
Our second wine was a 2012 Ninfa Ripana Offida Passerina DOC. Another hand selected wine, this 100% Passerina was vinified off the skins and fermented in stainless steel at controlled temperatures. A light yellow in color, the Ninfa Ripana had a light but clean nose and a fruity, smooth taste. I rated this wine an 87. A good selection with fish dishes, it should be served at 10-12°C.
The third wine was a selection from the Linea Colli Ripani, a 2012 Irideo Verdicchio Dei Castelli Di Jesi DOC. I'm not certain why this wine was not in their higher level line, but it should be. This 100% Verdicchio was a greenish yellow in color, had a light fruity nose and a smooth soft taste. I rated this wine an 87.
Moving into the red wines, we tried a 2012 Rupe Nero Rosso Piceno DOC. A blend of 70% Montepulciano and 30% Sangiovese, the grapes for this wine are picked in early October with maceration at cold temperature and fermented with the skins for 7-10 days. Deep purple in color with a medium nose it finished long and smooth. I rated this wine an 88. Next we tried a Castellano Rosso Piceno Superiore DOC. This wine had the same blend percentages as the Rupe Nero and featured a longer maceration with the skins, 15-20 days. Aged for eighteen months in both large oak casks and barriques, a further six months in the bottles followed. A typical deep purple Montepulciano in color this wine had a stronger nose than the Rupe Nero and a fruity taste. The Castellano was a nice wine but I preferred the Rupe Nero and I rated the Castellano an 87.
A 2006 Leo Ripanus Offida Rosso DOC was the next offering. This 14.5% alcohol blend of 60% Montepulciano and 40% Cabernet Sauvingnon was made from grapes hand picked in mid-October with a long maceration with the skins of 20-25 days. Lightly pressed, the wine is aged in oak barriques for twelve months and has a further six months in the bottle. The Leo Ripanus was deep garnet in color, had a medium fruity nose and finished light and very smooth. This was a good wine that I rated a 90.
Our last wine was a 2005 Khorakhané Marche Rosso IGT, a 14.5% alcohol blend of 75% Montepulciano and 25% Cabernet Sauvignon. The name comes from the Serbo-Montenegro language and means "wind borne", an expression of creative freedom. The Khorakhané represents Cantina Colli Ripani's flagship red wine. Another hand selected grape wine picked in mid-October, it too has a long maceration on the skins of 20-25 days with light pressing. It is aged for eighteen months in new oak barriques and further aged in the bottle for four months. Deep ruby red in color, the Khorakhané had a medium nose and finished with a fruit and wood taste that was very smooth. I liked this wine very much and rated it a 90.
Our thanks go to Signorina Cossignani for her hospitality and explanations of the various wines. Cantina Colli Ripani is imported into the USA by Tricana Imports (www.tricana.com) and Regional Imports (www.importgenius.com). If you are in the area, this winery is worth a visit.
August, 2013