Castello Fageto – Four Generations of Quality
© by Neil Duarte
Located in the hills just east of the coastal city of Pedaso in the region of Le Marche is Azienda Agricola Castello Fageto (www.castellofageto.it). Here the third and fourth wine-making generations of the Di Ruscio family grow their grapes and make their wines in hills overlooking the Adriatic. Under the direction of winemaker and owner Claudio De Ruscio and assisted by sons Angello and Michele, the family produces 100,000 bottles a year of both red and white wine from its 40 hectares of organic vineyards.
Led once again by our host at the excellent B&B Vento di Rose, Emidio Di Ruscio (a cousin of the owners but not connected with the winery), we visited Castello Fageto late one spring afternoon. Our hosts for the tour and tasting were brothers Angello and Michele, who drove us from the current winery headquarters to the original winery and vineyard in a most picturesque hillside location overlooking the beautiful Adriatic. There we set about tasting some of the products of Castello Fageto, with the Angello and Michele providing the history of the wines.
The first wine tasted was a 2010 DOC Fenésia Offida Pecorino, a 12-percent alcohol wine made from 100 percent Pecorino grapes. This hand-picked wine is fermented in stainless steel temperature-controlled tanks at temperatures not exceeding 18° C until fermentation is completed. After clarification and aging for one year in stainless steel, it is further aged for two months in the bottles. The Pecorino was pale yellow in color and had a fruity nose. It had a pleasant taste and smooth finish. I rated this wine an 88.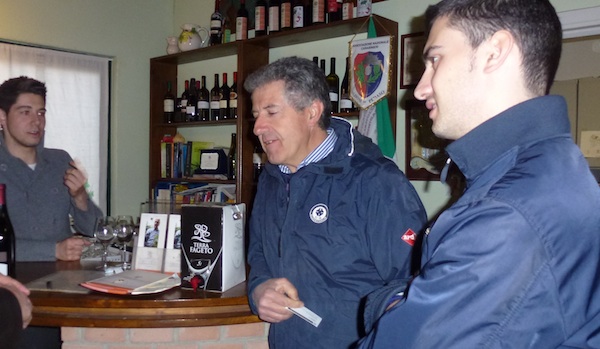 The DiRuscio winemakers. L to R: Michele, Claudio and Angelo. PHOTO: Terry Duarte.
Next we tried Bianco di Elisena, a 2010 Marche Bianco IGT made from 80 percent Chardonnay and 20 percent Malvasia grapes. After fermentation in temperature-controlled stainless steel tanks, this wine is aged in French oak barriques for six months followed by twelve months in the bottle. The Elisena was straw yellow in color, had a fruity nose and tasted very smooth and fruity. Its finish, however, was somewhat short. I gave this wine an 86 rating.
Our first red wine was a 2011 Fiore Rosso Piceno DOC, a blend of 50 percent Montepulciano and 50 percent Sangiovese. After mid-September harvesting and destemming, 20 percent of the Sangiovese grapes are left in a carbonic maceration while the rest of the grapes are given five days of maceration in stainless steel tanks. After blending, the wine is put into stainless steel for approximately three months' aging before bottling. Garnet in color, the Fiore had a smooth, medium taste and pleasant finish. I gave this wine an 87 rating.
The next wine was simply called "2010 Rosso Piceno DOC", another 50/50 blend of Montepulciano and Sangiovese. Harvested in early October, the grapes for this wine are destemmed, lightly crushed and placed in stainless steel tanks for 15 days to complete maceration at temperatures not exceeding 28° C. Then the wine is transferred to stainless steel tanks for clarification and stabilization for eight months. Finally, after bottling the wine is aged for six months in the bottle. This Rosso Piceno was purple in color, had a nice nose and a long, smooth taste and finish. This was indeed a very nice wine and I gave it an 89 rating.
Our next wine was a 2010 Rusus Rosso Piceno DOC Riserva, Castello Fageto's top Rosso Piceno. Another 50/50 blend of Montepulciano and Sangiovese, the Rusus grapes are carefully hand-selected during the second week of October. Then they are destemmed, lightly crushed and allowed to macerate in large, temperature controlled fermenting tanks at temperatures no greater than 25°C to complete alcoholic fermentation. After this the wine is transferred to 25 hl French oak barrels where it is aged for 12 months. Following bottling, Rusus is aged a further six months in the bottle. The product of all of this was a wine deep purple in color, slightly fruity in the nose and having a long, smooth and very elegant finish. This was a truly superb example of Roso Piceno and I gave this wine a 92 rating.
The final wine was a 2007 Serrone Marche Rosso IGT, a blend of 60 percent Cabernet Sauvignon and 40 percent Merlot. The Merlot grapes are harvested in mid-September while the Cabernet Sauvignon grapes are harvested in mid-October. The separate grapes are destemmed, gently crushed and macerated in large fermenting tanks for 15-18 days. After this they are carefully blended and the blend is placed in stainless steel tanks for six months before transfer to French oak barriques for about twelve months. The Serrone was a deep garnet in color, fruity in the nose and had a very smooth but short finish. This was a classic European style wine that I gave an 89 rating.
Claudio Di Ruscio and his sons, Angello and Michele, operate a very high quality vineyard and winery in the Ascoli Piceno region. Their wines are all very good and definitely worth a purchase. They are represented in the U. S. by Elliot Bay Distributing in Seattle, WA. I thank the Di Ruscio family for their hospitality during our most enjoyable visit.
October, 2012