Cantine Lonardo – Technology with Tradition
© by Neil Duarte
Located on a narrow lane in the increasingly well known wine area of Taurasi in the eastern part of the region of Campania, about an hour southeast of Naples lies the 5 hectare vineyard/winery of Azienda Agricola Contrade di Taurasi di Enza Lonardo ( www.cantinelonardo.it). If you aren't looking for the address you could easily miss it as Cantine Lonardo has no signage or fancy tasting room. What it does have are some truly excellent wines.
Though the Lonardo family has owned this land for many years, the brand Contrade di Taurasi was started only in 1998. Today Cantine Lonardo is operated by Professor Alessandro Lonardo and his daughter Antonella. The vineyard is full organic in nature and the winemaking is done by Professor Lonardo with the assistance of an impressive group of academics in the wine business (see the list on the website). Cantine Lonardo produces approximately 20,000 bottles/year, consisting primarily of Aglianico red wines.
We were introduced on a Sunday morning to the Lonardo family by Antonio and Daniela di Grutolla, and began our visit with a brief tour of Cantine Lonardo's winery followed by the tasting in the Lonardo family home.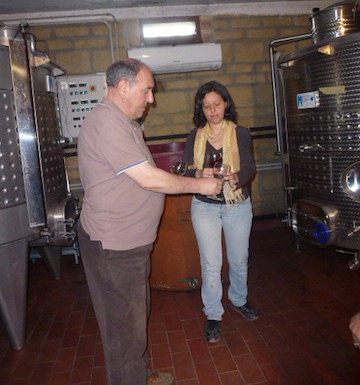 Professor Alessandro Lonardo and his daughter Antonella in their winery during the barrel tasting of their wines. Photo: Terry Duarte.
The first wine we tried was a 2011 IGT Irpinia Bianco Grecomusc. Grecomusc is the old name for the grape that is today known as Rovello Bianco. This 100% Rovello Bianco wine was a pale yellow in color, had a light fruit nose and a medium but very smooth finish. This was a very good white wine and I rated it an 88. It should be served at 10-12°C.
Our second offering moved us into the red Aglianico wines. A 2010 DOC Irpinia Aglianico from Cantine Lonardo's Traditionale line, this 100% Aglianico wine was made from hand selected grapes. The Irpinia Aglianico 14% alcohol wine was made from grapes picked in the first ten days of November. The fermentation consists of maceration and aging with 70% in stainless steel tanks and 30% in oak casks. There is no stabilization or filtration used. The product is a deep ruby red wine with a medium but pleasant fruit nose and smooth finish. The wine will last for 10-15 years. I rated this wine an 89.
Next came a 2008 Taurasi DOCG, another 100% Aglianico 14% alcohol wine made from grapes taken from 10-30 year old vines. Malolactic fermentation lasted 13 days and maceration 15 days. After racking, 70% was placed in stainless steel tanks and the remaining 30% in 5 hl oak casks. The blending of the two was accomplished without any filtration. The result was a deep ruby red wine with a strong spice and leather nose and a long and very smooth finish. This was a really excellent wine that I rated a 91.
Our next wine was taken from Cantine Lonardo's Linea Cru offering. This was a 2008 Taurasi Coste DOCG 100% Aglianico wine made from grapes hand picked from 40 year old vines with American rootstock. Fermentation begins with natural yeasts on the vine and proceeds for 13 days at 27-28° C, followed by maceration on the skins for 30 days. Malolactic fermentation is for 20 days. Aging is for 24 months in oak after which the wine is bottled without use of filtration. The resulting Taurasi Coste was a deep ruby color with a strong nose of fruit, herbs and balsamic. The taste was strong and long, but I did not like this wine as much as the Taurasi. I gave it an 89 rating.
Another Linea Cru wine, a 2008 Vigne D'Alto DOCG followed. The Vigne D'Alto was made from grapes hand picked from 70-100 year old vines. The vinification is the same as the Taurasi Coste. The color is the same deep ruby red but the nose is lighter and very pleasant with fruit and the scent of the fields. The finish is long and very smooth. I liked this wine a lot and rated it a 91.
The last wine we tasted was a 2008 Taurasi Riserva DOCG. Hand picked grapes from vines 30-70 years in age, this 100% Agianico 14.5% alcohol has a fermentation starting with 12-18 days at temperatures rising from 5 to 28° followed by 80-90 days on the skins. Aging consists of about 24 months in 225 liter oak tonneaux, 6 months in steel and 18 months in the bottle. The Taurasi Riserva was a deep garnet in color with an interesting nose of tobacco and spice and a fabulous long and very smooth taste. This was a superb wine that I rated a 93. If you see this anywhere, I strongly recommend that you buy it.
The Lonardo family makes some of the best Aglianico wine that I have had the pleasure of tasting. Our thanks to them for the wonderful hospitality they showed us during our visit. The web site for Cantine Lonardo has a listing of those locations in the USA where you can find their wines. You won't regret trying any of Cantine Lonardo's offerings.
October, 2014