Boccadigabbia – A Unique Family Winery
© by Neil Duarte
In the early 1800s the Napoleonic kingdom of Italy annexed territory in Le Marche formerly owned by the Papacy or religious orders. Shortly thereafter this territory became a very large estate known as the "Amministrazione Bonaparte." One portion of this estate was known as the "Boccadigabbia Podere" and was used for wine growing. In 1956 the "Boccadigabbia Podere" was sold to the Alessandri family by the last Bonaparte family claimant.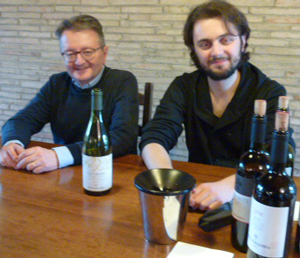 Elvidio Alessandri and son Lorenzo. PHOTO: Terry Duarte.
Today Elvidio Alessandri and his son, Lorenzo, carry on the winemaking tradition begun under the Bonaparte regime. The winery and one of its two vineyards are located in the low hills rising from the Adriatic Sea just north of the city of Civitanova Marche. Here the Alessandri family produces an interesting variety of red and white wines from both native Italian grapes as well as French varietals. Elvidio, the wine maker, has no formal training, but rather has thirty years of experience and follows the tradition of Italian farmer/winemakers. The uniqueness of Boccadigabbia's wines comes both from the quality and the choice of wines produced.
We visited Boccadigabbia on a rainy afternoon in early spring. After a short tour of the winery, we settled down to the business of tasting the Alessandri family's wines. Here are the results.
The first white wine that we tasted was a 2010 Garbi, a Marche IGT blend of 40% Chardonnay, 40% Sauvignon Blanc and 20% Verdicchio that is named after a wind commonly blowing off the Adriatic. During the production, the must is allowed to ferment for 12 days in stainless steel tanks at low temperature before blending. This wine was crisp and smooth but light, a nice wine to serve as an aperitif.
Next we tasted a 2009 Le Grane, a Colli Maceratesi Ribona DOC made from 100% Ribona grapes. This grape is grown only in the province of Macerata in Le Marche. The wine follows the same twelve day fermentation as Garbi, but then in a second fermentation slightly overripe grape berries are added (fare le grane – adding berries, hence the name) and this fermentation lasts about ten more days to increase aromatic extraction. The wine color was straw yellow and the wine had a very different but pleasant bouquet. The taste was very smooth and the finish very nice. Le Grane was a very good wine indeed. I rated this wine an 88.
The last white we tasted was a 2005 Montalperti, a 100% Chardonnay IGT. In this wine, the grapes are lightly pressed and then cold-settled in stainless steel tanks. The wine ferments in French Allier barriques for four to five months and the final blend is further aged in vats. Bottling occurs one year after harvest and a further six months in the bottle is added prior to release. Montalperti had a wonderful, unique nose with grapefruit scents and a vanilla hint from the barriques. It is very strong for a white and will go well with almost any dish you wish. I rated this wine an 89.

Rosso Piceno. PHOTO: Terry Duarte.
Boccadigabbia produces an interesting assortment of five red wines. We began with their largest selling red, a 2008 Rosso Piceno DOC blend of 50% Montepulciano and 50% Sangiovese grapes. Here the grapes are crushed and lightly pressed, and then the must is fermented in stainless steel tanks with frequent pump-over. After extensive maceration on the skins, the wine is aged in French oak barriques for ten to twelve months. This wine, Boccadigabbia's largest seller, was deep ruby in color, had a nice nose of fruit and vanilla oak. It was smooth with a lovely long finish. I rated Boccadigabbia's Rosso Piceno a 90. Also, I loved the label featuring an old pickup truck, once used in the 2011 Italian film, Il Cuore Grande delle Ragazze. Next we tasted a 2007 Saltapicchio, a Marche IGT made from 100% Sangiovese grapes. After a lengthy maceration on the skins, the wine is aged for fourteen to sixteen months in French oak barriques and then bottled and given another minimum six months aging. My notes indicate that Saltapicchio was very smooth and had a strong finish. I rated this wine an 88.
French varietals grown in Boccadigabbia's vineyards followed. We tried a 2005 Il Girone IGT, a 100% Pinot Noir. The vinification of this wine includes maceration on the skins followed by aging in French oak barriques for a period depending on the wine characteristics and final aging for one to two years in the bottle. Il Girone had a light, slightly fruity bouquet, a velvety smooth taste and a strong but elegant finish. I rated this wine as a 90.
A 100% Merlot, Pix, was our next tasting. This 2007 Marche IGT, after fermentation and maceration on the skins, is moved to new French oak barriques for malolactic fermentation and then aged there for twelve to fifteen months. The resulting wine had a complex nose, smooth taste and wonderful finish. It was very, very good and I rated it a 91.
We finished with a 100% Cabernet Sauvignon, Akronte, another Marche IGT offering named for an ancient stream that borders the estate vineyards. This is Boccadigabbia's flagship wine, picked from a single vineyard. After lengthy maceration on the skins, the wine is aged in new French barriques for eighteen to twenty months followed by several months in the bottle. The resulting wine is a classic European smooth and elegant wine with complex nose and very pleasant strong finish. I rated this wine a 91.
Elvidio Alessandri said that his greatest desire was to have his wines made with his unique stamp on them. After this tasting, I believe that he has been successful in so doing. Boccadigabbia has produced a lineup of very good wines, especially the red wines. You will enjoy any of these wines if you try them. Boccadigabbia is represented in the US by a number of importers (see list below). With this many importers, there should be one in your area.
Massachusetts: Arborway Imports
Missouri: de Grazia Imports
California: American Wine and Spirits
New York: Michael Skurnik Wines
Ohio: Vintner Select .
July, 2012