Frank Cornelissen – Etna's Individualist
© by Neil Duarte
After learning the commercial wine business as an agent/broker in his native Belgium, ten years ago Frank Cornelissen followed his dream to the north slope of Sicily's Mt. Etna where he established a vineyard and winery. Beginning modestly with only a 0.5 hectare vineyard, today he produces 20,000 bottles a year from 12 hectares in several separate vineyards that he owns.
Frank is a true believer in the purity of natural winemaking, avoiding all external chemical or other outside treatment in his USDA organic vineyards. A measure of his success is that all of his wine for next year as well as the previous one is already sold.
When I visited Frank and toured his vineyards and winery, I asked him why he chose Sicily for his operations. He quickly corrected me by saying that he chose Etna, not Sicily. The soil found on the slopes of Mt. Etna, an active volcano, has a rich volcanic soil different from that found in the rest of Sicily. Frank's vineyards are on the north slope of Mt. Etna which in recent years has been spared the majority of the volcano's eruptions. Frank adds nothing to his artisan wines, preferring the "naturalness" of the grapes to show. Another believer in the use of terracotta amphora, he ages his wine in sealed, epoxy lined amphorae that are cleaned with alcohol after each use. These amphorae are buried in lavas rocks for both the prevention of contamination and protection from earthquakes.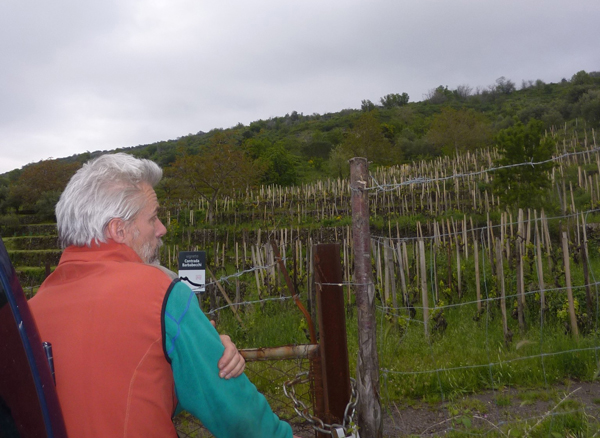 Frank Cornelissen looking over the vineyard from which his outstanding MunJebel #7 VA wine was made.
PHOTO: Terry Duarte.
If you are looking for a fancy tasting room, this is not the place. We tasted the wines in his office. Since he had sold all of his 2009 wines, we sampled some of Frank's 2010 wines that were not yet completely aged.
Here are our findings:
The first wine we tasted was the 2010 MunJebel #7 Bianco (MunJebel is a combination of the Sicilian and Arab words for Mt. Etna), a white blend of 50 percent Grecanico, 15 percent Coda de Volpe, and the remainder Catarratto and Carricante. Gold in color, this 13.5 percent alcohol wine will be ready in October. Like many young white wines, this wine was good but not yet ready. It should be excellent by October. To give you an idea of what others have said about Frank Cornelissen's MunJebel Bianco, Michael Wilson, Editor-in-Chief of the magazine La Cucina Italiana, after tasting the 2004 MunJebel Bianco uttered the comment, "What the (bleep)? This is spectacular!" White wine lovers, be aware! Normally 3,000 bottles are produced, but due to grape losses last year, there will be only 1,980 bottles and 84 magnums this year.
Next we tried the 2010 Rosso del Contadino #8, a blend of both white and red local grapes. The wine was a light garnet in color with a heavy nose and strong finish. Its taste was unique, ripe and acidic, the latter due to the high acid content of the volcanic soil. I felt this wine definitely need more aging, but perhaps I was not used to its uniqueness.
Last we tasted the 2010 MunJebel #7 VA (Vigne Alte), a 100 percent hand-selected Nerello Mascalese from vines between 50 and 100 years old. This wine had 2.5 months on the skins followed by aging in terracotta amphorae. Deep garnet in color with a very smooth nose, it had a spectacular finish. I have rarely been so impressed with a barrel tasted wine yet to reach complete aging. This wine will be a minimum 93 and probably higher when ready for sale. Only 400 bottles will be available – again due to grape-loss problems.
Unfortunately, we were unable to taste Frank's signature Magma Rosso and Bianco as none was available when we visited. However, based on the unbelievable 2010 MunJebel Rosso #7, I can't believe that the Magma wines could be much better. Then again, we may have to return to see if that statement is correct.
Azienda Agricola Frank Cornelissen is represented in the US by Zev Rovine Selections (http://www.zrswines.com). Frank is scheduled to visit New York in January 2012 for a tasting. Please check his web site as Frank and his wife are expecting their second child, which my change the date.
If you have the opportunity to purchase one of Frank's wines, do yourself a favor and do so. You will not regret the purchase. Frank Cornelissen is a unique individual and truly a superb winemaker.
November, 2011