Special Report:
L.A. County Fair Wines of the World Competition
Compare your palate to that of the judges
© 2004 by Randy Buckner
September 2004


Want to compare your palate against those of a distinguished panel of wine judges? The Los Angeles County Fair, which opened Sept. 10, 2004 and runs through Sept. 26, has all of its gold medal-winning wines available to sample for a nominal fee.
What value does a wine fair serve? Is the judging just an advertisement for the wine industry? Do the medals awarded guarantee quality wine? Are the wines really evaluated by the judges without seeing the bottle? What qualifications do wine judges have?
These questions are frequently asked by the wine consumer. While wine fairs indirectly benefit the wine industry, these events certainly do not shill for wineries. Dedicated wine judges from around the globe gather to award gold, silver and bronze medals to deserving wines, which aids the customer in their wine selections.
This year marked the 65th annual L.A. County Fair Wines of the World Competition, the oldest county fair wine tasting in the nation. An international panel of 73 wine judges spent three days evaluating more than 4,000 wines from around the world.
The judging panel included wine writers, winemakers, wine educators, wine marketers, wine merchants, vineyard managers, sommeliers, and restaurateurs. All are veterans in the wine arena, bringing many years of experience to the judging. All wines were judged blind. While there are no guarantees in life, the award-winning wines met or exceeded established criteria to earn their medals.
Following are my notes on the 16 "Best of Division/Varietal" award winning wines (listed alphabetically by winery). The dual rating system evaluates quality (the first number) and value (the second) on a 100-point scale.
Best Wine of the Competition, Limited Production
2002 Barrister, Cabernet Franc, Columbia Valley, Washington, $24, 190 cases. This deeply hued wine has an intense nose of dark berries, toasted oak and mint. Bold on the palate, the wine is packed with a long list of adjectives, ranging from black fruit and oak to spice and herbal notes; 88/88.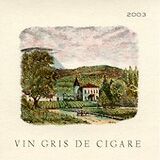 Best Blush, Pink and Rose Wine
2003 Bonny Doon, Vin Gris de Cigare, California, $11, 6,900 cases. Envision watermelon fading into a burnt orange sunset. Imagine Yukon River salmon grilling over hot coals with alder smoke filling the air. You now have a no-brainer reason to reach for this rosé from Bonny Doon. Produced from six Rhone grapes varieties, the wine provides a mélange of enticing aromas and flavors. Serious stuff; 89/91.
Best Sparkling Wine
NV Chandon, Blanc de Noirs, California, $17. The apricot hue of this sparkler is pleasing to the eye. Cherries, strawberries, cassis and citrus dictate the aromas and flavors. The finish is long and soft. This bottle is marginally better than a sample tried earlier this year; 87/87.
Best White Wine, Limited Production
2003 Clos du Lac, Sauvignon Blanc, Sierra Foothills, Amador County, California, $10, 249 cases. You'll find lots of lemongrass and grapefruit on the nose. Refreshing on the palate, the wine displays flavors of citrus, gooseberry, and Casaba melon. This is a no-brainer for steamed clams; 86/88.
Best Dessert Wine – Fortified
NV Geyser Peak, Tawny Port, Winemaker's Selection, Cucamonga Valley, California, $19 (375 ml), 250 cases. Classic tawny brown in color, the wine is packed with aromas of hazelnuts, raisins and molasses. Very intense on the palate, the flavors repeat the nose, with a warm, lingering finish. This is a very nice New World effort; 88/88.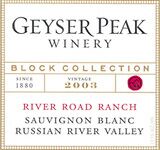 Best Sauvignon Blanc, Best White Wine
2003 Geyser Peak, Sauvignon Blanc, Block Collection, River Road Ranch, Russian River Valley, California, $19, 1,500 cases. The wine was predominantly fermented in stainless steel (17% was placed in neutral barrels), and there was no malolactic fermentation. The nose is underscored by tropical fruit, limes, and a touch of grassiness. Very crisp and clean, the flavors repeat the nose. This is the second time that I've evaluated this wine, with similar notes. Tasty; 89/89.
Best Cabernet Sauvignon
2000 Grgich Hills, Cabernet Sauvignon, Napa Valley, California, $50. Aromas of cassis, mint, and fresh cut cedar emanate from this dark ruby cabernet. Lanky, very tangy, with well-rounded tannins, this wine is laying in wait for a plate full of your favorite pasta with marinara sauce; 89/88.
Best Syrah Wine, Best Wine of the Competition
2002 Hahn, Syrah, Central Coast, California, $14, 7,800 cases. Crimson in color with blue highlights, the wine gives off aromas of raspberries and raisins with a dollop of cedar. Lots of blackberries, plums, and cocoa flavors are presented in a jammy style with a smooth finish. The wine has taken on more weight than when sampled a few months ago. Good value; 86/88.
Best Red Blend
2002 Robert Hall, Rhone de Robles, Central Coast, California, $18. Aromas of blueberries, cherries and white pepper waft from the glass. Smooth and fruity on the palate, this blend of four Rhone grapes provides a host of blackberry, cherry and raspberry flavors, followed by a long blackberry finish; 87/88.
Best Zinfandel
2001 Harmony, Zinfandel, Paso Robles, California, $18. It is refreshing to find a zinfandel under 14 percent alcohol. Elegant and crisp on the palate, this wine is all about fruit. Cherries, berries, chocolate and toast highlight the wine. Lovely black pepper spice courses its way through the wine from start to finish; 89/90.
Best Late Harvest Wine, Best Dessert Wine, Limited Production
2002 Jackson-Triggs, Riesling Ice Wine, Proprietor's Grand Reserve, Niagra Peninsula, Canada, $63 (375 ml). Intense aromas of peaches, honey and almonds assail the nose. Sporting 23% residual sugar, the wine has the acidity to back it up. Extremely concentrated in the mouth, the wine unfolds in layers of honey, tangerine and peach flavors. The finish seems endless; 93/92.
Best Chardonnay
2002 Kendall-Jackson, Chardonnay, Vintners Reserve, California, $11. K-J is very consistent with this wine. Aromas of green apples, butterscotch and pumpkin pie spice greet the nose. Crisp, creamy and made in the classic California style, the wine is full of fruit, oak and spice flavors that linger for an extended period; 84/86.
Best Pinot Noir
2002 La Crema, Pinot Noir, Russian River Valley, California, $24. Black cherry, vanilla and dark tea aromas intermingle on the nose. Elegant on the entry, the wine is crisp and enticing, with flavors that echo the nose; 87/87.
Best Organic Wine

2003 Lopez Island, Siegerrebe, Puget Sound Estate, Washington, $14. This enchanting wine is a cross between gewürztraminer and madeleine angevine. It is extremely aromatic, with grapefruit, lychee and lime notes cutting across the entire spectrum. Off-dry at 0.9 percent residual sugar, this is a terrific match for Mandarin-style Chinese food; 87/88.
Best Distilled Product
NV Paul Masson, VSOP Grande Amber Brandy, California, $15. The brandy has a classic amber color, with plenty of honeycomb and praline aromas. The brandy has 30 percent French cognac blended into the mix. Flavors speak of maple syrup, vanilla and caramel notes. Nice; 87/89.
Best Merlot
2001 Mirassou, Merlot, California, $11. Plummy aromas are supported by toasted oak and herbal notes. Full-bodied, with pliable tannins, the flavors reveal a mix of Satsuma plums, American oak, dark chocolate and a bevy of spices; 86/88.

Back to Bucko's New Releases Index Page