Topic: TN: Vancouver skies
Author: Patchen (Chicago)
Date: 20030714135059

---
For five days at the beginning of July, Andrea and I wined and dined our way through Vancouver, focusing our vinous attention heavily though not exclusively on BC wines. What follows is a wine and restaurant journal from the trip, including notes from an lovely offline lunch with WLDGer Bill Spohn. I'd rather keep the wines paired with the food, so rather than write two notes I'll simply cross-post this on the Travel and Restaurants forum.

We arrive at the Vancouver airport after 10 pm, and the first thing we notice is that there's still a deep indigo glow in the sky, which slowly fades during the cab ride to the hotel -- the Westin Bayshore, near the southeastern edge of Stanley Park, a lovely, thousand-acre greenspace at the far tip of the downtown peninsula. We've paid for an upgrade to a room in the tower, with a view, and we aren't disappointed: we find ourselves on the 15th floor, looking out over Burrard Inlet and back along the northern shore of downtown. It's a hypnotizing scene. The sky changes color constantly, the water shimmers and flows like a living thing, and there is a bustle of activity in the harbor -- cruise ships sneaking in overnight and departing like silent dinosaurs during the day; floatplanes buzzing in over our heads toward their splash-landings; tankers and container ships making their way toward the docks; ferries and yachts and motorboats heading in all directions. We seem to take more photographs from the balcony than anywhere else.

The next morning we head out early to Stanley Park for a walk around the seawall path, a six-mile route that gives us a good sense of the anatomy of the city, followed by lunch at the Fish House in Stanley Park, a big, sprawling place with a simple, seasonal menu. Andrea has a delicious salmon salad and I have an excellent fillet of salmon with raspberries and mango chutney: although the chutney makes the whole thing just a hair too sweet for my taste, the raspberries with salmon are an inspired idea, which I intend to copy. Both dishes are made with spring salmon, which I haven't seen marketed in the US: it's pale, though still pink; delicately flavored, and fairly fatty, closer in texture to king than to sockeye. A Poplar Grove 2001 Pinot Gris, Naramata Bench, Okanagan Valley is a flavorful accompaniment: notes of honeysuckle and spice, along with a little bit of well-integrated oak, on a slightly soft frame. An auspicious beginning for our brief tour of BC wines, although not everything will live up to this standard.

After wandering the streets of downtown a bit, we go off to dinner at "C", a seafood restaurant on False Creek, whose menu (on its website) had captured our attention. We decide to try the tasting menu and wine pairings. The food is inconsistent, though successful more often than not. One course is bland (halibut with whitefish caviar cream); another -- salmon with dungeness crab, arugula gnocchi, and roasted garlic broth -- is flavorful but utterly disjointed, and also overcooked. Others are far better, including an excellent ahi tartare with smoked salmon chips, macadamia nuts, and sweet onion-soy vinaigrette; a baked scallop with vermouth and leek cream, parmesan, and small bits of smoked salmon (the use of smoked salmon as an accent seems widespread here, and it's generally well-done); roasted sablefish with saffron scented cauliflower and red pepper emulsion (great balance); and a sublime piece of butter-poached lobster with truffled baked new potatoes, oyster mushrooms, beef marrow, and cognac jus. The real star here may be the pastry chef, though. The first sweet course is a blue cheese parfait, wrapped in a strip of rhubarb, set on a small poppyseed cake, swimming in rhubarb broth, and topped with shaved fennel. This seems like it ought to be at least one flavor too many, but it's beautifully executed and harmonious. Even the bittersweet chocolate terrine isn't too sweet, even with the addition of malted ice cream, cardamom caramel, and a white chocolate cardamom truffle. I'm always impressed by pastry chefs whose work is delicate and subtle, rather than gooey and oversweet, and this fits the bill.

The wine pairings at "C" are also mixed, but they often work well, even when they involve wines I wouldn't necessarily seek out on their own. The tartare is paired with a Louis Roederer NV Brut Premier Champagne, light and ethereal with slight dough and toast notes. The scallop comes with a Selbach 2000 Riesling Spätlese, Detzmer Maximiner Klosterlay. On its own the wine is diffuse and a little watery; the contrast with the leek cream brings out what acid there is in the wine, tightening it up considerably: a nice lesson. The halibut nearly destroys a Hugel 2000 Gewurztraminer, Alsace, which is tasty enough on its own, and notably unflabby, with notes of grapefruit pith, tropical fruit, and minerals. The salmon is paired, officially, with a Sonoma-Cutrer 2000 Chardonnay, "Russian River Ranches", and unofficially with a Cedar Creek 1999 Pinot Noir, Okanagan Valley -- a little extra from the server, since we had expressed interest in BC reds. The Chardonnay has the expected nose of buttered popcorn, and if it's more restrained than I expect on the palate, it's still not to my taste. The Pinot -- from a poor red vintage, we later learn -- is very forward, with a nose more reminiscent of a floral Beaujolais than of a Pinot; a bit of framboise and earth, but not much depth or finish. Much better is a Brocard 2000 Chablis 1er Cru "Vaucoupin", also very floral, lemony, broader and more giving than I expect from a young 1er Cru; it's a great match with the sablefish. The lobster is paired with a 2000 Coudoulet de Beaucastel Côtes-du-Rhône, of which my notes indicate only that it was a fine match. The blue cheese-rhubarb parfait is served with the most unusual wine of the evening, a Venturi-Schulze 2000 Sylvaner, Vancouver Island, "Brandenburg #3". This is a fortified, maderized wine, with a nose of cooked plum, roasted apple, and -- Andrea observes -- bok choy; it's got a good, strong acid core, though, and this helps keep it relatively light, and also makes it a shockingly good pairing with the parfait. Who'd've thunk it? The chocolate dessert comes with a Cossart Gordon 5-year-old Madeira, which is, on its own, less interesting and more bitter than the maderized Venturi-Schulze. But the bitterness works very nicely with the chocolate, and I make a mental note to try the combination again.

All in all, "C" was very good but not spectacular: when everything worked, the food and wine pairings were excellent; but everything should have worked more consistently than it did, particularly at these rates. The service was top-notch: personable and professional. I'd go back, but I'd also choose my own courses and wines.



The clouds burn off...


The next day, we spend the morning exploring Granville Island, especially the market, where we make a lunch out of fresh baguette, unpasteurized Brie, a selection of locally made salames, and a fantastic pint of raspberries. It's a shame they can't sell wine by the glass at the market. In the afternoon, we take the bus out to the UBC campus, which has a beautiful setting, half-urban, half-wild, perched on the western edge of the city. For dinner, we head to Banana Leaf on Denman for a great Malaysian meal: Assam curry with a "plenitude of seafood" (excellent); braised lamb shank with star anise (good, but try the version with chickpeas and lamb in Hot Sour Salty Sweet); and dry fried string beans (an excellent variation involving dried shrimp and fish sauce rather than pork and soy, as this dish often does in Chinese restaurants). Highly recommended. After eating, we wander down to English Bay Beach and sit on the grass for what seems like hours, waiting for the sun to finish setting. The sun seems permanently stuck at about 10 degrees above the horizon, and we eventually give up and head back to the hotel, stopping for the apparently inevitable cup of gelato (black sesame!) and still beating Helios to bed.

The next day finds us at Le Gavroche for lunch with WLDGer Bill Spohn. Le Gavroche is situated upstairs in a charming wood-frame house; and it feels just like home. We put ourselves in the proprietor's hands, barely glancing at the menu and wine list, and the results are terrific: his cooking isn't fussy; the flavors are bold and mostly straightforward but also very finely tuned. Highlights include an ahi tuna tartare with bits of smoked salmon and black sesame seeds that bests the excellent version at "C"; a seafood terrine; oysters on the half shell; and a simple, succulent roast chicken breast with sour cherries. Wines include a Greata Ranch 2000 Pinot Blanc "Estate Select," Okanagan Valley, which is the most stereotypically Californian in style of the BC wines we are to try on this trip: the expected floral aromas seem a little suppressed, and the wood is distracting. Much better is a Alderlea Vineyards 2000 Pinot Gris -- missed the appellation but I think it's actually Vancouver Island, not Okanagan. Very deep coppery-peachy color, good concentration of apricot and peach fruit, solid acidity, a bit of spice, low or no new oak, brought very well into focus by the ahi. Pinot Gris is beginning to seem like a good bet in these parts. A 2000 Cedar Creek Pinot Noir, "Estate Select," Okanagan Valley, is both a better vintage and a higher level than the 99 Cedar Creek we tried at C, and this is a much different wine. Deeper black cherry fruit, still slightly floral, but more clearly Pinot; very rich, relatively forward; a layer of coffee, cocoa, and oak is a little distracting. I would like to have tried the regular bottling of the 2000, which I think would be more ripe than the 99 and less woody than this. A 1998 Tour des Combes Saint-Emilion is a very nice youngish Bordeaux, showing rich red fruit and plum, some tobacco, with light tannins and plump but not jammy fruit. Finally, a Cedar Creek NV Madeira Style Wine, Okanagan Valley, "M". Slightly vegetal, caramelized nuts, orange zest, lightly sweet, a little less interesting than the Venturi-Schulze but very tasty. Apparently made from a variety of maderized white grapes from 1990-95 and sweetened with Riesling icewine. All in all, Le Gavroche was a highlight of the trip: genuine hospitality, casual elegance, inventive but simple and deeply satisfying food. Thanks to Bill for introducing us to the place -- and, especially, for finding time on short notice to meet up with a couple of strangers from the WLDG. It was a pleasure to meet you!



The longest sunsets...


That evening -- after a long nap and a visit to a couple of local wine shops -- we head off to Brix for dinner. Like many Vancouver restaurants, Brix has a substantial tapas menu (tapas, gelato, and internet cafes seem to be three pillars of the local economy), and we make a dinner of small plates, all of which are intensely flavored and very satisfying (highlights included grilled lamb ribs with pommes frites; seared scallops with pineapple hoisin reduction and taro rolls; toffee pudding with maple gelato; and a fantastic white peach creme brulée. It also seems to be a favorite hangout for off-duty restaurant ITBers, and it has an intriguing late-night tapas and fondue menu. Also highly recommended. Here, we also had four more BC wines. A La Frenz 2000 Semillon, Okanagan Valley was flat-out the best BC wine of the trip: sauvignon-like nose of ripe pineapple, cut grass, and sweat; turns round on the palate but then reveals (just) enough acid to carry it through a long finish. Excellent stuff. A Quail's Gate 2001 Chenin Blanc, "LR," Westbank, BC is loose and diffuse, appley, with a bit of citrus and smoke; off dry, not enough acid to hold together. Sandhill "Two" Red Wine, "Burrowing Owl Vineyard," Okanagan Valley is soft, dusty-cedary, with caramelized plum fruit, and a slight bitterness on the finish. Solid, but unexceptional. Sumac Ridge 1998 Merlot, "Black Sage Vineyard," Okanagan Valley is even softer, with very faint though persistent blackberry and plum fruit: this seems past its prime.

On our final day, after another walk on the interior trails of Stanley Park (up to Prospect Point and back, where we can look from above at the bridge we'd walked under on our first morning here) we eat lunch at Indica, a very good and puzzlingly empty Indian place just off Denman, near the English Bay Beach, which had been recommended on the Travel board and lured me in with its Goan curry dishes. Also highly recommended. We then spend the afternoon in the Vancouver Art Gallery, followed by dinner at West, another leading west coast fusiony restaurant in the same price bracket as "C." This time the experience is excellent all around. We order off the regular menu, partly because we're less drawn to the tasting menu than we had been at "C" and partly out of sheer exhaustion. We seem to have chosen well: a ham hock terrine, laced with fois gras and wrapped in prosciutto, manages to combine strong flavors with a light touch. It's one of the best pork preparations I've had lately, and one of the best things I've eaten on this meal. Spring salmon with seafood ravioli and crushed minted peas is beautifully balanced and cheery, as is prosciutto ravioli with asparagus sauce. The desserts are perhaps a little less strong than the rest, but still delicious. Service was exemplary. We asked not to be seated near the street and were given a nice, large, quiet booth in the back of the restaurant with a view of the kitchen; the wine steward and the chef both stopped by to check on things during the meal; and the pacing was perfect.

Winewise, a Hawthorne Mountain 2000 Sparkling Wine, Brut, "Dosage Zero," Okanagan Valley is very crisp, slight raspberry fruit fading into lemon, yeast, fairly strong toasty oak. A Ceretto 1997 Barbaresco "Asij" shows well -- I know, an odd choice for fish, but it works nicely. Starts funky but this blows off, revealing a lot of anise and dried cherry, and bitter orange peel. It's subtle, complex, very long, and doesn't have the citric spritz I've sometimes found in young Barolos and Barbarescos. Finally, a Paradise Ranch 1997 Riesling Icewine, Okanagan Valley. Light gold, fairly concentrated citrus and peach flavors, some anise, moderate acid, lacks a midpalate. Very lithe in the mouth, pleasant but seems a little disjointed. And with that, we're off to our hotel, taking in the final blue blush of our last Vancouver sunset, and preparing for the trip to the Bay Area, where, naturally, we'll get a break from all this rich food and fine wine.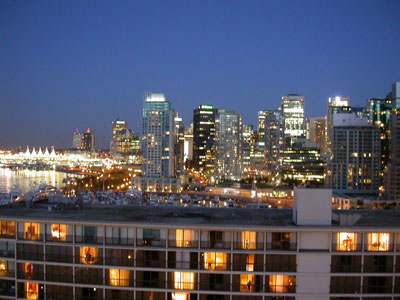 City lights at night...


All in all, we're seriously impressed by Vancouver: by the people, by the setting, by the food (not a mediocre meal in five days!); and even by the wine, which strikes me as inconsistent but sometimes very good, especially given the generally modest prices. Next time, we'll probably use Vancouver as a base and spend some time driving further afield of the city center: we didn't have a car on this trip, and didn't even go as far as Victoria. It would also be nice to have done some more serious hiking. But for newcomers to the city, there's certainly more than enough to keep one occupied even in central Vancouver. Many thanks to Bill and to everyone here who made wine, restaurant, and hotel recommendations, and special thanks to Walt Nissen for the tip on the Westin Bayshore!


And now, back to the grind...

cheers,
Patchen

cheers,
Patchen
---