The Slovene flag.
Vino Ljubljana: International Wine Competition 2002
Wine judging is under way in Vino Ljubljana 2002, the 48th outing of the world's longest-running international wine competition sanctioned by OIV, the Office International de la Vigne et du Vin.
Since 1955, when Tito ruled what was then part of Yugoslavia and the Iron Curtain still stood between this small, beautiful country and the West, this annual competition and wine show has stood above politics and brought together wine lovers from east and west speaking the international language of wine. Today Slovenia is free, and its national anthem - happily set to the tune of a drinking song - asks for God's blessing on all people of all nations, "Who long to see ... That all men free ... No more shall foes, but neighbours be."
It is in that spirit that 30 international wine judges from 17 countries have gathered here this week to evaluate nearly 900 wines entered by producers in 26 counties. I am proud to be among them, and grateful for the opportunity to visit and to learn more about Slovenia, the nation and its wines.
To share a bit of that with you, I have updated our Wines of Slovenia pages, and soon will have more new material online, including touring and tasting information on more than 100 wines from all the country's major wine-producing regions.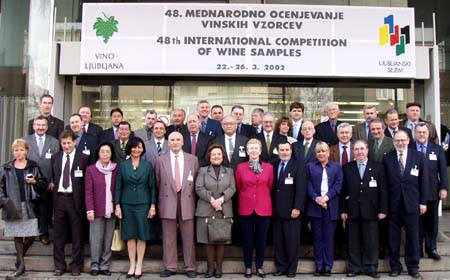 The judges and officials of Vino Ljubljana 2002 are pictured above, assembled at Ljubljana Sejem, the fairgrounds in the nation's capital.
The wines selected as medal winners will be announced, and all wine entries listed, during the public portion of Vino Ljubljana next month. If you're in the region at the time, it's an event well worth a visit. More information is on the Ljubljana Fair website, http://www.ljublanski-sejem.si.