Salone del Gusto
© Robert Helms
This article was written by Robert Helms, an American investment banker now living in London, England. Robert started collecting and consuming fine wines about 30 years ago and has accumulated a cellar of about 1,000 different fine wines. Living in what can be argued is the center of the wine trade, Robert tastes extensively. With so much fine wine being made round the world, it is hard to single out particular regions. In recent years, Robert has been most impressed with wines coming out of Burgundy, the Rhone (both north and south), Italy (both north and south) and Southern France. Robert has been a periodic contributor to various online communities and serves as a UK/European Correspondent for WineLoversPage.com.
If there is a "must visit" event for every foodie, it is the biennial Salone del Gusto organised by Slow Food and the Piedmont Regional Authority, which takes place in Turin in late October of even-numbered years. The fifth Salone del Gusto was Oct. 21-25, 2004 at the Lingotto Exhibition Center in Turin. Collected under one roof were over 500 producers grouped into 11 themed "streets" including cheese, salami, preserved vegetables, oils, pasta, beer, spices, fruits, sweets and more.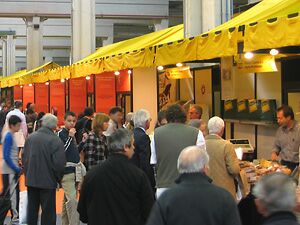 Salone del Gusto consumers crowd a "street" in the Lingotto Exhibition Center.
More than 1,800 Italian food producers were represented. Four Italian regions created restaurants showing regional specialties. There was an Enoteca (wine bar) showing over 1,750 wines by the glass. Finally, a whole series of activities ran all day long and into the night: taste workshops, special dinners, lectures, cooking demonstrations, etc. In total, 208 Taste Workshops were organized for 12,480 participants, 13 cooking demonstrations by famous chefs, 23 Master of Food lectures and countless smaller tastings and demonstrations by the many regional and local stands. All this activity was spread out over 50,000 square meters (about 550,000 square feet) of the Lingotto Conference Center.
Not being sure whether the Taste Workshops were really useful, I only signed up for the horizontal tasting of 1997 Barolos. As the notes below indicate, this was a very well thought out and useful workshop that gave me an insight into Barolo that I did not have before.
If you had energy to explore areas outside of the food halls themselves, 14 different tours were organized to explore the wines and foods of the Piedmont region: Barbaresco, Barolo, Roero, Asti, Nizza Monferrato (cardoons), Novarra (Gorgonzola and Ghemme), etc. Whether your passion is rice (Vercelli) or skiing (the mountains that will be the scene of the 2006 Winter Olympics), there were one or more day trips to tempt you. And, at night, 47 restaurants organized special dinners.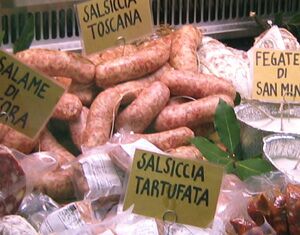 Just a few salamis
This was my first trip to this extraordinary event, and I was woefully unprepared for the complexity and diversity of the choices I would face. There is such an assault of smells, and tastes on the senses that it is hard to decide what to do next. Want to try the fabled Parmigiano Reggiano made from the milk of red cows? It is available. Want to compare mozzarella di bufala from 10 different regions? Go right ahead.
It takes at least one full day to make a dent on the hundreds of exhibitors in the main hall. The equivalent of another day could be profitably spent in the wine bar. Fancy a horizontal of 2000 Amarone, there were 12 on offer, plus 10 Amarones from older vintages. There was similar depth of choice from all major Italian wine producing regions. But the real depth of choice was understandably in the wines of Piedmont: 37 Barbarescos, 114 Barberas, 72 Barolos, 58 Dolcettos, not to mention Gattinara, Ghemme, Grignolino, Langhe, Monferrato, Nebbiolo, Roero and Verduno.
I had only budgeted less than two days in Turin and I barely scratched the surface of what was on offer. As the accompanying photos show, the choice is bewildering. Some stalls have hundreds of different items; others concentrate on a single thing.
While the biggest area is devoted to Italian food products and producers, there is a large and growing area devoted to artisanal producers from other countries. There were probably 20 or so UK producers, everything from cheese to game to pates to ale to salt, all very high quality and most known to serious UK foodies. At least four of the producers who regularly participate in Borough Food Market in London had stalls. Prince Charles made a highly publicized visit during the weekend, so perhaps his Duchy of Cornwall products will be represented at the 2006 Salone. My palate was so overrun with salami and cheese and oils and dolce that I hardly tasted any wines.
What did I buy? About 2 kilos of the Parmigiano Reggiano from the red cows, perhaps the smoothest and most complex parmigiano I have ever tasted. A bunch of different salamis from Antica macelleria Falorni. An uncured salami from Morelli. Two bottles of Pasini Evasio "Pria" 2000, a Sciacchetra from the Cinqueterra region of Liguria. A semi-stagionnato pecorino from somebody in the wilds of somewhere. A Sicilian cheese called formaggio piacentinu from Caseificio Valvo, flavored with saffron and black peppercorns.
After two days, I left thinking that I wouldn't need a return visit for at least four years, and maybe six. Three weeks later, it is clear that not only will I return to Turin in 2006, I will plan to stay for the entire show. I will take at least one of the tours, go to more taste workshops and take advantage of the arranged lunches and dinners. I will limit tasting excursions in the main hall to a bit in the morning and a bit in the afternoon with a long lunch at the Sicilian (or Venetian) restaurant in between. Next time I am going to get organized in advance!
Full information on the 2004 Salone del Gusto is available at http://www.salonedelgusto.com/.
1997 Barolo tasting notes
Rocche Costamagna, Rocche dell'Annunziata (single vineyard in La Morra)
60% barrel aged, 40% barrique
Spirituous, prune brandy. Strong VA, herbal quality, flowers, balsamic vinegar. On the palate, dark and sour cherry. Quite soft tannins and good balancing acidity. Very Good Seemed essentially ready, I doubt this will materially improve with more time in bottle. Originally rated 2-glasses by the Gambero Rosso.
Azelia, Bricco Fiasco
Much browner in color with distinct browning on the rims. Leather, liquorice, caramel. Nose and palate are all secondary tastes. Terrific sweetness on the palate, full and round. Very Good+/Excellent
This is completely ready; it seemed to be changing in the glass and was beginning to fade by the end of the tasting. Originally 2.5 glasses, this probably just about justifies that rating.
G. D. Vajra, Bricco Della Viole
35-40 year old vines in western Barolo near La Morra
Slightly closed nose showing some secondary smells and some VA with some barnyard and liquorice. Very tannic and tannins dominate the fruit. Unlike the previous wine which seemed to be fading as it sat in the glass, this did nothing but tighten. Good+ but could turn into something significantly better in time. Might as well wait another five years before even trying a bottle. The winemaker commented that he had probably allowed the wine to ferment too long on the skins, thereby allowing the tannins to become too dominant. Originally a 2.5 glasses rating.
Castello di Verduno, Monvigliero
This wine really stank of barnyard, and pissoir with a hefty dose of meat. But on the palate, came across and a bit flabby and blah. Good at best
Originally a 1 glass rating.
Elio Grasso, Gavarini Vigna Chiniera (from Monforte Serralunga)
Spice, dark fruits. On the palate, lovely red fruits, good acidity and moderate tannins. Wine still seems to have room to improve. Very Good+/Excellent
Originally a 2 glass rating, but with perhaps the most glowing verbiage.
Elvio Cogno, Ravera
Relatively closed. Some barnyard, leather, wood, earthy bits. On the palate, very tannic and the tannins definitely dominate the fruit. Very traditional and difficult to taste. Good+ Like the Vajra, this could turn into something quite different with more time in the bottle.
Originally a 2-glass rating.
Massolino, Vigna Rionda (Serralunga d'Alba)
This wine used to be vinified by Bruno Giacosa.
Lovely floral nose with spice, dark fruits, liquorice. Still seems quite closed but what's there is very attractive. On the palate, complex and rolling flavours, decent underlying structure. Very attractive and will improve. Excellent
Not rated originally.
It was very interesting tasting which largely served to convince me that Barolos are subject to substantial variation and seem to evolve in ways that are not easily predictable. Two of these wines were so tannic that it was hard to reach any positive judgement; I simply lack the experience to taste such wines and have any idea whether there is enough anything lying underneath all those tannins to produce something interesting with more bottle age. Three other wines seemed as good as they ever will be, but only one, the Azelia, seemed really worth the effort to drink. Finally, two wines, the Grasso and Massolino, seemed both excellent now and on an upslope to greater complexity. While the Azelia was delicious on first tasting, it didn't seem to hold up even for the length of the tasting and, by the end, the Massolino was my favourite of the seven.
While the Gambero Rosso seems to have called the quality levels reasonably well, there is nothing in the writeups that suggests the kind of differential aging profiles that have developed with three more years in bottle.
November 2004
Back to Reports from Our Readers
<!- Page Contents End Here ->