Gastronomic tour of Oaxaca
© Howard Roth
(Warning: this is rated G. We traveled with children ranging in age from 16 to 4. There are no topless convertible rides, no wild naked hot tub experiences, and very little wine. More on that later.)
First day - We went to Oaxaca, Mexico primarily to visit with our friend Anita and her family. The hospitality they showed us was nothing short of overwhelming. They completely opened their homes and their lives to us, and took such good care of us that we will always grateful and indebted to them. As only one example of their kind consideration, we were invited to their home on our first night in Oaxaca.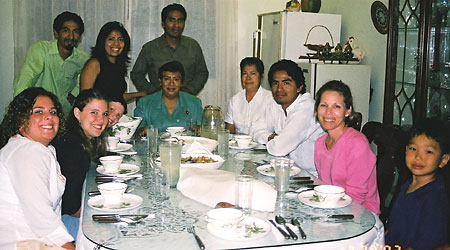 Dinner at Anita's
The family had prepared a relatively light supper, knowing that we would be fatigued from the trip. The meal included a ratatouille zucchini/tomato type preparation that was served with white rice flavored with mint. The best part of the meal was a chayote squash soup with epazote. It had some kind of chili in it because it had a little kick. This had a texture like potato soup, but it was a lot more fragrant and very tasty. There were patties made out of oatmeal, olives, and carrots. Dessert was a creamy sweet gelatin that made with fruits and walnuts. The whole meal was a light vegetarian meal designed for us because we had been traveling all day and it hit the spot perfectly.
We stayed at the Hotel Victoria (View from our "villa")
After dinner, we drove down to the main square (called the Zocalo) just to walk around. We were looking for ice cream but did not find any because there were hundreds of protesters on the square - scenes of fairly abject poverty interspersed with partying people and tourists. Banners were everywhere and people with megaphones trying to rouse the crowd to action of some sort; very reminiscent of the scenes in Evita when she was calling to her
descamisados
.
Next day - Each morning's breakfast consisted of a buffet loaded with traditional Oaxacan foods. Each day's buffet had foods different from the day before so we really had fun exploring the cuisine. Brunch the first day was mind boggling for us gringos. They had homemade granola and yogurt and cereals, of course, but then the eggs were with peppers and tomatoes and a little bit of spice, really not much, but flavorful. There was a dish of chicken sautéed with green vegetables and peppers that was very good. The chorizo was firm, almost dry rather than greasy, very flavorful with chilies and significant heat. Also, there was a flat, thick corn flour cake topped with beans and a little cheese - queso fresco - with some lovely salsa picante, which just gave huge amounts of depth and flavor -these were called memelas. The tamales were exquisite. That was my favorite part of the meal. Shredded chicken with mole and spices were wrapped in a cornhusk. They tasted roasted, tender, and flavorful. Very nice! Then, there were two buckets of typical Mexican chocolate at the end, with cinnamon. One was made with water, the other with milk. (More on chocolate later). We actually began to prefer the chocolate con agua and this is what I drink now that I'm back. The coffee was also very good. They had several bins of fresh beans and you could pick which one you wanted ground and they would make your coffee for you. There was one decaffeinated, one organic, Veracruz, Oaxacan, and several others. As they served it, they gave you a little piece of square chocolate that had cinnamon in it that you were to crumple and put into your coffee, which was a nice touch.
| | |
| --- | --- |
| Typical scene from a Mercado with chilies on display | Tempting breads and sweets and pastries. |
The first market we went to was a giant building, subdivided; it seemed like hundreds of stalls with everything from blue jeans and tee shirts to hundreds of different chili peppers in a stall. There were some dried and some fresh. There were many moles pre-prepared in dishes - black mole, red mole, yellow mole. We tasted a drink made from cacao seeds, cacao flowers, seeds from the mamey fruit (large apricot flavored fruit with a large central seed), sugar, and corn. It's called tejate and we learned that there are several variations of this. It tends to be sweet with full mouth feel.
This was a drink that the Zapotecas drank since the times of the Aztecs, before the Colonial days, as part of the sacrificial ceremonies. I also tasted chapulinas, which are spiced, salted, chopped grasshoppers. It tasted peppery, sour from limes and salty, like bar food, and grossed my kids out so it was worth it. There are, of course different kinds of chapulinas preparations ranging from chopped and unrecognizable to large locust like bugs. The old ladies in the market treat it like tobacco and place a plug between their teeth and gums. There were stalls of breads and sweets and pastries, which were all very tempting. We quickly developed our favorite, called conchas, a slightly sweet egg dough with sugar flour on top. This is made to be dunked into your chocolate drink.
We walked by a chocolate factory on that first day and saw them take the cacao beans and throw them into a grinder with almonds and cinnamon. Then the paste drops down into a container full of sugar where it is mixed by hand. It is taken from that bin into another grinder where it is smoothed. People came and bought the warm paste by the bagful. You can take it home and mix chocolate drink with the paste or shape the paste into whatever shapes you like and let it harden. More on this later.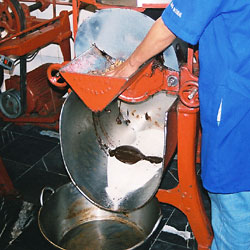 Chocolate factory - the black oily paste has fallen into the sugar to be mixed, then reground and smoothed in the grinder next to this one.
An explanation: The reason we were in Oaxaca when we were (end of July) is for what is called the Guelaguetza, which means gift exchange in the Zapoteca language. This is a festival that goes back to the pre-Colonial days when it was actually a human sacrificial ceremony. Now, the festival is a time to celebrate the diversity of the state of Oaxaca. They do this by bringing all of the various tribes (there are 16 different languages spoken in the mountains and valleys of Oaxaca) into the city and putting on demonstrations of their traditional dances, tradecrafts, foods, etc. Many events take place over the weeklong festival period.
One of the events is a free event, but because it is free, we got there at 4 o'clock for an 8 o'clock performance. For ten dollars (100 pesos), we bought our 10 seats from someone that had gotten there at 8 o'clock in the morning to reserve them. We then took turns going to a festival market until the show started. In the festival market, we had amazing things to eat. For example tlayuda is a giant tortilla, which we watched the woman pound, press and then lay on a heavy plate that was resting on some coals so that the tortilla baked. She then filled it with several different kinds of fillings. One was called Amarillo sauce - sort of a fiery orange pepper tomato sauce with chicken and cilantro, and then folded and tapped shut and baked on this hot plate over the hot coals.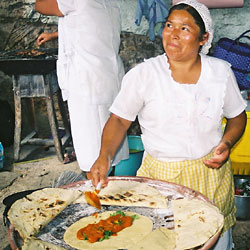 Tlayuda with Amarillo sauce. Doesn't get much better than this folks.
Another filling was cheese, which looked more like a mozzarella string cheese, (called quesillo and native to Oaxaca) and cilantro and chicken, and zucchini flowers (fleur de la calabas). The Amarillo sauce had a very slow-to-develop, medium heat that was pleasant and surprising and very flavorful. I also had ice cream, which was called leche quemadas con tuna, which is literally burnt milk, and tuna is red prickly pear. This was quite refreshing and very good. It takes a second to adjust to the flavor of the burnt milk but then it comes together very nicely. My kids liked this very much. One of my daughters had rose flavored ice cream that she also enjoyed.
The festival activity today was an hour-and-one-half to two-hour presentation of the different ways in which the guelaguetza has been celebrated over the last several hundred years. The first was pre-Colonial and they acted out a sacrifice of a virgin (I have never really understood this fascination with killing virgins, but I didn't write the history books). Next came a wonderful production of acting consisting of hundreds of people from the town with music, dancing, and beautiful costumes. This terminated in a depiction of a modern-day guelaguetza with the food, the market, the festival, and the fiesta, and a wonderful fireworks display - all taking place on a beautiful 70 degree night with the stars shining, lit up by houses on the mountainside. These were stunningly beautiful surroundings.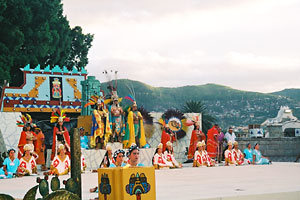 Second night, pre-guelaguetza presentation.
That night I tried Mezcal for the first time. This is fiery liquor made from a cactus and I was told by the bartender to sprinkle some chili pepper salt on a lime, suck the lime, and then drink the mezcal. It is really quite good. It is very potent, with a smoky, mineral and clay flavor. It was a slow burn all the way down and then a very smooth aftertaste. The first brand I tried was called Senorio. It was not the best I had but it was a very nice introduction to the mezcal. The scenery in which I was initiated to the wonders of mezcal involved a mountainside open-air bar with a cool summer breeze, overlooking the city of Oaxaca in the distance. Geraniums, bougainvillea, palm trees, and pines surrounded me. There was live Mexican guitar softly in the background. Mezcal will probably never taste so good again. The best Mezcal I had was called Pensamiento. This was aged for three years before bottling and was smooth as silk, smoky, fiery and wonderful. We tasted this at the factory before buying a bottle.
Third day - was the guelaguetza proper - a four or five hour display of Oaxacan culture. There were sixteen teams of dancers - representatives of Oaxaca state - each with their own style of dance and music. There were some with incredibly colorful costumes and some with more subdued black and white costumes. Some were extremely festive and others were more sedate. Several depicted wedding ceremonies. They were all beautiful dances.
| | |
| --- | --- |
| You want hot sauce with those chips señor? | Whirling, swirling, and twirling at the Gueleguetza. |
We walked down from the guelaguetza to lunch, which was yet another Oaxacan buffet. There was a table of ensalada with some fresh cheese. We didn't eat many of the salads though. There were two giant jars full of chili pepper marinades. One was made from chipotle peppers that were sweet, sour, smoky, and fiery hot and was excellent. ( I later learned to love this preparation spread out over grilled steak - makes my mouth water just thinking about it.) The other was made from jalapenos with carrots, vinegar, lemon, and some kind of oil - probably corn oil - that was also excellent. I believe this is called escabeche.
The buffet consisted of four or five different tamales. One had sweet corn, chicken, and hot pepper in the center. One had plantains, which are supposed to be a banana, but they are cooked to a texture of potatoes, with tomatoes and peppers and spices. There was plain corn tamale, with just sweet corn; a red mole with beef; and a green mole with chicken. The drink was popo, which is made from cacao and corn and another plant, which I am having trouble getting translated. It is kind of a sweet, corn, starchy flavor that is rather refreshing after a day at the guelaguetza.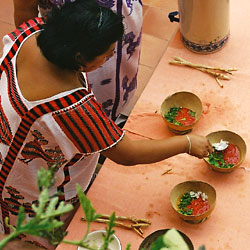 Preparation for rock soup.
We also had rock soup. This is soup in which they put shredded tomatoes, cilantro, diced green peppers, and carrots in a bowl with fish and shrimp and then pour water over it. Then, they put hot stones that have been baking in the coals and the stones cook the soup. Then, there was grilled steak, which was thinly sliced t-bone. I topped mine with the chipotle marinade that was fabulous. There were huevos oaxacenos with tomato sauce, garlic, onions, epazote, chipotle, and another kind of pepper, the huajillo pepper. The most impressive part was the multiple layers of flavors that came in waves as you ate it. Again, we had memela, with some salsa.
We rested for a while and then went off to see Ballet Folklorico Oaxaca perform an ancient fable about the princess Donoji. This was another magical night with temperatures in the 70's; clear skies mountains all around and wonderful company. My kids had moved from awe to delight and we were having a great time. After the performance, we wandered around the market that sprung up around the outdoor guelaguetza auditorium. We ate corn off the cob with some kind of hard shredded cheese chili salt, and lime eaten out of a paper cup with a spoon. We also had fried plantains, and guayaba soda.
Next day we laid low with some touring around the town, shopping and resting.

Downtown Oaxaca (above)

Typical Oaxacan building (left).
One of the reasons we shopped was to get the stuff we needed for dinner. Anita and her family had invited us back to their house in order to show us how to prepare some typical Oaxacan food. So, of course we went back to the market for chilies, tortillas, tomatillos, chocolate, etc. They started by boiling the huajillo peppers, tomatillos, and garlic. Red salsa was huajillo, ajo, which is garlic, and tomatillos and salt. Green salsa is cilantro, tomatillos, garlic, and jalapeno. They like their salsas blended in the blender. We made tortillas (tlayudas) with black beans, refried in olive oil, queso fresco, and guacamole.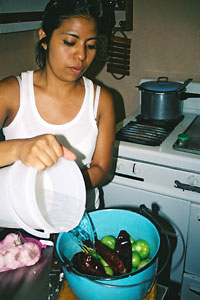 Boiling the huajillos and tomatillos for the salsas.
Guacamole was made with a mortar and pestle using a prodigious amount of garlic, about a quarter of a jalapeno, a bunch of avocados with limejuice and salt. We had a delightful and refreshing drink that we had seen all over town. It is striking in appearance too because it is shockingly bright red. It's called Jamaica (pronounced hamika, long 'i' accent on the i) infusion. You boil a handful of hibiscus flowers with water and sugar to make a concentrate. You strain that and add water to dilute. Pour over ice and enjoy. Folklore claims it is helpful for parasite infections.
Chocolate drink is either paste or chunks of chocolate in hot water or milk. We also opened the paste we had bought in the market and flattened it out into a round pancake on a platter. Then my kids made various shapes and cut them out. This hardened over the time it took to eat dinner and we ate our homemade chocolate candies over the course of the trip. The chocolate is in no way milk chocolate. There is a bitterness that is hugely pleasant, mixed with the sugar, cinnamon and almonds it is truly a remarkable treat. The paste contains sugar already, and you can mix it with a wooden chocolate mixer in a special pitcher with hot water as a drink. Of course we had our concha dipped in the chocolate. Pasillas peppers with ajo (garlic), vinegar, onions, and oregano were used as a salad to go with the moletos con papas. Moletos have kind of a shell that I think is deep-fried with potatoes and a red pepper sauce inside. Pasillas are mild, taste like chipotles only they have a richer flavor, but the smokiness is their real characteristic. This was a marvelous dinner with nieces, nephews, cousins, and aunts joining us for a real festival dinner. A great deal of Spanglish was spoken.

Buying the tortillas for supper (above).

Preparing the chocolate paste to become candies. Notice the prickly pears (tuna) on the side (near right).

Tia Sarita making the chocolate con agua (far right).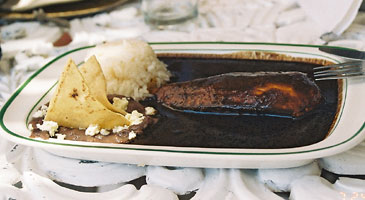 Chicken breast with mole negro. Just like food service at the Washington Monument?
On one day, we went to Monte Alban (an ancient ruins site - fascinating but not food related) after which we ate at the museum restaurant/coffee shop. As an aside, I have been amazed at how good food can be in out of the way places when visiting other countries. For example, some of the best meals we ate in Provence were in little taverns in the country. I can't imagine just walking into a little tavern in central Illinois and finding edible food. Why are we so careless about what we eat informally in this country? Anyway, this meal was quite good. I had a chicken breast with mole served with rice and beans, and then we had all kinds of fruit ice creams.
The most interesting ice cream was the sweet corn ice cream, which was unlike anything I've ever had. It tasted of the essence of sweet, sweet corn and was very enjoyable. The manzania or the apple ice cream was also very good. Each of the fruit ice creams were served in a frozen fruit, so the naranjo was served in an orange and the apple ice cream was served in an apple, and they had melon and cacao. The cacao was in a large cacao bean. We also visited Dona Rosa de Coyotapec, which is where they make a traditional black pottery.
We're having a great time - Monte Alban.
We spent a day at Anita's family recreational compound - absolutely gorgeous! We again had freshly made chocolates, amidst the bougainvilleas, the fragrant grapefruit flowers, cactus, and the number of trees and bushes - the names of which I haven't the slightest idea. The sharing of hospitality of this family is unbelievable!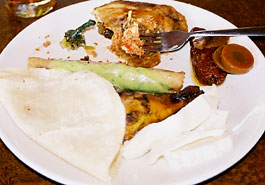 Lunch plate with (clockwise) chili relleno, pasilla salad, grilled chicken, tortilla, taquitos with guacamole.
Our picnic lunch today was superb. We had many traditional Oaxacan light luncheon dishes. My favorite was chili relleno. They used chilies de agua stuffed with shredded chicken spiced with guajillo peppers. Then the stuffed pepper was coated in an egg batter and fried, served with pasilla pepper salad on the side. We also had taquitos, a special rice that was spiced - I don't know what was in that - and marinated grilled chicken.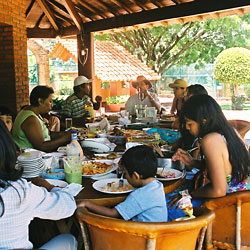 Now that's a picnic!
We had our evening meal following a free concert by Popo Sanchez, a fabulous Latin jazz artist who is very famous in Mexico. There were about 500 people in the courtyard of the Federal Palace to hear this musical giant play jazz and jazzed traditional Oaxacan tunes. This was an outdoor concert, with typical floral Mexican night air and a magical moment. We ate our meal at around 10:30 or 11 o'clock, (I was again amazed at how adaptable my kids were) at a second floor restaurant called Soledad on the Zocalo (town square). The Zocalo was packed while we ate and still at 12-12:30, as we wandered our way back to the hotel. It was crowded like New York City, or Paris, or Rome late at night. This is a beautiful city and everyone was out for the fiesta. Many people were in regional dress. There were Mariachi bands, along with local musicians - Zapoteca music. Among other things, I had chilaquiles (fried tortillas in black bean or chili soup, mixed with chicken) with guajillo tomato sauce. This was kind of a corn tortilla chip with tomatoes, peppers, and shredded mozzarella-type string cheese, and chicken. My daughter had tasajo steak smothered in tomatoes, onions, and chopped nopale cactus and chilies to give it some heat. I don't know what the chili was. The cactus gave a vegetal, crunchy texture. Tasajo is a salted, spiced, marinated, thinly sliced grilled skirt steak.
Everyone we met in Oaxaca was helpful, friendly, and eager to help or to please. One example illustrates. We went to Mitla, which is another amazing site with ancient ruins.

The restaurant near Mitla (above).

Mitla (at left).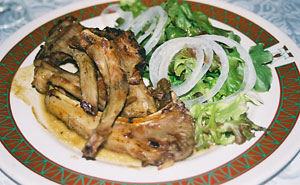 Chops at El Asado De Vasco
Afterward we ate at a restaurant nearby. This place had a grill going, and a mud-looking oven. My wife asked if they had any tea because she had a slight upset stomach. They did not but offered to pull some lemon leaves off the tree in the back yard and make some tea for her from that. That was fine and the tea was delicious.
Our last night we ate in what our hosts considered the finest restaurant in Oaxaca: El Asado De Vasco, a Spanish restaurant but with an exceptional local Oaxacena cuisine. I had marinated lamb chops, grilled, chili peppered and served with limejuice. For dessert my son had mango custard that was enchanting. The restaurant was on the second floor of the building overlooking the Zocalo. During the meal a parade went by consisting of people in native costume, mariachi bands and dancers. I have no idea if this was planned or spontaneous with many people in town for the Guelaguetza anyway.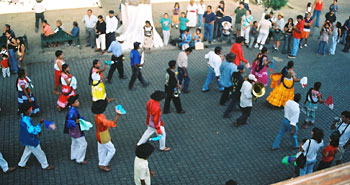 Parade during dinner on the last night.
We had the only bottle of wine for the entire 10 days. (See tasting note posted earlier: Chateau Dolmeq 1997 Cabernet Sauvignon). Partially this was because our friends were Seventh Day Adventists and partially because Oaxacan food doesn't lend itself easily to wines. Finally, many of the places we went simply had no wine list or a very rudimentary one: couple of Spanish reds and whites, no vintages listed etc.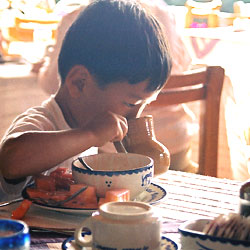 Mexican chocolate for breakfast!
So now we're back. I have trouble stopping for lunch at the corporate chains. I don't understand why we Americans are so willing to accept garbage for food, poorly prepared, sloppily presented. We did, however, eat at a really good restaurant in Hinsdale, Illinois called Salbutes. It's a fine example of Southern Mexican cuisine lovingly prepared and beautifully presented. We have chocolate for breakfast now and I eat a lot more chilies with everything.
I've had a chance to think about Oaxaca as well. This city of 350,000 is in a valley with rich dark loamy dirt everywhere in the countryside. Fresh fruits, meats, and spices are all abundant, yet economically it is the second poorest state in Mexico. I asked people why this is so. Their explanation was that the government or governmental agencies buy the produce cheap, sell to exporters and the money goes to the politicians. There is an air of resignation about this and the people take great consolation in their history and heritage. The customs, festivals, crafts, traditional foods, religion but most of all the family, create a rich environment, a luminous tapestry on which the Oaxacans weave their daily lives.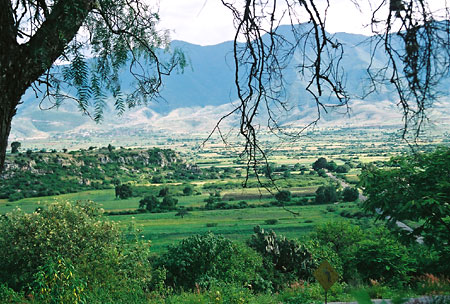 Oaxacan countryside.
August, 2003
Back to Reports from Our Readers
<!- Page Contents End Here ->