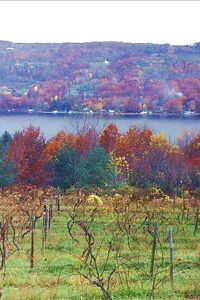 Finger Lakes
© Peter May
New York State's Finger Lakes wine region takes its name from a series of long narrow lakes running north to south that look like someone has left wet hand marks on the map. There are reckoned to be six Finger Lakes but nearly all wineries are found along the shores of the three largest, Keuka, Seneca and Cayuga.
The Finger Lakes are in the northwest of New York State. If you imagine a straight line an angle of 45 degrees connecting New York City on the coast to Niagara Falls at the top left of the state, Finger Lakes is about two thirds of the way from NYC. The nearest large cities are Syracuse to the east and Rochester to the west. I was living in Syracuse and it took about 90 minutes drive to get to the heart of Finger Lakes wineries.
It's farmland and forests. There are Amish communities and most days I'd see their pony and traps trotting fast along the road ride. Local villages consist of white plank buildings and there are holiday homes snuggled down along lakes water edge. Its the only place in the US where I have had another motorist flash their headlights at me. I instinctively slowed and was rewarded by seeing a police car (sheriff, highway patrol, town police - I don't know which) hidden backed up in a clump of trees just off the road. Roads are long, straight and almost empty of traffic so there is temptation to exceed the speed limit. It amused me to see road signs promising a 'speed zone' ahead, when actually it meant the opposite, i.e. a speed restricted area. Local newspapers were discussing whether the recent police move to target the wine routes with breath tests was a good thing or not. The area has worked hard at encouraging winery visits and stopping tourists driving out of wineries would be counter-productive. Dear reader, I spat out almost every taste I mention below.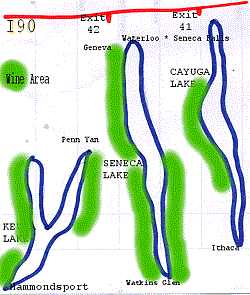 I visited Finger Lakes over four weekends September to November 2003. I was wrong in thinking the time of the year and distance from major cities would mean I'd have tasting rooms to myself. Some wineries were so crowded that I gave up and others car parks were so packed with tour busses and stretch limousines that I passed them by.
Larger wineries, which can have 10 different tasting stations, are well organised to handle tour groups. Some offer a printed list of available wines which you mark the wines you want to taste, others take a group at a time and pour wines in order. If you're looking for a quiet experience and an intimate chat about the qualities and intimate details of each wine then you'll be disappointed at most. Hard working staff pour each measure muttering a breathless mantra along the lines - This is (wine name), it tastes like (brief description), food matches are (brief list of food). However there are calm spots even at the busiest times and it is possible to meet owners and winemakers behind the tasting counter.
Finger Lakes is exciting for the adventurous wine drinker. I counted over 50 variety names there use and calculated there were at least 47 different varieties being used. (Some varieties wre known by more than one name, e.g. Pinot Grigio and Pinot Gris are the same). The New York State Agricultural Experiment Station is located in Geneva at the north of Lake Seneca and it has been breeding grape varieties suited to the local climate for many years.
In this report I will list wineries by the lake they're beside in order from north to south, with tasting notes and highlighting those wineries "worthy of a detour."
Keuka Lake
Keuka Lake is the westernmost of the three and the only one that forks, so it looks like the letter Y. The town of Penn Yan is at the north and Hammondsport is at the southern end. US Route 54A runs along the western coast and Route 54 along the east. Route 54A at its southernmost tightly hugs the lakeshore and there are attractive views, none more so that when you head up away from 54A to the vineyards. Keuka Lake is 18 miles long and between half a mile and 2 miles wide.
Western Shore Keuka Lake - Route 54A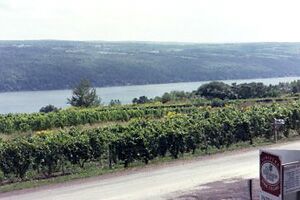 Dr Frank's Vinifera Wine Cellars - http://www.drfrankwines.com
Dr Konstantin Frank, an immigrant from Russia with a Ph.D. in viticulture and oenology started work at Cornell University's Experimental Station in the Finger Lakes region some 50 years ago. He was convinced vitis vinifera grapes could thrive in the region if the right root stocks were used, and in 1960 vinifera wines were being produced in the Finger Lakes. Dr Frank then opened his own winery in 1962, its name - Dr Frank's Vinifera Wine Cellars - firmly stating his message. The winery is currently run by his son and grandson.
The winery makes Riesling, Merlot, Cabernet Sauvignon, Chardonnay, Gewurtztraminer and the intriguing Rkatsitelli, plus sparkling wines under the labels Dr Konstantin Frank, Salmon Run & Chateau Frank.
This is a must-visit winery not only for the quality of the wines and its views over vineyards to Keuka Lake, but also its place in Finger Lakes history and the chance to try Rkatsitelli, an ancient Russian vitis vinifera variety introduced to the region by Dr Frank.
Unfortunately I mislaid my tasting notes from my visit here
Heron Hill Winery - http://www.heronhill.com
A spectacular modern cream coloured building houses the winery, large tasting room and gift shop.
Dry Riesling

Dry minerally with a slight sour finish (2001 $11)

Game Bird White

Blending Pinot Grigio, Vidal & Chardonnay to produce a rather bland with a sour finish. (NV $11)

Pinot Noir

Pale red, light some tannins and a grippy finish (2001 $13)

Cabernet Franc

Bright red colour and nose, soft but thin. (2001 $13)

Game Bird Red

This 50/50 blend of Pinot Noir and Baco Noir is soft and full bodied let down by a metallic finish (NV $11)

Eclipse

Blend with 50% Merlot, 30% Cabernet Franc and 20% Merlot, bright colour but unpleasantly thin and metallic. (2001 $18)
Bully Hill Vineyards - http://www.bullyhill.com
Just holding my tasting glass by its stem had me marked out as a wine snob, and admitting to having visited Napa Valley got a genial chorus of a song along the lines that Napa made car parts not wine. Bully Hill doesn't have wine tastings, they give tasting shows, which I enjoyed enormously. Hard working hosts get audience participation and group singing while telling jokes and pouring wine from Bully Hill's wide and eclectic range.
Worth seeing is the Bully Hill museum of founder Walter Taylor and his fight to use his own name on his Bully Hill wines after he sold his Taylor wine company and his paintings. The restaurant has a deck with a good lake view and the best buffalo burger I've ever had. OK, the only buffalo burger - it was great.
Equinox Blush

Medium sweet red-pink crowd pleaser made from Catawba grapes, with raspberry bubble gum flavours and clean finish.

Goat White

Paper white blend, medium dry.

Bantry Red

Pleasant sweet blend

Marechal Foch

metallic tang, acidic puckering finish

Verdelet Blanc

fragrant soft dry white

Love My Goat

Lovely soft fruity medium quaffing wine.
Eastern Shore Keuka Lake - Route 54
Keuka Spring - http://www.keukaspringwinery.com
Chardonnay

paper white, dry good body with some apricot fruit (2002)

Riesling

Floral notes with a semi-sweet finish (2002)

Lemberger

They have three acres of this variety which makes a most successful red in the region. Lovely soft fruit, lively and fresh, inviting and different, medium long after taste. (2002)

Cabernet Franc

Bright red, soft & fruity (2002)

Merlot

Very dry, dusty, seems to have cork taint but pourer says that's the way it supposed to be, (2002)

Epic

A Bordeaux blend, very dry and rather thin, reminiscent of a Bordeaux form a wet year. (2002)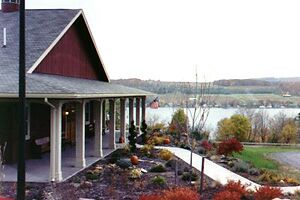 Rooster Hill - http://www.roosterhill.com
A new winery on gentle slope overlooking the lake. Their vineyards aren't producing yet so the wines below are from bought in grapes. I was pleased to hear they planted some Lemberger and Rkatsitelli last year. The tasting room is most attractive in an Italian style.
Cabernet Sauvignon

Dark black red, soft warm nose, inviting upfront flavours but lacking a bit in mid palate. (2002 $17)

Merlot

Fruit comes from Long Island, soft fruits but dusty flavours (2002 $17)

Cabernet Franc

Pale red, warm berry nose, soft middle and very inviting (2002 $15)

Rosecomb

Blend of Pinot Noir/Cab Franc/Merlot made semi sweet - a "wine with training wheels' the owner told me. Rather thin, medium sweet with a tangy middle.
Barrington Cellars
The winery makes a range of semi sweet hybrids, both red and white, I tasted the following
Baco Noir

Orangy red with distinctive tangy varietal flavours (2000 $8.50)

Cabernet Sauvignon

Unpleasant hybrid taste. (2000)
McGregor Vineyards - http://www.mcgregorwinery.com
On a backroad high above the lake this is friendly welcoming winery - and when I was there very crowded - winery. You sit at large wooden tables while pourers bring your choice of 5 wines from their list of 27 vinifera wines for $1 fee. A further 6 wines are marked as premium and can be tasted at $1 each. I chose
Gewurtztraminer reserve

pale yellow, floral nose, dry oily fat body, some sour spices and tangy dry finish. (2002 $20)

Rkatsiteli-Sereksiya

McGregor are theonly US producer of Sereksiya which is used in two blend. This white one had a apple crisp flavour, almost like Sauvignon Blanc and a lingering aftertaste. Very Good (2002 $16)

Cabernet Franc

Medium light red, soft inviting nose but metallic taste (2001 $25)

Rob Roy

Blend of 52% Cab Franc, 24% Cab Sauv, 24% Merlot. Light reddy purple with some bright flavour tones over unpleasant metallic core (2000 $25)

Black Russian Red

Saperavi/Serksiya Charni blend. McGregor are the only US producers of these two varieties. Premium wine. Dark red/black colour, soft front but very tannic middle and finish. A distinctive powerful wine that may need some time to soften if it ever will. (2000 $32.50)
Pleasant Valley - http://www.pleasantvalleywine.com
Verdelet

Dry, acidic and sour (NV $7)

Naturel

This sparkling wine not only claims the champagne name but they told me that "the similarities of soil and climate makes the area the Reims of America." I didn't see any indications of chalky soil. The wine had desirably small bubbles, but few of them. It tasted fresh and dry - it had no dosage - but was thin and acidic ($10.50)

Concord

Very scented nose with a sweet conserve taste like rose petal jam.
Seneca Lake
Seneca Lake is the largest, being 36 miles long and 4 miles at its widest. The town of Geneva is at the north end and Watkins Glen at the southern. Wineries are found all along its western shore, but on the eastern side they are all but one on the lower half along route 414.
West shore Seneca Lake - Route 14
Billsboro - http://www.billsboro.com
Very easy to miss, this is reached by a track up through trees. A small winery run by Bill Pool who is a professor at nearby Cornell University's Experimental Station at Geneva. Bill grows his own grapes and also buys in surplus grapes from the experimental vineyards.
Gamay

sullen red/purple colour, light and bright (2001 )

Eclecsia

Heavy purple/red colour, rather thin, dry finish. A blend of mostly Cabernet Franc, with Sangiovese, Barbera and Pinotage. For some inexplicable reason they choose to call this a Meritage, excusing the non-Bordeaux constituents because they have a different climate. This really irritates me - Meritage is a name invented for US wineries to use instead of "Bordeaux blend"; they may as well call it Chianti or Dr Pepper since the word as they use it has no meaning. No doubt the Meritage Association will sometime do what the French cannot do to protect their names and sue them. Its the American way.
Fox Run Vineyard
A popular winery with tour groups on a promontory overlooking the lake. Their new winery is a little walk up the hill beyond a vineyard and the winery tour is recommended as it passes through the vineyard where effect of even a small dip can be seen on the vine growth. Informative friendly woman led the tour and my only regret is I lost my tasting notes.
Seneca Shore Mediaeval Wines
Winery staff are dressed in mediaeval gowns while madrigal recordings play from a minstrel gallery of their wooden building surrounded by vines. Wine labels are worth reading as there is a continuing romantic tale of derring do and courtly love on them. They make vinifera and hybrid wines. Tasting is free except for some premium wines, such as the Lemberger where $1 is charged for a large glassful.
Vino Grigio

A white blend, soft dry and with a tangy aftertaste (2001 $10)

White Castle

Made from Cayuga White variety. Good round body, feels sweet on front palate but has a dry finish with a lemony tang.

Red Knight

Made from the Rougeon variety this is a very soft easy drinking red (2002 $8)

Red Castle

Very soft Baco Noir, quite light bodied, medium fruit flavours backed by gentle fruit acids and a medium finish, pleasant. ($8)

Kylix Cuvee

Made from their own Lemberger grapes, this vinifera wine is deep red wine with lovely soft fruity flavours, some complexity with balanced acids, lively & fresh with a lingering after taste. Very Good. (2002 $20)
Anthony Road
Large white building with a spacious tasting room dotted with artefacts.
Chardonnay

14% was fermented and matured in barrel (French & American oak) the rest in stainless steel. Minerally dry, some oily undertones and good clean finish (2002 $11)

Cabernet Franc

Two thirds was matured in oak barrels. Bright red colour, but metallic nose and taste. Quite light with some bright tones but I didn't like the metallic finish. (2002 $14)
Prejean - http://www.prejeanwinery.com
Chardonnay

barrel fermented and aged sur lie. Clean fresh, with lemon and orange peel flavours, some spices and a long dry finish (Vintners Reserve 2001 £12)

Marechal Foch

Intense dark black colour, warm berry nose, soft berry pie flavours, soft round and inviting. Very Good (2002 $10)
Torrey Ridge - http://www.torreyridgewinery.com
Imposing white columned building in vineyards
Seyval Blanc

Light and taste sweeter than its 0.8 residual sugar suggests, tangy finish. (2002 $9)

Rougeon

Very pale, almost rose. Very soft and bland, lacking character. (NV $10)

Baco Noir

Rich garnet colour, warm black pepper nose and flavours, soft with some welcoming fruits acids giving structure. (2001 $10)

Catawba

Water colour, inviting powerful sweet scented flowery blossom nose that also describes the initial flavour but alleviated by a refreshing level of acidity - interesting. (NV $9)
Miles Wine Cellars - http://www.mileswinecellars.com
This winery is right on the banks of the lake and has its own jetty into the clear waters of Lake Seneca. Tastings are usually offered in their white colonnaded mansion, but when I was there it was held in the garden. Shame it started raining.
Cabernet Franc

made from vines they planted in 1981 and aged in Hungarian oak barrels, this is an excellent wine wth sweet fruits and some spices. (2001)

Merlot

Soft and dry with some woody spice. Very Good (2000)

Pinot Noir

Barrel fermented in French oak with a silky nose. (2000)

Chardonnay

Aged sur lie, dry and powerful. (2001)
Four Chimneys - www.fourchimneysorganicwines.comhttp://
Attractive 1890 barn in fields overlooking lake is the tasting room for this organic winery which unfortunately uses small disposable plastic disposable beakers for wine tasting.
Kingdom White

made from Aurora grapes. Very pale yellow colour, dry sour on front palate, not much flavour but interesting tangy finish. Organic (2002 $8.50)

Geimenshaft

their brand name intended to be reminiscent of Gewürztraminer, this is made from Geisenheim 318-57 grapes, a hybrid whose parents are Riesling and Chanceller. It is a pleasant flowery wine with light spices and a medium long aftertaste (2002 $9)

Reserve Red

made from Zweigelt variety. Bright red, high tones, mild metallic flavours.
Hermann J Wiemer - http://www.wiemer.com
Hermann Wiemer was winemaker at Bully Hill who wanted to specialise with vinifera wines and is reputed for his Rieslings and sparklers. Tastings took place in the cellar with reserve wines served (for a fee) from a barrel top. Their 2002 Reserve Riesling beat 527 wines to win the 2003 New York Wine and Food Classic competition Best Wine category.
Estate White NV

Dry crisp but a strange nose and acid finish. A blend of Riesling/Chardonnay/Pinot Gris

Chardonnay

barrel fermented, dry with woody edge and slight oily finish. (1998)

Chardonnay

very good chardonnay, dry clean and fresh. (2001)

Riesling

Dry clean medium bodied, but sour finish (2002)

Estate Red

Good dry fruity tangy wine made from a blend of Pinot Noir/Gamay/Dornfelder (NV)

Brut

Sparkler with 75% Pinot Noir - good mousse, dry, some biscuit. (1999)

Chardonnay

Reserve, good dry medium bodied and good finish

Riesling Reserve

Excellent fresh dry favoursome

Gerwurztraminer

Subdued and sweetish.
Glenora Wine Cellars - http://www.glenora.com
I called at this large operation during its annual Lobster festival; hundreds of people were listening to live music and eating lobster in their grounds, and the tasting room was packed. Multiple pouring stations worked magnificently to cope with huge crowds, not only those that had come for the festival but the regular bus and limousine tours. You can imagine the scene when two busses arrive simultaneously and up to 60 people, some of whom are already boisterous from previous tasting rooms enter a tasting room at once. Glenora coped well, and although a taster on their own is at a disadvantage I managed to taste the following, without managing to get vintage details.
Cayuga White

Clear paper white, medium sweet fruit with medium dry finish. Very pleasant sipper.

Catawba

Medium sweet (5.5% residual sugar) and frizzant, clean fresh and sweet with fruit gum flavours.

Niagara

Paper white, sweet and fizzy (6% residual sugar) with no aftertaste.
Fulkerson Winery
A wooden shop/tasting room by the road side. This was the last tasting room I visited before heading home and I was pleased to find some unusual varieties and interesting label designs.
Traminette

Made medium sweet, spicy with a long aftertaste (2002 $10)

Vincent

Very dark inky black red, baco noir nose, rich and full, biscuity and blackberry flavours (2001 $9)

Pinot Noir

Staring to brown at the edge, some pleasant berry flavours. This one a gold medal but seems to be fading already (2000 $15)

White Catawba

Intense soft fruity flavours, like a Dr Pepper fruit drink (2002 $6)

Dornfelder

Very dark red/black colour, unpleasant sour tang on front palate and tastes oxidised, maybe bottles been open too long?
Lakewood Estates - http://www.lakewoodvineyards.com
Chardonnay

paper white, sour nose bland middle and sour finish. Wood aged in American & French oak. (2002)

Cayuga White

Dry, clean fresh fruit. (2002)

Dry Riesling

Spicy flavours, no diesel tones, very pleasant (2002 $11)

Long Stem White

Blend of Cayuga White & Vidal, the Vidal gives some weight and body making an excellent rounded pleasurable wine for a modest price. Good (2002 $6)

Long Stem Red

Blend of Baco Noir/Marecha Foch/Leon Millet. Soft fruits, some berry flavours, not complex easy drinking (2002 $8)

Cabernet Franc

Bright red/black colour, soft with plumy cherry flavours and a slightly metallic finish. Good. (2001)
Castel Grich Estate - http://www.fingerlakes-ny.com/castelgrich
Huge barrel in car park in front of German style large wooden building housing tasting room, shop & large restaurant serving German delicacies. Keen pleasant young man was staffing a very quiet tasting room. But this winery really irritated me with its shameless misuse of wine names. They claim to make "Chablis Grand Cru" (a semi-dry blend), "Estate Reserve Burgundy" (blend of vinifera and hybrids) and claim their ice wine is made "in the German 'Eiswein' style," although it's in fact made by artificially freezing picked grapes. They make some good wines and shouldn't feel the need to shelter behind misleading names.
Cayuga White

Paper white, not much nose, but some attack on palate; crisp and dry, nettle flavours. Good (2002 $9)

Chardonnay Proprietors Reserve

Water pale colour, flinty dry, green apples and slightly sour finish. (2002 $11)

Johannesburg Riesling

Pale clear white colour, crisp lemony and dry. Good (2002 $11)

Baco Noir

Fruity nose but incredibly acid finish (2002 $9)
East shore Seneca Lake - Route 414
All the wineries on the eastern side are close together on the southern half of the lake.
Lamoreaux Landing - http://www.lamoreauxwine.com
They're constructing a new wing on their large wooden building on a crest overlooking the lake which gets a lot of visitors by being first winery approached from the north and its prominence.
Estate White

Blend of Riesling/Chardonnay, sweet pea nose, mouth filling and too sweet for me ($9)

Cabernet Franc

Bright red colour but surprising lack of body and an unpleasant aluminium taste on the finish. Barrel aged. (2000 $13)

Merlot

Bright red cherry colour, medium bodied with delicious spicy flavours and medium aftertaste. Possibly the best Finger Lakes Merlot. This has had 18 months barrel aging and 1 year in the bottle. (2001 $14).
Wagner Vineyards - http://www.wagnervineyards.com
Large bustling operation with microbrewery and separate restaurant whre you can eat outside under a canopy of vines overlooking vineyards. Tastings start every few minutes, as soon as enough people come through the door to fill tasting counter. The pourer quickly moves through a range of their wines; tasting is free except for prestige wines which is 50 cents per pour.
Dry Riesling

Crisp dry, tangy and fresh, green apples with lingering finish. Excellent ($9)

Chardonnay

Barrel fermented, but tastes dull and sour ($9)

Grace House Pinot Noir

Soft cherry flavours, sour finish ($10.50)

Merlot

Pale sullen dark red colour, some spices and a metallic finish ($13)

Gewürztraminer

Paper clear, mild oily body with some soft spices and a tangy finish (2001 $10)

Riesling

Good fruit flavours and sweet bodied. A crowd pleaser. (2001 $9.50)

Delaware

Very sweet but unpleasant aftertaste (2001 $7)

Melody

Crisp and fruit, some good fruit acids to carry the 1.2% residual sugar. (2001 $7)

Vignoles Ice Wine

my tasting note reads just "wow," and I brought home a half bottle of it. ($20 for 35cl)
No coaches here, reached along a gravel track down a hill around a vineyard. The building is set into a cliff so from their small car park you are looking down on the roof. The tasting room has a picture window and balcony with excellent lake view
Chardonnay

Organically grown and hand harvested, volatile nose, soft dry with acidic finish. (2000 $12.50)

Chardonnay Reserve

pale yellow, rounded and full bodied with a pleasant tangy bite. Fermented in French oak barrels using wild & cultivated yeasts. (2001 $16)

Riesling

1.5% residual sugar but tastes sweeter and rather bland. (2002 $13)

Good Earth

Blend of Pinot Noir/Gewürztraminer, Pale orange colour with a pinot nose, light bodied and bland (2002 $16)

Pinot Noir

very pale red, nose and flavours of cherry and cauliflower, light bodied with a medium aftertaste (2001 $18.50)
I tried to visit this winery a couple of times, first I was put off by the sheer number of people inside and the really loud music they were playing, second time I got there just as they closed.
New small winery with a tasting room and café overlooking the lake.
Smokehouse White

Pleasant crisp dry with welcoming acidic kick and long finish. Made from Vidal. Very Good ($7)

Smokehouse Red

Cabernet Sauvignon/Merlot blend, but distinct volatile acidity; opened too long? ($10)

Merlot

Light bodied, unpleasant metallic taste, long finish ($19)

Pinnacle

Blend of Cabernets Sauvignon & Franc with Merlot. Lovely red berry fruit flavours, and a blueberry acidity, quite light bodied. Very Good ($20)
Bob Marley flags outside, marijuana posters inside the wooden barn covered in memorabilia and ear hurting rock music from speakers. Tasting counters are packed with people who seem to be there for the duration. I can't get close. They seem to specialise in hybrids and I leave without tasting anything
Logan Ridge Vineyards - http://www.loganridge.com
Impressive huge building high up with large glass surrounded tasting rooms and large circular bars for tastings. Wooden cutouts of butlers holding a tray with two real wine bottles are placed along the roadside leading to the winery.
Estate Red

Blend of Baco Noir/DeChaunac, sweet fruitgum flavours, like a bowl of red fruits.

Vidal Blanc

Soft with lemon grass flavours and a sharp finish (2001 $11)

Pinot Blanc

Good fruit, dry not overly flavoured, but "elegant' with a clean finish. (2001 $12)

Cabernet Sauvignon

Pale orange colour, warm soft and spicy with tobacoo leaf finish. (2000 $10 reduced by $5 to clear)

Cabernet Sauvignon

Dark red colour, good medium bodied and medium lasting aftertaste. Just released. (2001 $15)
Baco Noir

Light fresh and fruity with medium aftertaste (1999 $10)

Merlot

Light, medium bodied with some spicyness and a metallic taste. (1999 $12)

Cabernet Sauvignon

Light bodied, medium flavoured. (1999 $18)
Red Newt Cellars - http://www.rednewt.com
Large wooden barn up the slope above the road housing a very spacious tasting room, and a restaurant. Unfortunately no view of the lake but range of red newt branded clothing.
Chardonnay

Dry with a flinty tang and medium aftertaste. (2001 $12)

Cabernet Franc

Bright cherry red, soft bodied, iron taste alleviated by some spiciness. (2002 $19.50)

Cabernet Sauvignon

Deep red, with mouth puckering tannins overpowering any fruit (2001 $19.50)

Merlot

Soft balanced, with slate minerally finish that leads into a long long metal aftertaste (2002 $21.50)

Red New White

Floral nose, semi-sweet medium bodied, bland with sugary finish. Blend of Vidal and Cayuga White. (NV $8.50)
Chateau LaFayette Reneau - http://www.clr.com
Wooden barn overlooking lake, stuffed with wine knick-knacks. Desk at entrance swaps your $3 for an engraved wine glass and some bread sticks. It's a nice glass and I managed to get it home unbroken, stuffed with socks, in my suitcase where it is a pleasant reminder of my times in the Finger Lakes. Lots of wines to taste; they're keen to pour you a - small - taste of every one of them. It was very busy when I was there and wines came in a rush.
Cabernet Sauvignon

Soft forward fruits, good balance. Very Good, but too expensive (2000 $19)

Pinot Noir

Cherry flavours, some tannins, pleasant (2001 $17)

Merlot

Bright red colour, sharp and tannic. Eighteen months in French and American oak (2001 $20)

Cuvee Noir

A 65/35% Baco Noir/Pinot Noir blend that seems very sweet after the previous Merlot. Deeply coloured, pleasant soft sweetish quaffer. 1.5% residual sugar. (2002 $9)

Chardonnay Barrel Fermented

Enjoyable soft start with dry slate middle and attractive spiciness and back palate (2001 £13)

Proprietor's Reserve Chardonnay

Inviting nose but off putting slightly sour taste. It spent 10 month in new French oak. (2001 $19)

Seyval/Chardonnay

51% Seyval Blanc gives a welcome freshness to this water clear wine with its hedgerow nose and apple crisp refreshing flavours. 1% RS, made in stainless steel. (2002 $9)

Dry Riesling

bland nothingness. 1.2% RS (2002 $12)

Johannesburg Riesling

paper white colour, its 2.5% RS giving a fuller mouth feel than the previous one, and a slight oily feel but its flat and unexciting (2002 $12)

Late Harvest Riesling

some botrytis, but despite its 6% RS it doesn't taste very sweet, so not a dessert wine, and not much of anything else (2002 $15)

Niagara Mist

Jelly sweet and tastes like one as well. (2002 $6.50)
Attwater Estate - http://www.attwatervineyards.com
Attwater grow vines on 64 acres, selling most of their crop to neighbouring wineries and making their own wine from 18 acres. They grow 15 different varieties and have a soft spot for hybrids. The tasting room is in a beautiful location, overlooking the lake and expertly managed by Katie, daughter of the owners.
Dry Riesling

Attractive green tint, clean fresh and dry with some body. 0.75% RS Good. (2002 $18)

Reserve Red

Good meaty red with a rounded berry flavour. Blend of 50% cabernet Franc, Marechal Foch and Chelois aged in new American oak (2001)

Merlot

Bright red, iron taste (2002)

Cabernet Sauvignon

Purple red colour, dry with dusty feel. (2002 $20)

Cuvee Brut

This is Attwaters first vintage of a methode champenoise sparkler made from 75% Chardonnay 25% Pinot Noir and hand riddled. Good biscuity nose, tiny mousse and refreshing crisp flavours. Excellent. (2000 $25)
Cayuga Lake
Most of Cayuga Lake's wineries are on the western side - there are just two on the eastern shore and I didn't get to there. The town of Seneca Falls is at the northern end, where a ship canal joins this leak to Senecal Lake, and Ithaca is at the southen end. Route 89 fol is the largest, being 36 miles long and 4 miles at its widest. All the western wineries are accessible from Route 89 which follows the shore line. Cayuga Lake is 38 miles long and up to 3.5 miles wide, although its average width is 1.75 miles.
West shore Cayuga Lake - Route 89
Swedish Hill - http://www.swedishhill.com
This winery is actually on route 414 which heads south from Seneca Falls to the wineries in the south eastern shore of Seneca Lake and is just before the turn off to Cayuga Lake. Thus it's the first winery travellers encountered by those heading south and can get very crowded. On the day I called in it was jam packed. The tasting room has many counters, stocked with a list of wines on which you tick the ones you wanted to taste. Cheerful pourers moved swiftly back and forth along the counter grabbing bottles and pouring with a practised dexterity. They grow grapes on 47 acres which supplies about 20% of their wines, they buy in the rest of the grapes.The tasting room is in an attractive wooden building abutting their vineyards. A tour is available.
Reserve Chardonnay

Dusky nose, clean and rather bland with a semi sharp finish. Barrel fermented for 9 months in 80% French oak, 20% American oak. 0% RS. (2001 $15)

Naturel "champagne'

This sparkling wine is made from Cayuga White 54%, Chardonnay 36%, Pinot Noir 10%. Good mousse, smoky grassy nose medium bodied with a sweet finish. ($14)

Cayuga White

apple blossom nose, off dry with 2% RS, lively and clean and attractive fresh aftertaste. Has 15% Riesling and 5% Viognier (2002 $7)

Doobie Blues

Inoffensive sweet wine, little cloying. Very popular with visitors. Its named after a donkey and the amusing label image is available on t-shirts. 5.1%RS, made from a blend of Cayuga White 50%, Vignoles 25%, Traminette 15%, Melody 7%, Muscat 3% ($12 magnum)

Cabernet Franc

Black red colour, rather thin bodied, reminded me of a Loire wine, but had an underlying aluminium flavour. 9 months in oak, and has 10% Cabernet sauvignon and 5% Merlot. (2001 $16)

Country Concord

Like drinking candy floss. 9.7% RS. Also has 10% Isabella, 5% Catawba 5% Vidal. ($7)
Knapp Winery - http://www.knappwine.com
I lunched outside here under a thick grape vine canopy overlooking their vineyards. I drank a glass of their deep red fruity Sangiovese with my meal and just enjoyed it for the pleasurable drink it was, without making notes. And it's here I had a speciality of the area, grape pie. I've had many fruit pies , but never come across a grape pie before; why I don't know.
Goose Watch - http://www.goosewatch.com
Overlooking the lake, this winery is under the same ownership as Swedish Hill and features more hybrid wines.
Villard Blanc

Crisp clean, not great depth of flavour but inviting fruit acids on aftertaste. 1% RS There's 75% Villard here with some Vidal, Riesling and Melody (2001 $8.50)

Traminette

This is one of the best white varieties developed by Cornell University. Tasting rooms make much of Gewürztraminer being one of its parents. It is refreshingly clean and crisp with ripe pear and green apple flavours. 08% RS (2001 $9.50)

Diamond

Sweet grapey flavours with enough acidity to carry its 5%RS. A pleasant quaffer. Diamond is an original Finger Lakes variety, developed 75 years ago. This wine was blended with a little Golden Muscat and Cayuga White. (NV $7)

Chambourcin

Beautiful dark red colour and bright cherry flavours. Spent 14 months in French oak and was blended with 10% Cabernet Franc 0% RS (2001 $13)

Lemberger

Subdued nose, soft approachable with some good acids, medium fruit flavours and a dry finish. 0% RS, matured 9 months in oak and blended with a little Cabernet and Chambourcin. (2002 $15)
Hosmer Winery
Pinot Gris

Inviting upfront bouquet, crisp acids on a medium bodied wine with a slatey flavour and spicy finish. Very Good (2002 $14)

Dry Riesling

Soft approach, very pleasant lemony body with a dry finish. 1%RS (2002 $11)

Seyval Blanc

Good attack, like a green granny smith apple, but a sour finish. 1.5%RS (2001 $8)

Brut Sparkling Methode Champenoise

Made from Cayuga white. Good small bubbles, nice and crisp, grapey fruits, dry but not acidic. 1%RS
Sheldrake Point - http://www.sheldrakepoint.com
Winery is at water's edge and it has a café. Some wines are free, others are charged at $1 for three tastes.
Pinot Gris

Pale, almost clear colour, good fresh crisp flavours, with a lime tang. Good body and depth, and a lingering aftertaste. Excellent (2002 $16)

Gamay

Pale red, berry nose but watery thin and metallic flavoured. (2002 $11)
Lucas Vineyards
Seyval Blanc

uninviting off smell, but pleasant lemony body and crisp dry finish. 0.8% RS (2001 $7)

Riesling Dry

Good mouth feel but little taste, clean and soft. 1% RS (2002 $11)

Riesling Semi Dry

Soft, pleasant and characterless 3%RS (2002 $11)

Cabernet Franc

Initial soft fruits, berries backed by soft tannins with good body and medium long finish. Oak aged. (2001 $15)
Americana Vineyards - http://www.americanwineyards.com
They're constructing a large building here, a historic barn transported from elsewhere to enable a move from their cramped tasting rooms but it was a warm pleasant day and I gravitated to the outdoor tasting counter. Americana do their wines absolutely no favour by using tiny disposable plastic cups from which it impossible to get a bouquet. If they're serious they should change to tasting glasses. They like to use patriotic pictures on their labels but are having problems with the authorities. When they submitted a label that had been in use for some years for a change of vintage the entire label was rejected because it had a picture of George Washington. Some of their labels don't show the vintage to save them having to get annual approval
Riesling Dry

Sweet on front palate and finish with fat middle. ($12)

Cabernet Franc

Clean fresh cherry flavours, good body and long finish. Very Good (2000 $17)

Baco Noir

Warm full round bodied with subdued fruit acids and a good finish (Very Good (2000 $10)
Frontenac Point - http://www.frontenacpoint.com
This is the southernmost winery on Cayuga Lake. The tasting room is a small wooden bungalow. Owner Jim Doolittle planted the vineyards in 1978.
Chardonnay

Typical Chardonnay bouquet, immediate impression is of dryness the opens out to a full body and fat finish (2000 $12)

Riesling Dry

Lemony flavours with a dry spicy finish (2000 $9)

Chambourcin

Bright cherry red colour with cherry flavours and good fruit acids, but short finish (2001 $11)
Must Visit Wineries
Bully Hill - for its exuberance, interesting unashamed hybrids, restaurant, lake view and museum.
McGregor Vineyards - for its welcome, seated tastings and interesting varieties.
Dr Frank - for its quality vinifera wines, must try Rkatsitelli wine and great views over Lake Keuka.
Seneca Shore - for its friendly staff in mediaeval costumes, mediaeval music and range of wines.
Herman J Wiemer - the temple of serious Riesling - and good sparklers.
Attwater Estate - excellent sparkler, good wines friendly people.
Goose Watch - friendly pourers and well made hybrid based wines.
Watch Out For
Police cars hidden along the roadside.
Grape pies
Amish horse drawn vehicles
Buffalo burgers
Colourful trees in the fall
Interesting varieties
Me - I hope to return!
Index to Wineries
Fulkerson WS
Glenora WS
Goose Watch WC
Herman J Wiemer WS
Heron Hill WK
Hosmer WC
Knapp WC
Keuka Springs EK
Lamoreaux Landing ES
Lakewood WS
Liedenfrost ES
Logan Ridge ES
Lucas WC
McGregor EK
Miles WS
Pleasant Valley EK
Poplar Ridge ES
Prejean WS
Rasta Ranch ES
Red Newt ES
Rooster Hill EK
Seneca Shore WS
Sheldrake WC
Silver Thread ES
Standing Stone ES
Torrey Ridge WS
Wagner ES

E = east, W= west, K = Keuka, S = Seneca, C = Cayuga
Other Articles
Aurora to Zweigelt - listing over 50 grape variety names encountered in Finger Lakes
Niagara Peninsula - a short drive from Finger Lakes is Ontario's Niagara wine region.
Texas Wines - Texas isn't only cactus and cowboys.
Northern California - looking for unusual varieties in California.
Links
Cornell Uncorks the Grape Team - article about New York Agricultural Experiment Station.
Names of new varieties developed by Cornell New York Agricultural Experiment Station.
Details and pictures of various hybrids found in New York
Detailed information on the Traminette variety
Visit New York State Wine Country
Holiday Inn at Waterloo/Seneca Falls conveniently located between the nothen ends of Lakes Seneca & Cayuga
Homewood Suites in Syracuse was my comfortable temporary home.
Publications
I found the 'Free Map & Guide - All the Wineries in the Finger Lakes" published by Randy Freeman Enterprises and freely available in all the wineries to be the most useful guide to the area.
Uncork New York publish a free booklet listing all New York state wineries.
Finger Lakes Wine Gazette is a free newspaper packed with interesting articles and news.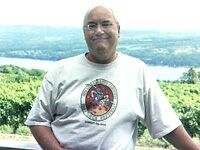 Peter May
Peter May writes about wine, presents wine tastings and is a Cape Wine Academy lecturer. He has a particular interest in unusual varieties. As an IT trainer specialising in IBM Tivoli Workload Scheduler and IBM Tivoli Information Management he has been lucky in travelling widely.

Jan. 12, 2004
Back to Reports from Our Readers
<!- Page Contents End Here ->