TN: My trip to Chateauneuf-du-Pape - 19-22 July 2003
© Nicos Neocleous
Meet Nicos ...
"My father introduced me to the pleasures of wine in general, and Chateauneuf du Pape in particular, as I grew up. My passion really took off once I started working in Finance, enabling me to try different wines and attend tastings in London. The Rhone is my favourite wine region although I enjoy wines from all over the world. Recently, I have also turned my interests to Vintage Port, which is proving highly enjoyable. I enjoy drinking and enjoying wines with family and friends, especially with a good meal."
My good friend Alexis Tsielepis and I had taken the 6.10am flight from Gatwick airport in London to Nice, France. From there we drove for nearly three hours to reach our home for the next four days. Where were we headed? That beautiful part of France known as the Southern Rhone. In fact, there was only one village we had come all this way to learn more about - the historical village of Chateauneuf-du-Pape. The village itself is picturesque and rustic in the manner you may expect. However, the main reason for our travel was to try the wines of several of the top Domaines, especially the 2001s and 2002s, and learn more about them.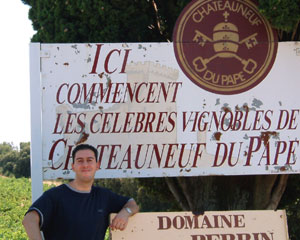 Nicos Neocleous on the outskirts of Chateauneuf-du-Pape.
We stayed in the town of Orange, which is situated roughly in-between Avignon and Chateauneuf-du-Pape. The Hotel Arene (3 star rating) was our base camp and we immediately warmed to its laid back Provencal style. [Hotel Arene, Place de Langes, 84100 Orange. Tel: (33) (0)4 90114040, fax: (33) (0)4 90114045]. The owner greeted us warmly and some general housekeeping followed the inevitable pleasantries. Although booking at relatively short notice, we had secured a single room with separate beds for £28 each (US$45, 39 Euros). This was comfortable and came with air-conditioning which is necessary in this part of the world during summer. We also had to pay a £6 (US$10, 8 Euro) charge for breakfast, which was a pleasant and appetite filling affair. There was also an additional modest charge for car parking.
We had picked up our pre-booked hire car at Nice and spent the first afternoon walking around Chateauneuf-du-Pape and enjoying the stunning view from the castle ruins. However, it quickly became apparent that we should sample some wines to 'warm up' our palates. After a short drive around the village, I noticed the sign for the Domaine of Roger Sabon et Fils, so we pulled up to the tasting room. I had been drinking and buying these wines since the glorious 1998 vintage and I was looking forward to trying the latest bottlings. Although the door was locked, a young lady soon came to our vinous aid. Having been enjoying a relaxing poolside session at her house situated next to the tasting room on Saturday around 5.00pm, she made time for us to taste the wines. We found out later that she was married to one of Roger Sabon's sons. I am grateful to her for having given us this opportunity.
Domaine Roger Sabon
Avenue Imperiale
B.P. 57 - 84232 Chateauneuf-du-Pape
Cedre, France.
Tel: (33) (0)4 90 83 71 72
Fax: (33) (0)4 90 83 50 51
http://www.roger-sabon.com02.com
1) Domaine Roger Sabon 2002 Chateauneuf-du-Pape blanc Renaissance
The blend was Grenache Blanc (20%), Clairette (40%), Roussanne (15%), Bourboulenc (15%) and Picpoul (10%). A bright light lemon, the nose was fresh with a light sherbet hint. A soft, medium bodied mouth feel, the delicate freshness is held together with decent acidity and a gently tailing off finish. 85/100.
2) Domaine Roger Sabon 2000 Chateauneuf-du-Pape cuvee Les Olivets
The blend was Grenache (85%), Syrah (10%) and Cinsault (5%). The vines for this cuvee were an average of thirty to fifty years old. A bright cherry red, the nose showing some cherry kirsch, beeswax and red liquorice. Light taste initially, building up some medium bodied red fruits before tailing off gently. 86/100.
3) Domaine Roger Sabon 2000 Chateauneuf-du-Pape Cuvee Reserve
The blend was Grenache (80%), Syrah (12%) and Mouvedre (8%), and the vines for this cuvee were between fifty to seventy years old. Deep cherry red, I noticed a gamey smell, probably from the Mouvedre. Some red liquorice but not much else showing. A medium bodied start, the power builds up and persists, the ripe fruit almost masking all of the tannins. 88/100.
4) Domaine Roger Sabon 2000 Chateauneuf-du-Pape Cuvee Prestige
A real complex blend here, with Grenache (70%), Syrah (11%), Mouvedre (7%), Cinsault (4%), Counoise (4%), Vaccaresse (2%), Terret Noir (1%) and Muscardin (1%). The average age of the vines was eighty years old. A dark cherry red with an interesting nose of fresh cherries, beeswax and red liquorice. The power, persistence and ripeness of this balanced wine are impressive. There is evidence of some ripe tannins and acidity glimpsing their way through the ripe tannins. This wine will need at least five more years before its true potential can be recognised. 92/100.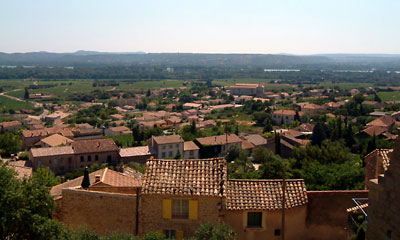 A view of part the village of Chateauneuf-du-Pape from the ruined castle.
Dinner - La Beaugraviere (Mondragon)
Guy et Tina Jullien
RN7, 84430 Mondragon, France.
Tel: (33) (0)4 90 40 82 54
Fax: (33) (0)4 90 40 91 01
After a pit stop at our hotel, we had the 'difficult' task of choosing somewhere for dinner. We had heard from friends that the La Beaugraviere restaurant in the village of Mondragon was a must try. Aside from their tasty Provencal cuisine, they specialised in truffle dishes. More importantly for us, their wine list was supposed to be one of the finest in the world for Rhone wines. How could we resist? Well, of course we could not so after a swift phone call our outdoor table for two was secured.
When the wine list was brought to me, and I began flicking through its well-thumbed pages, I shook my head in disbelief and smiled. All of the top producers in the Rhone were represented, with hugely impressive verticals. Chateau de Beaucastel going back to 1967, Chave Hermitage going back decades, and so on. There must have been at least twenty different top producers of Chateauneuf, including old vintages of Rayas. Other areas of France such as Burgundy and the Loire were well represented. Oh my goodness, what's this? Vouvray all the way to 1919! It took me about ten minutes to make a sensible shortlist of about half a dozen reds that we could afford, and I handed the ledger to Alexis.
Trying to focus on the food, I chose the following dishes, all of which were hugely impressive:
Artichoke starter in olive oil
Terrine de Lapin en gelée aux olives
Pigeon cuit en cocotte sucs de cuisson reduits
Extensive cheeseboard (especially Brie and Stilton - excellent!)
And the wines, of course. After MUCH deliberation, we settled on a nice bottle of Domaine Charvin 1995 Chateauneuf-du-Pape for £40 (US$64, 55 Euros). It was decanted into a carafe. Dark strawberry red, a light rose at the rim. A focused nose of ripe cherry kirsch, red liquorice with a little herb. The palate was good, with a tightly packed core of red fruits and red liquorice, with the tannins carrying these across the palate for a long, long finish. Some initial firmness from the tannins, and the acidity was a tad high. After about one hour, the tannins and acidity had softened, but it was still firm. With another 5 years of bottle age this will be even better and has a good life ahead of it. 93/100.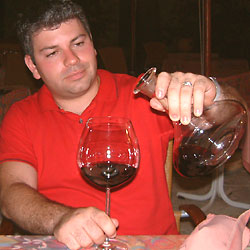 Alexis Tsielepis helping himself to more of the 1990 Cornas A.Clape
Of course, we needed another bottle of red wine, so Alexis asked me to introduce him to something new, a wine that would make an impression. Right, I thought, I know exactly what to choose now. I went to the N.Rhone section of the wine book and there was the wine I had wanted to try all evening. Its moment had arrived and I was not going to pull any punches. I told Alexis to fasten his vinous seatbelt, for his taste buds were about to take off. He looked at me in a puzzled manner. I called the waiter over and showed him my choice. I asked for the wine to be decanted and he refused! I asked why, and he said that the wine would start to fall apart due to its age. No way, I retorted, this wine is still maturing and is built to last decades. He shrugged his Gallic shoulders and said that was fine but I would have to take responsibility, which of course I had no trouble doing. After what seemed an age, the decanter and the empty bottle were brought to me. Fresh glasses also appeared and I tasted the wine.
A very deep purple body with a deep strawberry rim. The nose was traffic stopping - tres animal! A full throttle gamey and black liquorice nose race up both nostrils. After ten minutes, what a transformation! Black forest fruits such as blackberries begin to shine, with black liquorice as well. Sweet and powerful entry, the ripe dark fruits force their way boldly onto my taste buds taking no prisoners. Wave after wave of black fruits dominate, the ripe yet still evident tannins mean that this wine has a long and happy future ahead. 96/100. The wine? Cornas 1990 A.Clape, of course!
As the meal ended with the final mouthful of the memorable Cornas, we vowed to come back here the next day for lunch. No Sunday dinner option, otherwise we would have booked a table. We drove back to base camp with huge smiles on our faces and looked forward to our first nights well earned rest.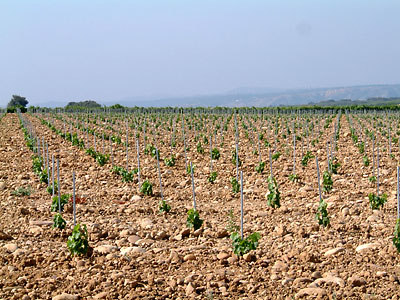 New vineyard plantings in Chateauneuf-du-Pape.
Sunday 20th July 2003
Having dispatched breakfast, we thought a leisurely drive was in order. Driving around vineyards near the Domaine Mont Redon, we found evidence of replanting. When I took rough measurements, it was interesting to see that the new rows were the same space apart as the old rows, but the vines were closer together on each row.
Domaine Charvin
Chemin de Maucoil
"Le Gres" 84100 Orange, France
Tel: (33) (0)4 90 34 41 10
Fax: (33) (0)4 90 51 65 59
http://www.domaine-charvin.com
We had a mid-morning appointment with Laurant Charvin, the current owner and winemaker. He took over from his father Gerald Charvin in 1990 and that was his first vintage. The Domaine is small yet compact and produces approximately 2,500 cases of Chateauneuf-du-Pape red in an average year. He is a youngish looking man (late thirties) but definitely an intense thinker. Our conversations with him were enlightening and refreshing. More of those in a moment, for he wanted us to try some of his wines that I had heard very positively about from Rhone loving friends.
1) Domaine Charvin 2002 Cotes du Rhone
This barrel sample was 85% Grenache with a blend of other varieties. A medium strawberry red, the nose held a freshness, strong red liquorice, some fresh cherries as well. The palate showed a light taste of cherries, with a leanness probably due to the vintage conditions. A nice wine and very drinkable. 85/100.
I asked Mr Charvin about the 2002 vintage and his opinion on how bad it was. He told me that two aspects were important for this vintage:

a) Balance. He was keen to avoid any heavy extraction of the grapes

b) Freshness. He did his best to maintain freshness between the alcohol and the tannins.

He said that the soil was critical in determining which grapes were diluted and which soils were washed away. For example, the solid with dense concentrations of 'galet roulets', or large stones found over many vineyards would have kept the soil together and also prevented a lot of the rain penetrating too deeply to the vines. The converse of this situation would be any vines planted in lighter, sandier soils.

2) Domaine Charvin 2002 Chateauneuf-du-Pape
This dark plum red liquid had a strong yet fresh red liquorice nose. Medium bodied, the liquorice and the red fruits wash around the palate. A balanced wine, the persistence is impressive with a good finish. What really surprised me was that this barrel sample had been sitting in a bottle for four days after it had been opened for one of his foreign importers to try. And it tasted good. 88-90/100.

M. Charvin also mentioned that 2002 was a huge amount of work in the vineyard, not only picking the grapes in appalling conditions, but also being strict with the selection of grapes used to make the final wine. To give you an idea, he made approximately 30,000 bottles of red Chateauneuf-du-Pape from the 2000 vintage. In 2002, this was down to approximately 10,000-12,000 bottles.

3) Domaine Charvin 2001 Cotes du Rhone
A blend of 85% Grenache, 5% Cairanne and 10% Syrah. This showed a dark plum red, the nose of dark morello cherry jam with a hint of smokiness. The very ripe fruit made this wine a pleasure to drink. The tannins are virtually hidden by the fruit and the acidity is noticeable in a positive way in the background. 89/100.

4) Domaine Charvin 2001 Chateauneuf-du-Pape
A very deep purple, almost black. The luscious, slightly overripe nose showed a good dose of morello cherry, much more intense than the Cotes du Rhone. Some cherry kirsch as well. Totally ripe fruits on the palate, the tannins are totally submerged at present. Fresh acidity is a minority player and this wine has a long finish, brilliant! 94/100.

5) Domaine Charvin 2000 Chateauneuf-du-Pape
Dark cherry red colour, the ripe nose seems closed but does show some hints of red liquorice and fresh cherries. A soft, full-bodied and really seamless injection of red fruits leads to a long finish. This excellent wine should age really well. 92/100.

6) Domaine Charvin 2002 Cotes Du Rhone Rosé
This very limited production rosé was made just as an experiment and to produce a light, easy drinking wine. A very light pink, with a soft and light raspberry nose. Very light mouth feel, some red fruits, nice length, enjoyable and easy to drink. 85/100.

We talked at length with Laurent Charvin and were honoured that this busy family man was taking time out of his Sunday for us. Some illuminating points he made include:
He has a real passion for caring for his vines. He feels that this is the only way that the vines will then repay him with excellent quality grapes
The 2001 vintage 'made itself' while the 2002 vintage was 'very hard work'
There is no secret to his winemaking, only working hard in the vineyard and of course nature.
Having spent an enjoyable, humorous and enlightening time with Laurent Charvin, we decided that lunch was the order of the day. We headed back to La Beaugraviere in the village of Mondragon safe in the knowledge that our table was already booked. Having only been there some hours earlier for dinner, it felt like déjà vu. We had already decided that we just had to try a truffle dish and so ordered away. I ate the following:
Terrine de lapin en gelee aux olives. I had enjoyed this so much the night before that I just had to have more. I was not disappointed.
Risotto aux truffes. The black truffles totally transformed this dish and I was amazed at the intensity of the gaminess.
We wanted to stay with the Southern Rhone for a red to accompany these wonderful dishes. After more deliberation, we agreed on the following wine:
Domaine de la Mordoree 1999 Lirac La Reine des Bois - £20 (US$32, 27 Euros) A deep plum red, with a strong nose of red liquorice, overripe raspberries and some dried herbs. The full-bodied palate is ripe yet is balanced by a streak of acidity running through it. The tannins are evident to a lesser extent, and this wine is drinkable now but has a few more years of development. 88/100.
During our walkabout in the village of Chateauneuf-du-Pape the day before, we saw posters for an annual jamboree in the village of Beaumes-de-Venise. This village is known for its easy drinking sweet white wines and we thought it would be a good idea to see what it was all about. With the skilful driving talent of the Formula 1 enthusiast Alexis, and my trusty map reading skills, we headed east. After nearly an hour of scenic and pleasant driving, we found our target destination. The place was overflowing with people, cars and a general hive of activity. We struggled to find parking but a helpful policeman directed us to one of the last free spaces. Dodging both the fearsome looking Police dogs and the wandering street sellers, we paid our entrance fee of a few Euros and received an engraved ISO tasting glass.
Nicos Neocleous taking a brief pause before tasting more Beaumes-de-Venise.

Our plan was to try a range of the dessert wines and soak up the atmosphere. There was a lot going on as it was the 60th Anniversary of this annual jamboree. It was a hot afternoon in this part of the Rhone and we needed a drink! Having downed a couple of glasses of water, we switched our focus to wine. Here are the best six wines that I tried at this event.

1) Muscat de Beaumes-de-Venise 2002 Carte d'Or - Vignerons de Beaumes-de-Venise
This 15.5% wine was a very pale yellow, almost clear. The very aromatic nose showed peach, melon and apricot. A medium sweetness to start, its concentration is not too strong and the pleasant sweetness tails off with a dash of alcohol. 84/100.

2) Muscat de Beaumes-de-Venise 2000 Bois Dore Vignerons de Beaumes-de-Venise
This is the top cuvee of the co-operative, having spent six months in new oak. A bright gold colour, the smell is both floral and with good hints of melon, as well as the new oak. A focused sweetness lasts for a few seconds then tails off rapidly to leave a slightly sweet finish showing alcohol and wood. Although better than the previous wine, it is nearly three years old and I don't believe that this wine will improve. 85/100.

3) Muscat de Beaumes-de-Venise 2002 Domaine de Durban
Clear with a slight hint of yellow and thick legs on the side of the glass. A predominately honeysuckle nose, with a hint of peaches. A simple sweetness, easy to drink, nice length. 83/100.

4) Muscat de Beaumes-de-Venise 2001 Chateau St. Sauveur
This 15% alcohol wine was priced at 10 euros per bottle (£7, US$11), which was the going rate for the majority of these types of wines. Light yellow, the floral nose showed some sweetness. A seamless, sweet wine with nice length but with a dash of hot alcohol on the finish. 83/100.

5) Muscat de Beaumes-de-Venise 2002 Domaine des Bernardins
A light apricot orange colour, the nose displaying a fresh fragrance of peaches, apricots but some alcohol as well. Sweet fruit initially but lots of alcohol on the palate that was distracting at best. 82/100.

6) Muscat de Beaumes-de-Venise 2002 Domaine de Beaumalric
Light yellow, with a faint peach and floral nose. A delicate sweetness building up steam on the taste buds, with an element of alcohol that is noticeable but not overtly distracting. 83/100.

Our afternoon's wine desires partially satisfied, we headed back towards Orange. Dinner was a very modest affair and we knew we needed a good nights sleep for a packed day ahead.

Monday 21st July 2003

Domaine de la Mordoree
30126 Tavel, France.
Tel: (33) (0)4 66 50 00 75
Fax: (33) (0)4 66 50 47 39

Our appointment was at 10.00am and we left in plenty of time, or so we thought. The baking summer sun had heated up the landscape and fortunately our car had air conditioning. The drive was pleasant enough until we hit road works and a diversion. The Domaine is located just outside the village of Tavel, which is famous for its rose wines. Having worked out an alternative route, we sped towards the winery and were not too late. We were due to see Fabriz Delorme, one of the brothers (the other is Christophe) who now run the Domaine. The purpose built tasting room and winery are functional yet pleasant and having greeted each other, we began to taste their range of wines.

I asked Fabriz about 2002 and possible soil erosion for their vineyards. He replied that there had been very little soil erosion due to the grass that they allowed to grow between the rows of vines that help hold the soil together. I then enquired about the size and quality of the 2002 crop. He replied that thirty per cent of their crop was already picked before the storms hit the area. As the heavy rains occurred, trained pickers were told to select only good bunches of grapes. They also used two people to sort the grapes as they came into the winery. Approximately forty per cent of the crop was either lost or discarded.

1) Domaine de la Mordoree Lirac blanc 2002
La Reine des Bois Virtually clear with a hint of light gold. A fresh citrus nose with hints of tropical fruit like pineapple. Some sweetness initially leading to a medium bodied seamless mouthfeel with a clean finish and refreshing acidity. 86/100.

2) Domaine de la Mordoree Tavel rosé 2002
A light and bright rosé, with a soft nose of ripe strawberries. Medium bodied, with a slight sherbet kick in the middle of the palate, this pleasant wine is easy to drink now. 86/100.

3) Domaine de la Mordoree Lirac 2001 La Dame Rousse
Plum red with aromas of bright raspberries and strawberries, some oak and blackberries as well. The palate is more tightly wound with tannins, not harsh by any means, the ripe fruit showing some character. Drinkable now, but this needs six to twelve months to round out. 87/100.

4) Domaine de la Mordoree Lirac 2001 La Reine des Bois
Very deep plum purple with thick and slow running 'legs' down the side of the glass. A luscious cassis and blackberry nose with faint crème caramel. A very rich mouth feel that is balanced by fresh acidity with a slight dryness of the ripe tannins. Impeccable, balanced and a long fruit filled finish make this an impressive wine. 92/100.

5) Domaine de la Mordoree Chateauneuf-du-Pape 2001 La Reine des Bois
This 14.5% wine is a very deep plum red with thick and slow running 'legs' down the side of the glass. A soft yet expressive nose of crème caramel and ultra ripe blackberries and morello cherries. Very ripe fruit with well-integrated tannins and some fresh acidity, this extremely impressive wine keeps on rolling across the plate. The inside of my mouth felt some dryness at the end of the finish but it was soft. Give this nectar seven to ten years for a really special experience, for anyone lucky enough to own any bottles. 96/100.

6) Domaine de la Mordoree Lirac 2002 tank sample
Impenetrable black with a pure cassis and very soft vanilla aroma. The palate was very rich, soft and with very little hint of tannin. Good length. I found it hard to believe that this wine came from the 'washout' 2002 vintage. Excellent. 88-90/100.

7) Domaine de la Mordoree Chateauneuf-du-Pape 2002 tank sample
Impenetrable purple with soft blackberries and no hint of oak. The ripe black forest fruits with moderately drying tannins lead this medium bodied wine to a good finish. Very commendable wine in this difficult vintage, and the strict selection obviously helped. It will be interesting to see how this develops in bottle. 90-92/100.

Domaine Marcoux
B.P. 31 - 84231 Chateauneuf-du-Pape
Cedex, France.
Tel: (33) (0)4 90 34 67 43
Fax: (33) (0)4 90 51 84 53

Our next appointment was with Sophie Armenier, the winemaker at Domaine Marcoux. The Armenier family have been vignerons for generations, with her father Philippe and grandfather Elie having notable reputations. This bio-dynamically run estate had been on my short list to visit for a while and they had received extremely favourable reviews of their wines from influential critics. After an interesting tour around the cellar, we tasted the following wines:

1) Domaine Marcoux Chateauneuf-du-Pape 2002 blanc
A blend of Roussanne and Bouboulenc, from twenty year old vines, that have undergone malolactic fermentation. A bright lemon shade with a floral nose of honeysuckle and a dash of bitter lemon. This shows a luscious mouthfeel, more softness than acidity, nice length. 87/100.

2) Domaine Marcoux 2001 Arcane
This is an experimental cuvee made from 100% Roussanne and aged for three years in barriques. A very bright golden yellow leads me to a bitter lemon nose with some spices. A medium bodied refreshing and complex white wine with a long finish. 88/100.

3) Domaine Marcoux 2002 red (destined to be Cuvee Classique)
This cask sample was made from 100% Grenache, the vines for this had an average age of forty years. A ruby red with a strawberry red and candy floss nose with a dash of spices. The crunchy red fruits show a silky texture across the palate. The balance of tannins and acidity do not overwhelm the fruit. 86-88/100.

4) Domaine Marcoux 2002
This cask sample was made from old vine Grenache, with an average age of eighty years for the vines. Two barriques of the wine had been aged in new oak. A deep plum purple, the nose was mostly toasty new oak with some spices. This powerful and rich tasting wine has mouth drying tannins and a good length. It will be interesting to see how it develops. 87-89/100.

5) Domaine Marcoux 2001 Cuvee Classique
The colour was a very deep purple, the nose an overripe perfume of blackberries and some black morello cherries. Very ripe black fruits with a luscious mouth feel. This wine has excellent length, the tannins are ripe and the acidity shows a presence that is not harsh. 93/100.

6) Domaine Marcoux 2001 Vieilles Vignes
This wine had not seen any new oak, whereas in previous years it usually has about 10%, while in 1998 this was increased to 20%. A very dark purple with thick 'legs' running slowly down the side of the glass. The nose showed an outrageous concoction of cassis and blackberries. After the first sip, I was nodding my head in admiration. An unbelievably rich and luscious seamless injection of red wine. Very little tannin is evident and the background acidity carries the wine superbly to a memorably long finish. An outstanding wine from a special vintage. 97/100.

Sophie talked about the Domaine and we asked several questions throughout. The family's twenty hectares of land is spread around Chateauneuf-du-Pape in different parcels. It is utilised in the following proportions:
1 hectare is used for a vin de table
2 hectares for a Cotes du Rhone
1 hectare for a Chateauneuf-du-Pape white
16 hectares for a Chateauneuf-du-Pape red.
The storms in September 2002 affected the soil of certain parcels of land more than others. Two plots in particular that are sloped had most of the topsoil washed down to the bottom. When the storms finished and the soil dried, they pushed the soil back up evenly along the slopes. After the grapes were picked and crushed in 2002, Sophie was uncertain if any of their red wines would be bottled. The colour, acidity levels and structure gave her much cause for concern. Now it's a different story as the wines have almost magically gained colour and body. Only a Cuvee Classique red will be produced in 2002, when normally three cuvees would be made. This will be bottled after twelve months in barrel, as opposed to the usual eighteen months. In all, Sophie estimates that the Domaine lost approximately fifty percent of its crop.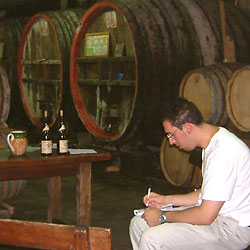 Nicos Neocleous making notes in the cellars of Domaine du Pégau.

Domaine du Pegau
Avenue Imperiale
84230 Chateauneuf-du-Pape, France.
Tel: (33) (0)4 90 83 72 70
Fax: (33) (0)4 90 83 53 02
http://www.pegau.com

Having had the immense pleasure of meeting and tasting with Paul Feraud last summer, we wanted to visit him again. Our timing was not good, as he was away but all was not lost. His charming, and articulate daughter Laurence Feraud offered us a tasting and a chance to talk. Pulling up at the Domaine, we managed to track down Laurence playing with her children. She dragged herself away and we headed for the winery that is located near to her home.

Laurence's comments on the 2002 vintage included uncertainly of how it will shape up once bottled. She concedes that it will have to be drunk relatively young. Their vines suffered flooding, as did everybody else's, and they struggled to harvest their grapes in the muddy conditions.

It was certainly enlightening to hear her comments on the marketing aspects of both the Pegau wines and those of Chateauneuf-du-Pape in general. Readers may know that their top cuvee, Da Capo, is only produced in vintages worthy enough to reach the high standard imposed by father and daughter. A release price of approximately £70 (US$115, 100 Euro) has guaranteed its existence as a collector's item and it trades for considerably more in the secondary market. There are other considerations that are taken into account when releasing this rare wine, such as the overall crop that is harvested.

1) Domaine du Pégau 2002 Chateauneuf-du-Pape blanc
This wine was a blend of 60% Grenache blanc, 20% Clairette, 10% Bourboulenc and 10% Roussanne. It spent six months in old oak. A very light melon with some lemon and soft banana vapours. A soft, lemon tinged easy to drink wine. 85/100.

2) Domaine du Pégau 2001 Plan Pégau
One of the basic red cuvees that has become a recent addition to the Pégau family of wines. This comes from a vineyard nearly three acres in size, planted with Syrah, Merlot and Mouvedre. It is classified as a vin de table. Dark purple with an aromatic ripeness of forest fruits. Ripe and velvety mouth feel, the tannins are soft on this highly drinkable wine. 87/100.

3) Domaine du Pégau 2002 Table wine
This is a blend of Syrah, Merlot and other grape varieties, and it is classified as a vin de table. Dark purple with some smoke and an earthy ripeness on the nose. A positive and ripe mouthfeel with a respectable length, this was another quite quaffable wine. 87/100.

4) Domaine du Pégau 2000 Chateauneuf-du-Pape Cuvée Reserve
A dark ruby visual, with smoke and earth coming onto my nasal senses. The ripe red fruits showed some tannin, and this could be drunk now although it will begin to close down in the next six to twelve months. I drunk a bottle of this wine back in England about three months earlier and that bottle seemed a tad more open than this one. Nevertheless, this is a good wine that should not disappoint. 90/100.

5) Domaine du Pégau 1999 Chateauneuf-du-Pape Cuvée Reserve
A dark plum red, the nose was more evolved than the 2000, with a greater earthiness and more red fruits. The palate tells a different story, with more noticeable tannins but still showing a good level of maturing raspberries and plums. Laurence commented to me that, in her opinion, a vintage like 1999 will not 'close down', in her opinion but change its character as time progresses. 89/100.

We spoke about possible further expansion for the Domaine and the price of land came into the frame. Due to increased worldwide demand for the wines of Chateauneuf-du-Pape, there has been a steep rise in the price of land. A single acre in a good site has a market value of approximately £115,000 (US$185,000, Euro 160,000). That would be a long term investment and the wine produced would have to be good to achieve any adequate market rate of return on the capital investment.

Driving back from Domaine du Pégau, we wanted to try and fit in one more producer. We had noticed a sign for Domaine Pierre Usseglio & Fils, and so we approached unannounced for a spot of tasting.

Domaine Pierre Usseglio & Fils
Route d'Orange
84230 Chateauneuf-du-Pape, France.
Tel: (33) (0)4 90 83 72 98
http://www.domaine-usseglio.com

Having escaped from the early afternoon heat to the coolness of the tasting area and winery, I gathered my thoughts. One of the first questions I asked was with respect to the 2002 vintage. The Domaine lost about thirty per cent of its crop, but its vineyards were not permanently damaged.

The Tradition cuvee is made from vineyards totalling 17.5 hectares. The grape varieties are usually comprised as follows: Grenache (75%), Syrah (10%), Mouvedre (6%), Cinsault (5%), Counoise (2%) and Muscardin (2%).

1) Domaine Pierre Usseglio & Fils 2001 Tradition
A deep ruby red, the nose showed off an explosive cherry kirsch, red liquorice and faint garrigue profile. A sip led me to subtly balanced red fruits with tangy acidity. A persistent length and I hardly noticed the very ripe tannins. 91/100.

2) Domaine Pierre Usseglio & Fils 2000 Tradition
Medium ruby red with hints of earth, cherry kirsch and over-ripeness on the nose. Soft and medium bodied with bright acidity and some dry tannins in the mouth, this wine is drinkable now but will benefit from a few more years in bottle. 90/100.

We drove back to our hotel to take much needed refreshments and of course ponder our dinner choices. A busy but rewarding day and we still had tomorrow to look forward to, with more great wineries to visit.

Tuesday 22nd July 2003

Le Clos du Caillou
84350 Courthezon,
Vaucluse, France.
Tel: (33) (0)4 90 70 73 05
Fax: (33) (0)4 90 70 76 47

After our unusually full continental breakfast, we headed to this Domaine at a leisurely pace for our appointment. Having worked out the helpful signposting and driven down some country lanes, we drove up to the collection of smart but workmanlike buildings. Having gained admittance to the tasting, we talked with our assigned host. The topic of 2002 invariably came up and here was another interesting response. The quantity of wine produced was down fifty per cent due to a combination of the appalling rains, and also a stricter selection of grapes. Their vineyard soils suffered no lasting damage.

Half way through the tasting, we were introduced to Bruno Gaspard, the chief winemaker. He was hired after the recent and tragic death of the very able Jean-Dennis Vacheron. A quiet and thoughtful man, he guided us through the remaining flight of wines and also gave us a short tour of the winery.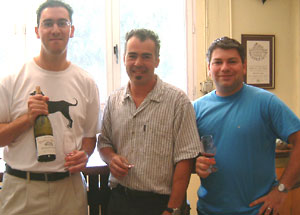 From left to right: Nicos Neocleous, Bruno Gaspard and Alexis Tsielepis.

1) Le Clos du Caillou 2001 Bouquet des Garrigues Cotes du Rhone blanc
- £6 (US$10, 8 Euros) A blend of 40% Grenache Blanc, 40% Viognier and 20% Roussanne, the fermentation has been 90% tank and 10% barrel. Very light lemon tinge, there was a fresh lemon nose with floral hints of peaches. Clean and refreshing, the length is acceptable with a good and bold freshness. 85/100.

2) Le Clos du Caillou 2001 Chateauneuf-du-Pape blanc
£17 (US$27, 23 Euros) This wine was a blend of 80% Roussanne and 20% of a mixture of Grenache Blanc and Clairette. Interestingly, it was 100% aged and fermented in barrel, with 70% new oak and 30% one year old oak. Light lemon, the nose was a stimulating and highly pleasing cooking apple and pear. This wine manages to maintain its fresh pear taste through its full bodied mouthfeel and good length. 88/100.

3) Le Clos du Caillou 2001 Cotes du Rhone rouge
£4.50 (US$7, 6 Euros) A blend of 90% Grenache and 10% of a number of other varietals, my glass showed the medium ruby red colour. A showy nose of strawberries and red currants with noticeable but soft oak. The ripe red fruits and wood make a pleasing and moderately powerful entry onto my taste buds. Good persistence and some mouth drying tannins which could do with six to twelve months to soften. 88/100.

4) Le Clos du Caillou 2001 Bouquet des Garrigues - Cotes du Rhone rouge
£6 (US$10, 8 Euros) The fermentation of this wine was a real mixture of styles, with one third in each of barrel, foudre and tank. The oak used ranged between two to four years old. A medium purple, the nose of concentrated red fruits and a dash of herb. Powerful and tannic, the raspberries and plums are ripe but play a close second fiddle to the structure. Some mouth drying tannins with a good length. Drinkable now with food, age it one to two years for a softer wine and I expect it to keep for a few years. 89/100.

5) Le Clos du Caillou 2001 - Cotes du Rhone Villages
£9 (US$13, 12.5 Euros) Weighing in at a powerful 14.5% alcohol, this wine was a blend of 75% Grenache and 25% Syrah. Deep purple, the red and dark fruits blend well, with some morello cherry and a dash of smoke. The ripe and concentrated fruits cohabit well with the powerful yet juicy tannins. Good length, this will be even better in twelve months time. 88/100.

There are three cuvees of red Chateauneuf-du-Pape made, according to style and age of wines. In ascending order are the Tradition, made from the younger vines, and production is about 6,000 bottles per year. Next up is the Les Quartz, which is meant to represent a different terroir and style, referring to the soil and stones in the vineyard. Lastly, the Reserve, which is made from the estates oldest vines and is highly sought after, although only about 6,000 bottles on average are produced in any year, given good growing conditions.

6) Le Clos du Caillou 1999 Chateauneuf-du-Pape Tradition
£13 (US$21, 18 Euros) I did not get much from sniffing this wine, aside from a little red berry jam. The slightly drying tannins and vibrant acidity carry the ripe red fruits. To me, it seemed to be in a closed phase and I would suggest at least a couple more years in the cellar. 91/100.

7) Le Clos du Caillou 1998 - Cotes du Rhone Villages
£9 (US$13, 12.5 Euros) Deep red, the nose was quite expressive with more ripe cherry kirsch and red liquorice. A good balance between red fruits and supporting tannins. Highly enjoyable for a five year old 'basic' wine from a successful vintage. 89/100.

8) Le Clos du Caillou 2001 Chateauneuf-du-Pape Reserve
£32 (US$51, 45 Euros) I was lucky to be given the opportunity to taste a barrel sample of this wine as it has not been bottled yet. A deep plum red, nearly purple, the nose was faintly gamey with black liquorice. A seamless and very concentrated richness flows round the palate. At present the ripe tannins are mostly kept in check by the old vine fruit, and the finish goes on and on. One of the most impressive cask samples I have ever tasted, this is going to be a special wine one day. The entire year´s production has already been sold en primeur. 96-98/100.

Although we had one more appointment lined up, we knew we had time to visit one more Domaine and grab a bite for a late lunch. There was one name on my shortlist that I had wanted to visit and taste their recent wines and this would be a golden opportunity. We drove to Courthezon and managed to negotiate the short driveway to find building work around the outbuildings. Were they open? Having approached the door to the tasting room, thankfully it was open and we hurried inside as the marauding family dog detected our presence and approached us menacingly. Phew!

Domaine de la Janasse
27 chemin du Moulin
84350 Courthezon, France
Tel: (33) (0)4 90 70 86 29
Fax: (33) (0)4 90 70 75 93
http://www.lajanasse.com

We were introduced to the father and son owners of the estate, namely Aime and Christophe Sabon respectively. Christophe's sister Isabelle is also actively involved in the Domaine. They were keen to show us their range of wines and explained briefly that they had plots of land all over the area. This was typical for most of the estates we had come across. Broaching the subject of the 2002 vintage, we learnt that they had lost thirty five to forty percent of their crops. Their vineyards had not suffered any long-lasting damage.

1) Domaine de la Janasse 2002 Chateauneuf-du-Pape blanc
Made from a blend of 60% Grenache Blanc and 40% Roussanne. Light lemon in colour, the nose was mostly citrus but there were some floral scents as well, like honeysuckle. A good fresh mouthfeel, respectable length and really enjoyable. 88/100.

2) Domaine de la Janasse 2001 Cotes du Rhone Villages
The blend for this wine was a third each of Grenache, Syrah and Mouvedre. Ruby red with raspberries and a dash of red liquorice on the nose. A ripe mouthfeel with elegant tannins and vibrant acidity. This can be drunk now but will probably benefit from one or two years ageing. 89/100.

3) Domaine de la Janasse 2001 - Les Garrigues - Cotes du Rhone Villages
This is a 100% Grenache cuvee. Strawberries and other red fruits show up nicely on the nose. This appears to be riper and with softer tannins/acidity than the previous Cotes du Rhone red. This may be due to the fact that the fruit are submerging the other components at present. A very good wine and a bargain that should not be missed. 90/100.

4) Domaine de la Janasse 2001 Chateauneuf-du-Pape Cuvee Classique
Plum red and showing off its very ripe nose of strawberries and cherry kirsch. This rich and powerful red fruits dominate the very ripe tannins and all are supported by a firm level of acidity. An excellent wine. 92/100.

5) Domaine de la Janasse 2001 Chateauneuf-du-Pape Cuvee Chaupin
This 100% Grenache wine is made from vines aged between sixty to eighty years old. Very dark purple, the heady nose is full of overripe cherries and raspberries. This is even smoother than the Classique, and shows a concentration and richness of red fruits that impressed me. The ripe tannins are hardly noticeable and the long finish does not disappoint. An excellent and potentially outstanding wine. 94/100.

6) Domaine de la Janasse 2001 Chateauneuf-du-Pape Cuvee Vieilles Vignes
This is the flagship wine of the estate and is made from south facing slopes with copious number of stones scattered over and within the soil. The vines are aged between sixty and one hundred years old. The blend for this wine was 85% Grenache, 10% Syrah, 3% Mouvedre and other varietals making up the balance. The colour was an impenetrable very dark plum. The outrageous nose was showing signs of over ripeness, mostly cherry kirsch but some raspberries as well. A very rich and highly concentrated mouthfeel, with the ultra ripe tannins carrying the incredibly rich fruit to an incredibly long finish. A huge wine that needs eight to ten years to find its true character. There is no doubt that this is an outstanding gem of a wine. 97/100.

Chateau La Nerthe
Route de Sorgues
84230 Chateauneuf-du-Pape, France
Tel: (33) (0)4 90 83 70 71
Fax: (33) (0)4 90 83 79 69
http://www.chateau-la-nerthe.com

I had wanted to visit this prestigious property for some time. It has many unique features that make it stand out from all of the other Domaines in Chateauneuf-du-Pape. Aside from a great deal of historical significance to the village, its vineyards cover 225 acres (90 hectares) on a single terroir and its soil is amongst the rockiest in the region. Our appointment was with Alain Dugas, the director of the estate.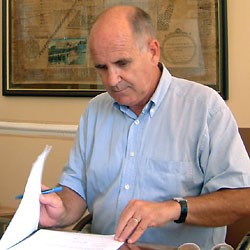 Mr Alain Dugas, Director of Chateau La Nerthe, in his office.

Mr Dugas explained many details about his background and his philosophy of winemaking. In fact, I would separate his views into two: one for the vineyard and one for the winery. He stated that there was an old and commonly held belief that Chateauneuf-du-Pape should be a high alcohol and powerful wine. He disagreed with this and he believed that elegance, balance and a physiological ripeness of the grapes were the direction to take. The harvest should take place when the grapes were at optimum ripeness. By this he meant that there must be a good balance between silky tannins and ripe fruit/acidity. Wood should be used to soften the tannins, not to add flavours of oak.

Mr Dugas has made many changes to the estate since he was put in charge. In 1985 the regular cuvee used to contain approximately 85% Grenache. Now it is approximately 50%. A higher percentage of Mouvedre is used, both for a different flavour profile and for improved ageing as an anti-oxidant. This has necessitated a replanting programme, with increased plantings of Syrah, Mouvedre and Counoise at the expense of Grenache. The winery has been revamped both in equipment and techniques.

I asked about the 2002 vintage and its affects on the wine produced and vineyards. The stones kept the soil together and because the soil around the vines is regularly worked, the soil soaked a lot of the water. However, they did lose approximately 40 per cent of their crop.

After a tour of the winery and the impressive cellars, we ventured to the tasting room.

1) Chateau La Nerthe 2002 Chateauneuf-du-Pape blanc
£17 (US$27, 23 Euros) A very light lemon colour with a respectable balance between being fresh and the floral character, with some tropical fruit. Full bodied, this showed tropical fruit like pineapple, with a long length and a pleasing freshness. 87/100.

2) £18 (US$29, 25 Euros) The blend of grape varieties were as follows: Grenache (47%), Mouvedre (18%), Syrah (25%), Cinsault (7%), and others (3%). Ruby red, the nose was a mix of soft oak and light strawberry jam. The soft tannins and gentle red fruit showed well and although this is drinkable now, I would like to revisit it in two to three years. 91/100.

3) £12 (US$19, 17 Euros) The blend of grape varieties were as follows: Grenache (46%), Mouvedre (19%), Syrah (26%), Cinsault (6%), and others (3%). Ruby red, this showed a relatively gamey nose when compared to the 2000 vintage. The silky mouthfeel and the hardly evident tannins made this a joy to drink. No need to age any longer, although it will keep for at least a few more years. 92/100.

4) Chateau La Nerthe 1995 Chateauneuf-du-Pape
£24 (US$38, 33.50 Euros) The blend of grape varieties were as follows: Grenache (54%), Mouvedre (20%), Syrah (19%), Cinsault (5%), and others (2%). A deep strawberry red, the mature nose was expressive, with nuances of game, leather, cooked plums and a hint of cinnamon. Full bodied entry to the palate, some tannin still evident but are balanced by the ripe fruit. Could definitely be drunk now but there is more development potential for the tannin to be softened. 92/100.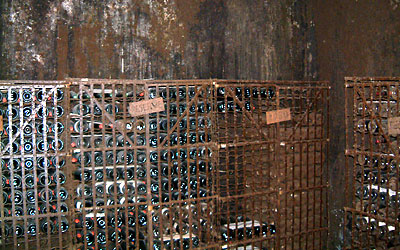 Reserved stock for important clients in the cellars of Chateau La Nerthe.

When we asked Mr Dugas if he knew of any decent rosé being produced, he smiled and laughed a little. He mentioned his son Gianni Dugas, who has just taken over an estate called Prieure de Montezargues in the rosé producing village of Tavel. A name to look out for in the future, perhaps?

The drive back to Nice airport was a mixture of happiness, fond memories, yet a slight regret that we had not been able to visit more wineries. Our time had been extremely limited and we promised that next time, we would aim to take a longer break. With temperatures hovering around the 100F (37C) mark, we thanked the cooling influence of the car's air conditioning.

Summary

Our four days in the Southern Rhone, in particular Chateauneuf-du-Pape, had been highly enjoyable. I would strongly advise booking a hotel well ahead of your travel time. We found the air conditioning in our hotel a must for the hot Provencal summer nights.

Amongst the growers we visited, the 2002 vintage did not spell total doom and gloom. Between thirty five and fifty per cent of the crops was lost through a combination of the cataclysmic storms that descended on the area at harvest time and where possible strict selection of grapes picked. However, wines have been produced and where tasted they have been surprisingly well made and drinkable. I have to say I was expecting the wines to be more dilute and harsher tasting, but this has not been the case. The wines will change over time once they are bottled, but there is an intrinsic and respectable level of quality. I do believe that these wines will need to be drunk relatively young, but is that necessarily a bad thing? The preceding four vintages were a Rhone wine drinker's delight and this must be taken into account.

Pricing for 2002 will need to be carefully considered, especially given the escalation in prices for the preceding four vintages. To be fair to the Domaines, not all of the recent price rises have come from them. Worldwide exchange rate fluctuations have led to a stronger Euro, raising prices for non-Euro currency customers. Some estates have chosen not to produce a red cuvee of Chateauneuf-du-Pape, for example Chateau du Beaucastel and Domaine Vieux Telegraphe. It may be that Domaines are waiting to see what will happen with the 2003 harvest and the quality of the fruit that is picked before trying to price their 2002s.

What is clear to me is that the care taken in the vineyards is being reflected in the quality of the estates wines that I tried. The high proportion of old vines, together with a willingness to experiment, has led to exciting wines being made. A new generation of vignerons, some in their thirties and forties, have helped forge this improvement. Long may it continue.

August, 2003

Back to Reports from Our Readers

<!- Page Contents End Here ->