Château de Malle and 1855 Classified Growths of Sauternes
© Evelyne Lejeune-Resnick
While traveling to Bordeaux we always have the privilege and the pleasure of discovering new wines and new people. We also have the opportunity to rediscover older estates, now run by a new management working towards a new identity and a new image.
This is the case for the very traditional area of Sauternes and Barsac. For most people, Sauternes equals Yquem, now managed by the young and dynamic Pierre Lurton, but the Sauternes and Barsac area includes other estates. I met recently with Nancy de Bournazel, president of the Organization for the 1855 Great Growths in Sauternes and Barsac and owner of the magnificent Château de Malle estate - considered a historical monument - to learn more about this area that is less present in the media but still special, and richer in styles of wines than one suspects.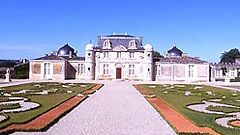 Château de Malle takes its name after the family de Malle, owner of the château in the 17th Century. Its history is totally linked to the history of the Sauternes.
In the 18th century, Jeanne de Malle married Alexandre-Entrope de Lur-Saluces. Just before the French Revolution, the oldest Lur-Saluces inherited Yquem while the youngest settled at Château de Malle. In 1956, Pierre de Lur-Saluces gave the Château de Malle to his nephew and godson, Pierre de Bournazel. For 30 years, Pierre and Nancy de Bournazel have worked together to revive the splendor of the château and the vineyard. When Pierre died prematurely in 1985, Nancy de Bournazel continued her husband's work with the help of her three sons, Paul-Henry, Antoine and Charles.
The vineyard lies between Sauternes and Graves, giving its wines a unique style. One of the most original features of the estate is the fact that it overlaps two appellations, Sauternes and Graves, allowing its owners to produce their wonderful Sauternes wine as well as dry white and red wines.
The 200-hectare estate includes 50 hectares of vines: 28 in Sauternes on an argillaceous and silicious gravel, 20 in red Graves and 3 in white Graves.

The varietal vines (69 percent of Semillon, 28 percent of Sauvignon and 3 percent of Muscadelle) are 30 to 40 years old with a planting density of 6,000 vines per hectare. The harvest is completely done by hand, with three to five tries necessary to select the berries blessed by the perfect noble rot. Each variety is vinified separately. The grapes are pressed and let to settle for 12 hours. They mature for 20 to 24 months in oak barrels, renewed for one-third every year. They are bottled at the Chateau two to three years after the harvest. The production is about 40,000 bottles.
Château de Malle produces a second wine, Chateau de Saint-Hélène. This wine issues from younger vines (10 to 15 years old) with 68 percent Semillon, 29 percent Sauvignon and 3 percent Muscadelle. The blending can vary from 10 to 15 percent between the varieties in order to preserve the freshness and finesse of the wine over the maturity expected from the great wine. About 20,000 bottles of Chateau de Sainte-Hélène are produced every year.
Let's now have a look at the Graves section of the vineyard of Château de Malle. Named Château de Cardaillan, the red Graves produced by the Bournazel family is located in Toulenne and includes 50 percent Merlot and 50 percent Cabernet sauvignon. The vines are about 25 years old and the harvest is traditional. On the white side, "M. De Malle" is produced from plots in the East of Preignac from 75 percent of Sauvignon and 25 percent of Sémillon. Round and fresh this wine is difficult to find because only 7,000 bottles are produced. It is very common that very good and original Bordeaux white wines are not easily available, as wine lovers can unfortunately experience when looking for Laville Haut-Brion or M. De Malle.
Sweet, red or dry white, the wines produced by Nancy de Bournazel correspond to her own image: fine, elegant, well balanced and powerful. Many vintages, and in particular 1995, were very positively reviewed by journalists. In good vintages, the Chateau de Malle usually shows a good length and balance, with rather charasteristic apple, pear and honey notes. The 1990 Chateau de Malle is full-bodied, not too sweet, with lots of botrytis character and a very long finish. The 1986 is still racy and balanced.
Having tasted and appreciated those wines I was curious to meet the countess de Bournazel. To be frank, I was a little intimidated at first by the grandiose character of the estate, the prestigious history and was fearing a very formal reception. I was so wrong! When I called to get an appointment I talked to a very nice and direct woman who agreed immediately to meet me in Bordeaux when she understood I was tied up with Vinexpo. The countess is a very charming lady, what an American might call "down to earth." She moves directly to what is important - explaining the "noble rot" to wine lovers, straightening out a few "idees reçues" or prejudices about Sauternes and Barsac and sharing her best pairings between food and sweet wines.
Like her husband, who founded the Commanderie de Sauternes et Barsac in 1959, Nancy de Bournazel is accustomed to official functions and fulfills them with grace and class. As president of the Sauternes and Barsac 1855 Great Growths, she is in charge of all the communication and events. Acting as a sort of ambassador of the area, she carries the responsibility of its image and fame in front of the press, wine lovers and enology students. Countess of Bournazel is certainly the best ambassador for the Sauternes and Barsac wines: her links to the traditional world of wine as well as her interest in new technology prove very efficient. Totally involved in her work and known as an efficient link between wine lovers and professionals, she generously shares her passion for those great wines.
As we talked in the chilly reception area of the press room in Vinexpo - (note, since the heat wave of 2003, they must have installed a killer air-conditioning system) - Nancy de Bournazel explained how she hopes to shake the Sauternes area from its "Sleeping Beauty" syndrome and open it to new amateurs and connaisseurs.
For that mission what is better than food? Nancy de Bournazel opened vast possibilities of pairing between Sauternes and food to my unsuspecting palate: why not try an entire meal with Sauternes? What could we eat after the foie gras? We could try a broth of shrimps and scallops with fennel ravioli, followed by a sea bass with some tomatoes - creating a nice contrast between the balsamic vinegar and the wine. A chicken served with acacia honey, ginger and sautéed spicy vegetables brings out the same fragrances in the wine. Let's finish then with some Roquefort cheese and crystallized figs in flaky pastry for dessert.
Chicken is very often served with Sauternes: roasted chicken, garlic chicken. The combinations are endless: French and international cuisines have revived noble fish as sole, turbot, monkfish or bass and Sauternes pairings. Sauternes also loves foreign food: while traveling in Spain, experiment with its famous Manchego sheep's cheese or a Mantecados, a perfumed shortbread made with dried fruit and spiced with cinnamon, with a Sauternes. In Austria, escalopes with paprika and cream as well as Linz cake are a delight; in Germany, a fresh fruit soup (eaten cold or warm) matches wonderfully with a Sauternes. Endless combinations from all over the world and for all the tastes!
At the end of my conversation with Nancy de Bournazel, I had learned a lot about Sauternes and discovered a whole world of aromas, fragrances and tastes. It is now harvest time in the Bordelais, not in Sauternes. Why not dedicate a long weekend to visiting the Sauternais and the Barsac area? Life is quiet over there, chateaux are beautiful and the country side still gorgeous with summer lanscapes - just a hint of the coming fall in the cooler air of the early morning and the mist of the Ciron river ...
September 2005
Back to Reports from Our Readers
<!- Page Contents End Here ->