WineLine No. 59
January 2007
The Soul of Port
Dear Friends ...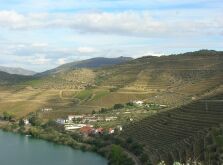 Vargellas: The oldest terraces of the vinha velha are at the lower right.
In every wine region with a smidgen of history – say, a century or more – there are patches of vineyard that capture the soul of the land, whose wine reflects the ultimate expression of the soil and, if skillfully handled, the character of the people who make it. Quinta de Vargellas is one such patch of land. Nestled in a crook of the Douro River of northern Portugal, the legend of Vargellas is intertwined with the history of Port wine. Its story includes steep vineyard terraces hewn by hand from rocky soil, a swashbuckling baron done in by his own greed, and the careful nurturing of a family firm devoted to quality.
The irony of Vargellas is that you won't see its name on a wine label, except in what the owners consider "off" years – and in the Port industry's strangely warped sense of time, "off" means a vintage that may improve in your cellar for a mere four or five decades instead of a century or more. But these single-quinta (estate) Ports have an innate appeal to wine lovers fascinated by terroir, the ability of a wine to communicate a sense of place even to someone who has never been to where the wine was made. Even more important for impatient Americans, they taste damn nice when young.
Vargellas is the flagship property of The Fladgate Partnership, the modern configuration of Taylor, Fladgate and Yeatman, one of only three of the old British Port shippers that are still family owned and the second largest exporter of Port to the United States. Its wine – along with that from Quinta de Terra Feita further up the Douro - forms the backbone of Taylor's vintage port in the most exceptional years when the company "declares" a vintage. (Taylor's is marketed as Taylor Fladgate in the United States, presumably to avoid confusion with a certain producer of bulk wines. The Fladgate Partnership includes the Port houses of Fonseca, Delaforce and Croft.)
In other years when the harvest is merely outstanding, Vargellas gets its chance to shine on its own as a single quinta bottling and, in distressingly small quantities, a "vinha velha," or old vines bottling from the grapes grown on the ancient terraces. This wine may be the ultimate expression of Port, deep and brooding, hard as the granite mountains that flank the Douro yet bright with fruit from the patches of schist that can support vines. The 2004 single quintas from Vargellas, including a limited allotment of the vinha velha, have recently been released in the United States.
One measure of Vargellas' importance in the Port trade is that the vineyard has its own train station. I disembarked near twilight one day last fall. The stone terraces of the vinha velha loomed above, their vines still plush with foliage but not grapes, I was to discover, for it was the final day of the harvest. To the east, vines planted more recently stretched out in vertical rows more familiar to wine lovers from trips to California.
Our small group was welcomed by Alistair Robertson, chairman of Tay-lor's who took over the company from his uncle, Dick Yeatman, in the late 1960s, and Robertson's wife, Gillyane. Families that have been in the same business for centuries tend to have rituals that should not be trifled with by such inconsequential things as darkness, and one tradition here is that guests are given a boat tour of the Douro. So we trundled into the Robertsons' motorboat and chased the evening westward. Our destination: a dam built in the 1970s, one of a series that finally calmed the tempestuous river.
Just before the dam, the river narrows dramatically; it was here at the treacherous Valeira Gorge, Alistair told us, that the famous Baron James Forrester met his untimely end one day in May 1861. Forrester, a member of the Offley Port shipping family, was one of the Douro's most colorful characters and the first to map the valley in detail. (An original Forrester map is on display at the British Factory House in Oporto, at the mouth of the river.) That day, he and his wife, Dona Antónia, lunched at Vargellas, then set off downstream. At the gorge, their boat struck a rock and capsized; Dona Antónia, buoyed by her crinoline dress, floated to safety, but Forrester was wearing a money belt laden with gold coins. His body was never found.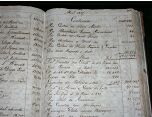 Sales were good for Taylor's in 1817 - a ledger at the company's headquarters in Vila Nova de Gaia
As we floated calmly in the once-deadly gorge, Alistair raised his glass of port-tonic (one part white port, two parts tonic, on ice, with mint leaves) and led us in a toast to the baron. Then he gunned the motor and sped back to Vargellas.
Later that evening, as we dined at the vineyard house situated about halfway up the slopes, near the stone terraces of the vinha velha and overlooking a row of olive trees, a slow rhythmic chant echoed up the slope from the low adobe win-ery buildings below. It was the call of the cut, the slow treading of the grapes from the day's harvest. Taylor's still treads their estate grown grapes the old-fashioned way, by foot in concrete vats called lagares. It's a dying art as economic growth pulls workers away from the valley, and many Port companies, in-cluding Taylor's, are trying to mimic the human foot with me-chanical treading. But for Taylor's and a handful of other houses, modern ways have not surpassed tradition for their top wines.
The chant carried the pulse of the vintage, and like any heartbeat it faded eventually into the background of conversa-tion and new-found friendship. But then came liberdade, the music was cranked up and the vineyard workers, weary from a day of picking and an evening of treading, danced their cares away in the knee-deep must of the day's harvest. Guests were invited to join in, another season came to a close, and the smell of fresh wine filled the air.
"You hear criticism of Americans for drinking vintage Port young, but it has loads of really appeal-ing fruit," says Adrian Bridge, CEO of The Fladgate Partnership and, as the son-in-law of Alistair and Gilly-ane Robertson, the current generation of family leadership of a firm founded in 1692. "Vintage Ports are appealing to drink at various stages of their life," he continued, though adding that they tend to "go dumb" about five or six years after the vintage, emerging from slumber somewhere around age twenty.
That's debatable, of course, as reasonable palates can differ over when Port is at its best. But Bridge was not just spouting marketing hooey to impatient Americans. During my visit to Portugal, I tasted several vintage Ports dating back to the 1960s, and it is the younger ones that I still savor in my memory. Luckily for us, we don't have to rely on vintage Port, for there are wonderful rubies, late-bottled vintage and aged tawny Ports that are all meant to be consumed shortly after bottling and commercial release. But we also needn't fret about aging vintage Port, if we don't have the cellar space and longevity to do so.
During my visit to Portugal, I was part of a small group visiting the Fladgate Partnership headquarters in Vila Nova de Gaia, at the mouth of the Douro, where the wines are transported for blending and aging the Spring following the vintage. We tasted through nearly three dozen Ports of the partnership's houses: Taylor Fladgate, Fonseca, Croft and Delaforce. I paid less attention with my pen to the aged tawnies, as I had already written them up for The San Francisco Chronicle. Here are my tasting notes: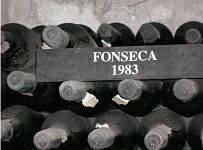 Vintage Port aging in the Fonseca cellars at Vila Nova de Gaia.
Taylor Fladgate
: House style: structured, reserved, elegant and tannic.
First Estate Reserve: quite nice, well-balanced and full.

Late Bottled Vintage 2001: spicy, good structure, elegant and dry.

Vintage Port 2003: Reserved and yet polished, showing personality but not flaunting it, like someone I'd really enjoy getting to know, very intimately.

Quinta de Vargellas 2004: Massively structured, tannic, toffee, woodspice.

Quinta de Vargellas "Vinha Velha" 2004: More intense, stones, minerals, toffee, nuts, fruit; long and delicious. So this is why people flip over Port.

Quinta de Terra Feita 1999: Roasted cashew, mushroom, bright fruit, wood spice; more fruit-forward and less tannic than the Vargellas.
Fonseca: Merged with Taylor Fladgate in the 1940s. House style: Similar to Taylor's, but more exuberant with fruit, less reserved and tannic.
Bin 27, First Reserve: Soft, fleshy and full, impression of sweetness.

Late Bottled Vintage 2000: A bit more tannic, but still very fruity.

Vintage Port 1985: Brick color, woodspice, primary fruit has faded, dried fruit flavors beginning to emerge?

Quinta do Panascal 2004: Mushroomy, spice, wood, sweet berry fruit.

Terra Prima Reserve: A ruby made from organically grown grapes and the stunner of the tasting. Stone, wood, spice, tannic attack with a soft, lush finish. Not yet available in the U.S., but look for it.

Guimarens Vintage 1987: Brown in color, okay, but lacks depth.
Croft: Purchased by The Fladgate Partnership in 2001 after many years of declining quality. Restored foot treading of grapes.
Vintage Port 2003: First after the purchase; quiet nose, intense plummy fruit, good grip, spicy finish.

Vintage Port 1977: Pale, thin and watery.

Quinta da Roeda Vintage 2004: A "non-declared" single quinta, very rich and of the same character as the 2003.

Indulgence: A ruby marketed, very subtly, for women. Just don't tell the men. Raspberry, cherry, cola. Platinum Reserve: Big wine, long finish.
Delaforce:
Vintage 1966: Pale color, intense aromas of orange peel, clove and wood. Dried fruit compote, orange peel and spice on the palate. Nice!

Colheita 1964: A vintage aged tawny; dried orange peel, hazelnut, a bit tart.

Colheita 1979: Okay, more nuts, less zest.

Colheita 1986: Palest color, nice flavor, hazelnuts and orange.

Colheita 1988: Good body and depth, orange and nuts coming out.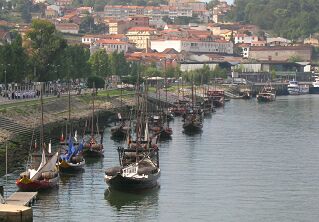 Traditional Port boats, now tourist attractions, along the Douro at Vila Nova de Gaia, near the river's mouth.
© 2007 by Dave McIntyre
Dave McIntyre is the restaurant and drinks columnist for DC magazine (Modern Luxury Publications) and Wine Editor of Foodservice Monthly, a trade publication for the restaurant industry in the mid-Atlantic region. His writings, most of which are available at dmwineline.com, have appeared in Wine Enthusiast, The Washington Post, Wine Review Online and WineToday.com, among other publications. He has appeared on radio on NPR's Kojo Nnamdi Show and on WTOP's "Man About Town" segment. Dave McIntyre's WineLine is archived on Robin Garr's WineLoversPage.com. E-mail Dave at McIntyreWineLine@yahoo.com.
Back to Dave McIntyre's WineLine Index
<!- Page Contents End Here ->