WineLine No. 58
December 2006
Wine Books by Blondes
Dear Friends ...
I admit I'm a little late with my Christmas gift recommendations, but then, I haven't begun my shopping yet either. So here are some ideas for the other procrastinating oenogeeks out there:
As luck might have it, two of this season's best new wine books were written by attractive blonde women. Fill in your own joke here: __________. Suffice it to say, however, that I would not be able to get away with some of this stuff.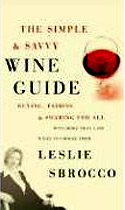 The Simple & Savvy Wine Guide: Buying, Pairing & Sharing for All, by Leslie Sbrocco (William Morrow, $15; $10.61 from Amazon.com), is a practical guide to pairing wine - not just with food, but also with your mood. Sbrocco's first book was titled Wine for Women, so I didn't read it; she's also widely pub-lished in several women's magazines and has made a niche market in making wine accessible to what used to be called the fair sex. This book has some of that tone, but she's also pitching to men here, sort of - at least, to men who want to impress women.
So here we have not just "pizza wines," but "bathtub wines," "sexy wines," and selections for "girls' night in." There are wines for greens ("eco-friendly" wines for those who champion organics) and wines for the celebrity-besodden (wineries owned by famous names). Want to impress someone with your restaurant-list know-how, or wow the wine geek at the next office party? Sbrocco has a cheat sheet for you.
Most of the book is just that: cheat sheets in the form of handy tables recommending wines and wine styles for various settings, occasions and foods. These are interlaced with short tidbits of wine knowledge and com-mentary aimed at helping the reader discover his or her personal "wine style."
This may sound trite, but it really isn't. Sbrocco has packed a lot of information and advice into these 300 pages. Her audience is beginning and intermediate-level wine lovers, but rather than speaking down to them, she encourages them to branch out and try wines they might other-wise ignore, such as Riesling and rosé. Ready to splurge? Want to impress the boss? She has sug-gestions. This would be an excellent gift for someone fairly new to wine who doesn't want to get weighed down with the chemistry of malolactic fermentation while figuring out what to open with dinner tonight.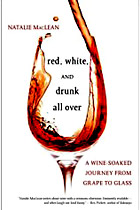 From north of the border comes Natalie MacLean's Red, White and Drunk All Over: A Wine-Soaked Journey from Grape to Glass (Bloomsbury, $24; $16.29 from Amazon.com). This book really should come in a paper wrapper. MacLean's "Nat Decants" Internet newsletter and copious magazine articles have monopolized the food journalism awards the past few years, but here in her first book she delves unapologetically into the sensuous (not "hedonist," that's a male word) side of wine. And some of the wines she describes are jaw-droppingly sensu-ous, even erotic. (I've bookmarked her description of Lalou Bize-Leroy's 2003 Nuits-St-Georges, which borders on soft porn.)
These two books are very different. Sbrocco offers us a practical and easy-to-use how-to guide for wine, while MacLean reminds us of why wine is so captivating in the first place. She doesn't water down her enthusiasm with intellectual doggerel about wine's place in culture, and as the title hints there is no pretense of moderation in her thirst or her prose. And while many wine writers seem to be saying, "Don't you wish you were me?" as they flaunt their access to famous winemakers and expensive wines, MacLean's tone is more like, "Come on, you don't want to miss this!" She doesn't just tell us of her exploits, she invites us along for the ride. It's almost as if we're sitting across the table as she experiences one vinogasm after another, and we listen in shocked amusement as Bize-Leroy, seemingly oblivious that she's hosting a wine writer, launches into a tirade about the stupidity of those who put wine into words. "And their descriptions!" she barks. "Filled with every silly berry on the planet!"
MacLean, though, recognizes the limitations of language in describing how wine tastes. "The only way to convey the intensity of flavors in my mouth would be to make the words on this page burst into flames," she says of one wine early in the book. It is abject surrender, but one that made me sit up straight. I immediately wanted to taste that wine more than any other.
In between winery visits, MacLean explores the vagaries of wine criticism (rehashing the Robert Parker vs. Jancis Robinson debate of a few years back), new trends in retailing, and wine's role at the old-fashioned dinner party. She shares her humiliation at the hands of an overbearing sommelier who insisted on serving her corked wine, and urges us not to be intimidated by restaurant markups and attitude. Some of these passages play the role of necessary plot exposition in between the steamy parts, but they're never boring. This is a wine lover who has taken the time and made the effort to explore every-thing wine has to offer, and is eager to share it.
I should add, in the interests of disclosure, that I know both of these authors. Sbrocco was one of my editors at WineToday.com, and I will be forever grateful to her for accepting every article idea I pitched. (Too bad all editors aren't so wise.) I've only corresponded with MacLean by e-mail over the years, but having read her book I hope I'll have the opportunity to meet her someday and watch her taste wine.
J. Schram 1998 Rosé $120. The inaugural release of this rosé sparkler from Schramsberg winery is a beauty, with copper tint, tight bead and bright berry flavors over a long finish. Only 800 cases were made. The price of the J. Schram line, the winery's tête de cuvee, has been climbing as steadily as bubbles up the side of the glass, and this wine will be as inaccessible in price as it is in availability. Lucky for the rest of us they also make an excellent Brut Rosé at $40 and an elegant Blanc de Noirs at $35. Cheers!
© 2006 by Dave McIntyre
Dave McIntyre is the restaurant and drinks columnist for DC magazine (Modern Luxury Publications) and Wine Editor of Foodservice Monthly, a trade publication for the restaurant industry in the mid-Atlantic region. His writings, most of which are available at dmwineline.com, have appeared in Wine Enthusiast, The Washington Post, Wine Review Online and WineToday.com, among other publications. He has appeared on radio on NPR's Kojo Nnamdi Show and on WTOP's "Man About Town" segment. Dave McIntyre's WineLine is archived on Robin Garr's WineLoversPage.com. E-mail Dave at McIntyreWineLine@yahoo.com.
Back to Dave McIntyre's WineLine Index
<!- Page Contents End Here ->