WineLine No. 37
Written and © copyright by Dave McIntyre
Jan. 11, 2004
---
Dear Friends:
Happy New Year! To start 2004 off on a special note, I thought I'd pass along an article of mine that originally appeared in the November 2003 issue of Foodservice Monthly, a trade publication for the restaurant industry in the Mid-Atlantic region. It's a profile of Ann Cashion, one of Washington, D.C,'s favorite chefs, as she takes her gospel of "comfort food" on the road to the Niagara Food and Wine Classic. (My take on the wine part of that event ran as WineLine Number 34 in October.) I hope you enjoy it. I'll be back soon with my regular January installment of Dave McIntyre's WineLine.
© 2004 by Dave McIntyre
A Chef's Life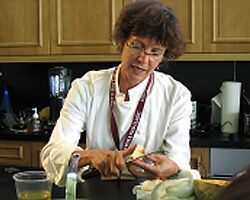 Ann Cashion demonstrates how to turn a potato at the Niagara Food & Wine Classic
Ann Cashion didn't want a microphone.
Only about two dozen people would show for her 9:30 a.m. cooking demonstration, she told the audio technician. They could hear her in the front row.
The technician had to scramble for a microphone headset, however, when about 200 hungry foodies crowded into the tent pavilion at Queen Victoria Park in Niagara Falls, Ontario, to watch Cashion demonstrate two of her signature recipes: a poached chicken salad with three summer fruits and pan-roasted chicken with pearl onions and crispy potatoes.
Glancing at the program for the festival, Cashion may have seemed out of place. She was competing for attention with San Francisco chefs Hubert Keller of Fleur de Lys and Rolland Passot of La Folie, both veterans of the celebrity chef circuit, and a passel of popular Canadian television chef/personalities. Yet the simple title of her presentation, "Comfort Foods," struck a chord with the festival's paying customers, who didn't mind when the outsized headset kept sliding off the diminutive chef, causing some of her words to disappear into the steam from the cooktop.
"I view comfort food as the type of food to eat anytime, for any occasion," Cashion said in response to a query from the audience about why her type of cooking has increased in popularity in recent years. "It is less rich, less complicated, and more straightforward than most restaurant cuisine.
"In a time when people are cooking less and less at home, they are craving this type of food, " she explained. She described her recipes as the type we might have tasted at home, or at grandma's table, a generation or two ago.
Well, maybe if grandma ran the Cordon Bleu. This Mississippi-born, Harvard-educated chef honed her skills in restaurant kitchens in Italy and France before opening a chain of bakeries in the San Francisco area and moving ultimately to Washington, where she was the original chef for Austin Grill and Jaleo. She opened her namesake restaurant, Cashion's Eat Place, in Adams Morgan in 1995 with business partner John Fulchino. Four years later, the duo expanded into the Dupont Circle area with Johnny's Half Shell. They have amassed a devoted following by offering a winning combination of food, fun and service.
If Cashion draws her inspiration from the recipes of Grand-mère and Nona, her version of bourgeois cuisine is refined with classical techniques. For example, the potatoes in her chicken "bonne femme" are turned in the traditional manner. Preparing them becomes a test for new cooks in her kitchen.
"They come to us straight out of culinary school thinking they'll never have to turn another potato, and they're surprised when that's the first thing I have them do," she says. Turning the potatoes helps them cook evenly but also serves as a sign to the discerning diner that the kitchen is taking time and care in the preparation of its food.
That discerning diner is Cashion's main target audience. For her, technique is not artifice meant to dazzle a customer with flashy presentations or unusual flavors and textures; technique is a means of coaxing the utmost flavor from top-quality ingredients. "I'm weary of the 'bells-and-whistles' sauces with a lot of sugars and acids in them," she said in an interview following her Niagara presentation, dismissing current food trends with a skeptical and almost imperceptible squint. Cashion delights in the customer who notices the small, unflashy touches, such as the inclusion of both white-meat and dark-meat pieces in her chicken dish, as evidence the kitchen is doing more than a common-denominator performance.
"I used to worry that people don't really understand food, but now I'm more relaxed about it," she said. "I am, however, worried about the generation now coming of age that's never had a home-cooked meal."
With the continued and increasing success of her restaurants, though, Cashion is willing to admit that maybe diners do "get it."
"I think people do notice the quality," she says, "but they may not be able to describe it." The customers who most often come back to the cramped kitchen in at the rear of Cashion's to rave about the food tend to be European, she says, people who grew up in the food tradition Cashion is trying to emulate in Adams Morgan.
While she has a dedicated following in Washington, Ann Cashion is ambivalent about the celebrity chef circuit, as evidenced by her conviction that few people would show for her demonstration at the Niagara festival. Outgoing, even effusive in conversation, she is sensitive to any criticism or slight from a fellow chef or food critic who doesn't appreciate what she's striving for in her kitchen.
But the celebrity circuit is beckoning her. She has been nominated each of the past three years for the Best Chef Mid-Atlantic at the James Beard Awards, and headlined two dinners this year at the James Beard House in New York. The benefit in doing those dinners, she says, is increased name recognition among other chefs, especially those in New York. Any impact on the general dining public would be "nil, outside of New York, I would think."
Television, now that's another story. A few days after her gig in Niagara, Cashion appeared for about 90 seconds on NBC's Today show, presenting her southwestern version of eggs benedict to host Katie Couric. The appearance was staged, coached, "live, but not real," she says - a huge difference from the high-intensity dinners at the Beard House. A few days later, Cashion received a laudatory letter from her sixth-grade teacher in Mississippi, who had seen the segment. Other accolades followed.
"Somehow, just appearing in that venue elevates your status in everybody's eyes," Cashion said. "Ultimately, if you continue to receive attention at that very public, national level it drives a lot of business to your restaurant because you have become famous, and people assume that if you're famous you must be good."
Cashion is eager to prove them right.
© 2004 by Dave McIntyre
Subscriptions to Dave McIntyre's WineLine are free (send a blank e-mail to join: join-wineline@clio.lyris.net)Readers are encouraged to forward this newsletter to anyone sharing an interest in wine.
Dave McIntyre is Wine Editor of Foodservice Monthly, a trade publication for the restaurant industry in the mid-Atlantic region. His writings have appeared in Wine Enthusiast, The Washington Post, Washington Life, Capital Style, the newsletters of the American Institute of Wine & Food, Decanter.com, Sidewalk.com and WineToday.com, among other publications. He has appeared on radio on NPR's Kojo Nnamdi Show and on WTOP's "Man About Town" segment. He is a member of the Board of Directors of the National Capital Area Chapter of the American Institute of Wine & Food. Dave McIntyre's WineLine is archived on Robin Garr's WineLoversPage.com. E-mail Dave at McIntyreWineLine@yahoo.com.
Back to Dave McIntyre's WineLine Index
<!- Page Contents End Here ->