Winery Profile: Umathum
Frauenkirchen, Neusiedlersee
Burgenland, Austria
©2005-2006 by Julia Sevenich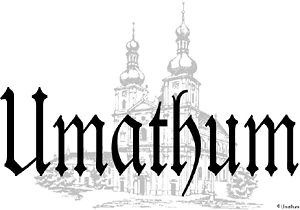 Umathum label with etching of the Frauenkirchen pilgrimage church.
Located on the east side of Lake Neusiedl, it is only natural that Pepi Umathum produces Austria's classic trilogy of dry white wines, botrytized sweet wines, and dry red wines. It is the latter, though, in which he specializes and he prefers the indigenous Austrian varieties, Zweigelt. Blaufränkisch, and St. Laurent. Umathum appears most at home in the vineyards and in addition to the painstaking and time consuming effort of making his own clone selections he also uses bio-dynamic preparations for the vineyard and composting.
In 2000 Pepi Umathum purchased an ancient vineyard in Jois which had lain fallow for decades. After removing the brush and growth from the steep slope, he discovered crumbling old wine terraces. Through painstaking labor the terraces were rebuilt and his own clones of Blaufränkisch were planted in muschelkalk and slate soils. The very first vintage of this wine from the Joiser Kirschgarten vineyard looks quite promising.
An etching of the Frauenkirchen pilgrim church and the gothic print on the label reflect Umathum's respect for tradition and his religion. Most of his wines are matured in large casks made of Austrian oak. The top wines are matured in small oak barrels in the Winery's newly built "cathedral", a simple but stunning construction with an exposed wooden roof structure and sandstone masonry walls that features an antique confessional at the entrance.
Each year Umathum auctions several bottles of his Hellebore red wine that enjoys a cult status in Austria and Germany. The proceeds from this auction are then donated to a young promising talent in the food or wine branch.
2004 Umathum, Josef - Pinot Gris - Neusiedlersee (750 ml)
Wednesday, January 12, 2005
89
This wine is tasted as a barrel sample. Pale straw yellow, shies brilliantly in the glass. The pleasing fragrance is reminiscent of ripe mangos, apple blossoms, and acacia. Mouth-filling creamy texture, brioche, sweet rip yellow fruits, and a pleasant, lightly bitter nuance make this a complex wine that will surely benefit from further maturation in the bottle. Drink 2006-2010.
2003 Umathum, Josef - Zweigelt - Neusiedlersee (750 ml)
Wednesday, January 12, 2005
83
This transparent, medium violet-red wine from Austria's predominant red wine variety, Zweigelt has a pronounced nose reminiscent of bing cherries and an earthy red beetroot nuance. This is a light bodied, fruity, and uncomplicated alternative to Beaujolais. Best drunk now until 2008.
2003 Umathum, Josef - St. Laurent - Neusiedlersee (750 ml)
Wednesday, January 12, 2005
86
This medium dark violet-red wine has a delicate red berry fragrance over a soft, leafy background. The tannins are supple and silky in texture. Animated, yet nicely integrated acidity and ripe, firm black raspberry and red currant fruit hold through to the juicy, appetizing finish. Drink now to 2012.
2003 Umathum, Josef - Blaufränkisch - Neusiedlersee (750 ml)
Wednesday, January 12, 2005
89
This medium dark, transparent violet red wine has a spicy boysenberry and lingonberry nose. Ripe juicy dark berries and cranberries laced with cardamom and pepper burst in the mouth. The animated acidity is well integrated and the tannins are firm and nicely textured. Spicy fruit and mineral nuances define the saucy finish. This is a wonderful example of a classic Blaufränkish matured in large wooden cask. Drink 2006-2012.
2002 Umathum, Josef - Haideboden - Neusiedlersee (750 ml)
Wednesday, January 12, 2005
86
This blend of Zweigelt, Blaufränkisch, and Cabernet Sauvignon has a medium dark violet-red color. The nose is subdued with earthy tones, soft smoke, and a hint of cassis. Medium-bodied with pleasant fruit and spice, this is a pleasing, nicely balanced wine. Drink now to 2010.
2001 Umathum, Josef - St. Laurent vom Stein - Neusiedlersee (750 ml)
Wednesday, January 12, 2005
90
This medium dark, transparent dark red wine from a problematic vintage has violet reflections. Luckily the St. Laurent is luckily an early ripening variety and was able to be harvested before the torrential unending rains began. The nose has soft smoked herbs reminiscent of Lapsang luang tea and black raspberry fruit. Supple, silky tannins and juicy fruit combined with spice make this one of the most successful Austrian red wines of the vintage.
2001 Umathum, Josef - Hallebühel - Neusiedlersee (750 ml)
Wednesday, January 12, 2005
88
This dark red, transparent wine has a nose of black cherries and boysenberries backed with a hint of vanilla and soft smoky nuances. Full-bodied, soft and fruity. 2001 was an extremely difficult vintage in Burgenland and only those red wines where the fruit was carefully selected in the vineyard and botrytized grapes eliminated were able to achieve more than mediocre quality. Although the Hellebore lacks the poser and structure of other vintages, this example is elegant, light-bodied, yet complex and refined. Drink now to 2011.
2003 Umathum, Josef - Joiser Kirschgarten - Neusiedlersee (750 ml)
Wednesday, January 12, 2005
92
This dark dense violet red wine has a youthful, lightly yeasty nose with plenty of blueberry and lingonberry fruit wrapped in soft smoky spices. In the mouth flavors explode with chocolate covered black cherries, cardamom, cinnamon taking the lead and toasted cedar. The tannins are abundant and firm, the acidity lively and well-integrated, and the flavors deep and complex. Amazing is that this is a first vintage from a new vineyard.
Back to Julia on Wine Index Page
<!- Page Contents End Here ->