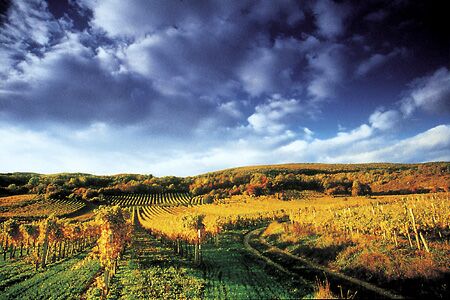 The Thermenregion, just south of Vienna enjoys the warm climate influence for the Pannonian steppland.
Winery Profile: Weingut Karl Alphart
Traiskirchen, Thermenregion
Lower Austria
©2005-2006 by Julia Sevenich
Karl Alphart is considered one of the established "Südbahn" winemakers of the Thermenregion. Located just south of Vienna, the Viennese have traditionally traveled by the southbound train to sample wines and inexpensive hearty fare at the Heurigen of the region. The Alphart Heurigen is a modern classic and certainly worth visiting.
Karl Alphart specializes in the traditional grape varieties of the region, Zierfandler and Rotgipfler. Rotgipfler and Zierfandler are found nearly nowhere else in the world. Both varieties are late ripening and achieve high must sugar levels while retaining good acidic structure. Typically these wines will be full-bodied, off-dry and discreet and elegant in bouquet and flavor. They can be combined successfully with curries and other difficult dishes to pair that are spiced with ginger, lime, and coconut. Alphart's Rotgipfler Rodauner Top Selektion is consistently one of the very best examples of this variety and develops well with extended bottle aging. In appropriate vintages Alphart will produce a sweet botrytized Trockenbeeren Auslese from these varieties --- a rare a delicious specialty that can easily withstand 30+ years of bottle maturation.
The Thermenregion geology, landscape, and geographic position resemble Bourgogne and the region is indeed also predestined for Burgundian varieties. The long, warm, dry summers bring not only good examples of Chardonnay and Pinot Noir, but also their Austrian relatives Neuburger and St. Laurent. These varieties are also found in the Alphart portfolio of wines.
While the Pinot Noir and Chardonnay enjoy great success on the domestic market, I believe the autochthon varieties to be much more interesting and especially with their affinity to Pac Rim cuisine, a logical choice for export. Unfortunately the quantities available are small. Karl Alphart has only 12 hectares of vineyards and typically will make up to three different bottling of each variety. The separate bottlings will be vinified differently and typically from small single parcels. The resulting wines are wines with terroir character at affordable prices, but ones that will never be available for the masses.

The Alphart winery courtyard serves as a friendly Heuriger during the summer months.
2004 Alphart, Karl - Neuburger Hausberg - Thermenregion (750 ml)
Sunday, August 21, 2005
87
This rare variety is a member of the Burgundy family found nearly only in Austria. This pale yellow wine has a delicate fragrance of hazelnuts and almond blossoms, Medium-bodied with perky, well-integrated acidity and a pleasant light spiciness. This is a very food-friendly wine because of its good body, balanced acidity, spice and discreet fruit. Drink now to 2009.
2004 Alphart, Karl - Zierfandler - Thermenregion (750 ml)
Sunday, August 21, 2005
86
This pale straw yellow wine is made from the rare native Austrian variety Zierfandler. The nose is elegant with almond blossom, honey dew melon, and lime. Animated acidity is paired with a medium body and a bit of spice comes through on a citrus finish. Drink now to 2009.
2004 Alphart, Karl - Rotgipfler Klassik - Thermenregion (750 ml)
Sunday, August 21, 2005
88
Rotgipfler is another of the rare Austrian grape varieties found nearly only in the Thermenregion. This pale straw-colored wine is packed with minerals on the nose. The body surprises with a medium fullness and a nearly creamy texture. This is not an obvious wine, but an elegant one and certainly one that is food friendly.
2004 Alphart, Karl - Rotgipfler Rodauner - Thermenregion (750 ml)
Sunday, August 21, 2005
90
Rotgipfler is a rare grape variety found nearly only in Austria's Thermenregion just south of Vienna. This pale yellow example has a discreet nose of grapefruit, nuts, and a floral nuance. The body is full and has a sweet fruity core wrapped in discreet spice, flowers, and nuts. This is an excellent wine to pair with mild curries, especially with ginger, lime, coconut and squash. Drink now to 2014.
2004 Alphart, Karl - Top Selection Rodauner Rotgipfler - Thermenregion (750 ml)
Sunday, August 21, 2005
92
Karl Alphart makes two (!) Rotgipfler from the Rodauner vineyard and this is consistently the more powerful and better of the two. The nose is pronounced spicy with toasted hazelnut, melon, and green mango which follow through on the palate and joined by wet pebbles and minerals. The core is sweet (off dry) fruit wrapped in spice, minerals, and light toasted nut aromas. The finish is incredibly long and complex. Drink 2207 to 2018.
2000 Alphart, Karl - Rodauner Top Selection Rotgipfler - Thermenregion (750 ml)
Sunday, August 21, 2005
92
This medium straw colored wine has a pronounced nose of green mango, cantaloupe, and almond blossoms. Honey-laced peaches join in on the palate which is full-bodied and creamy with lively, well-integrated acidity. This is a wine to pair with elegant Eurasian dishes. The finish lingers incredibly long with minerals, exotic fruit and spice. Drink now to 2015.
2002 Alphart, Karl - Cuvee Alphart - Thermenregion (750 ml)
Sunday, August 21, 2005
88
This transparent dark ruby wine goes first violet, then transparent at the rim. Pronounced cranberries on the nose are followed by tobacco, graphite, and elderberries. This well-structured and harmonious wine is best drunk now and until 2009.
Back to Julia on Wine Index Page
<!- Page Contents End Here ->